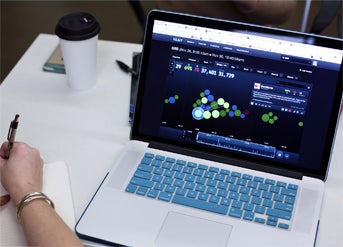 Media classes expose students to planning, buying and analytics. 
What You Will Study. How You Will Learn. 
Advertising majors are prepared to work and grow as leaders in the professional community.
They are trained to excel in a wide variety of careers, from the artistic side to the business of media planning.
The undergraduate degree plan exposes students to creative, media and client management techniques through coursework that is grounded in field-specific expertise and industry experience.
To learn more, please review the degree requirements or consult the degree checklist.
Curriculum Overview
The Bachelor of Science in Advertising degree comprises 120 credit hours and has additional requirements:
A minimum of 39 and maximum 45 hours of major-specific coursework established by the department
Advertising-specific Statistics is required and satisfies the core curriculum math requirement
12 hours of business courses
Students are required to take Introduction to Advertising & Integrated Brand Promotion and are encouraged to do so by their sophomore year. The class is designed to cultivate understanding of foundational concepts and perspectives and stimulate the students' interest in continuing their work in the field.
Other foundational courses include:
Introduction to Creative Advertising: Seek to understand creativity and take the first step to becoming an advertising creative professional
 
Media Foundations: Discover new skillsets and what your post-graduation career might look like
---
Design Your Path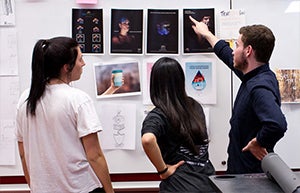 Creative sequencing translates to robust portfolios.
As students grow into their collegiate journey, and specific talents and skills are apparent, students can design their own path. Example specialization classes include Psychology of Video Game Advertising and Sports Contract Negotiation.
Students can also tap into in-depth, application-only enhancements, Texas Creative, Texas Media & Analytics and Texas Immersive.
Texas Creative molds students into experimental thinkers who produce advertising, branding and social messages. They graduate with portfolios and a wealth of experience that result in careers as copywriters, art directors and content creators.
The Texas Media & Analytics sequence is designed to develop the skillsets crucial to media planning and buying, as well as sales and new media development. As the only program of its kind, TexasMedia guides students through three pillars:
Insights: Advanced Media Strategies takes students on a deep-dive in media research and insight generation
 
Interactive: Digital Metrics teaches students to think critically, creatively and strategically toward digital problem-solving and measures for success
 
Investments: Media Investments introduces students to buying, negotiation and relationship management
Texas Immersive is an interdisciplinary specialization focused on four key areas: audience, story, technology and innovation.
---