Roger Angell, Mitchell S. Jackson winners of 2021 Dan Jenkins Medal for Excellence in Sportswriting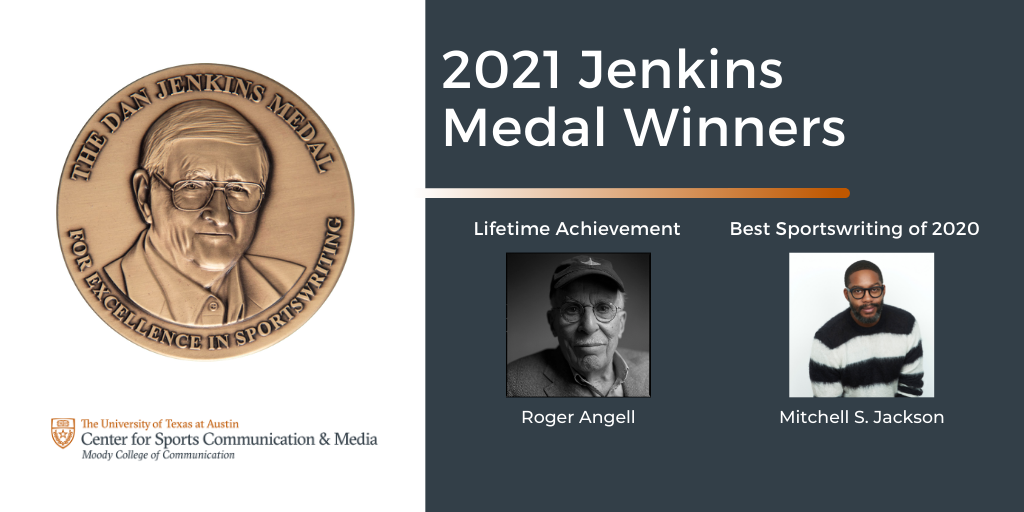 Roger Angell and Mitchell S. Jackson have been named 2021 award winners by the Dan Jenkins Medal for Excellence in Sportswriting jury.
Angell receives the Lifetime Achievement award while Jackson is recognized for the best sportswriting of the year (2020). The winners will be celebrated in a virtual event in October. They will be included in a live Jenkins Medal dinner and award ceremony (along with 2020 winners Rick Telander and Elizabeth Merrill) when in-person events resume post-coronavirus.
This is the fifth year these national awards have been named. They were created in honor of Jenkins, the legendary Texas sportswriter, to celebrate the craft and culture of sportswriting he personified through his storied career. For more information see www.jenkinsmedal.com.
Angell is a senior editor and a staff writer at The New Yorker, to which he has contributed since 1944. Since 1962, he has written more than a hundred Sporting Scene pieces for the magazine, mostly on baseball but also on tennis, hockey, football, rowing, and horse racing. His baseball books include "The Summer Game," "Five Seasons," "Late Innings," "Season Ticket," "Once More Around the Park," "A Pitcher's Story," and "Game Time." His writing has appeared in many anthologies, including "The Best American Sports Writing," "The Best American Short Stories," "The Best American Essays," and "The Best American Magazine Writing." His work has also been collected in nine of his own books, among them "The Stone Arbor and Other Stories," "A Day in the Life of Roger Angell," "Let Me Finish," and "This Old Man: All in Pieces." "Nothing but You: Love Stories from The New Yorker" is an anthology of fiction selected by him.
Angell has won a number of awards for his writing, including the George Polk Award for Commentary, the Kenyon Review Award for Literary Achievement, and the Michael Braude Award for Light Verse, presented by the American Academy of Arts and Letters. He is a Fellow of the American Academy of Arts and Sciences, and in 2011 he was the inaugural winner of the PEN/ESPN Lifetime Achievement Award for Literary Sports Writing. In 2014, Angell received the J. G. Taylor Spink Award, the highest honor given to writers by the Baseball Hall of Fame.
Mitchell S. Jackson receives the 2021 Jenkins Medal for Best Sportswriting award, a citation for Twelve Minutes and a Life: Ahmaud Arbery went out for a jog and was gunned down in the street. How running fails Black America, published by Runner's World. In the piece, Jackson recounts the circumstances that led to Arbery's murder and its stinging cultural legacy as Arbery, a 25-year old Black man, was pursued by armed white men and fatally shot while jogging in Glynn County, Georgia. Jackson's piece also won the 2021 Pulitzer Prize in Feature Writing and the 2021 National Magazine Award in Feature Writing.
Jackson is a freelance writer whose additional honors include fellowships and awards from John Simon Guggenheim Foundation, Creative Capital, the New York Public Library's Cullman Center, the Lannan Foundation, the Ford Foundation, PEN America, TED, the New York Foundation for the Arts, and the Center for Fiction. A formerly incarcerated person, Jackson is also a social justice advocate who, as part of his outreach, visits prisons and youth facilities in the United States and abroad.
ESPN NFL Analyst, Senior Writer, Podcast Host and Television Contributor Min Kimes sat in conversation with Dr. Michael Butterworth for the presentation of the 2021 Frank Deford Lecture in Sports Journalism. The event was presented virtually over Zoom on April 15, 2021. The Frank Deford Lecture in Sports Journalism is a part of the McGarr Sympposium on Sports and Society.
Kimes is an award-winning journalist, NFL analyst, senior writer, podcast host and television contributor for ESPN. Since joining ESPN The Magazine in 2014, her profile has grown steadily across the company's multimedia platforms, spanning digital and print, television, radio and podcasting. In June 2020, Kimes was named an NFL analyst, joining ESPN's daily news and information show, NFL Live. She also offers football analysis on Get Up, SportsCenter, First Take and more, in addition to being a regular contributor to Around the Horn, Highly Questionable and The Dan Le Batard Show with Stugotz.
Where Are They Now: Recent Moody Graduates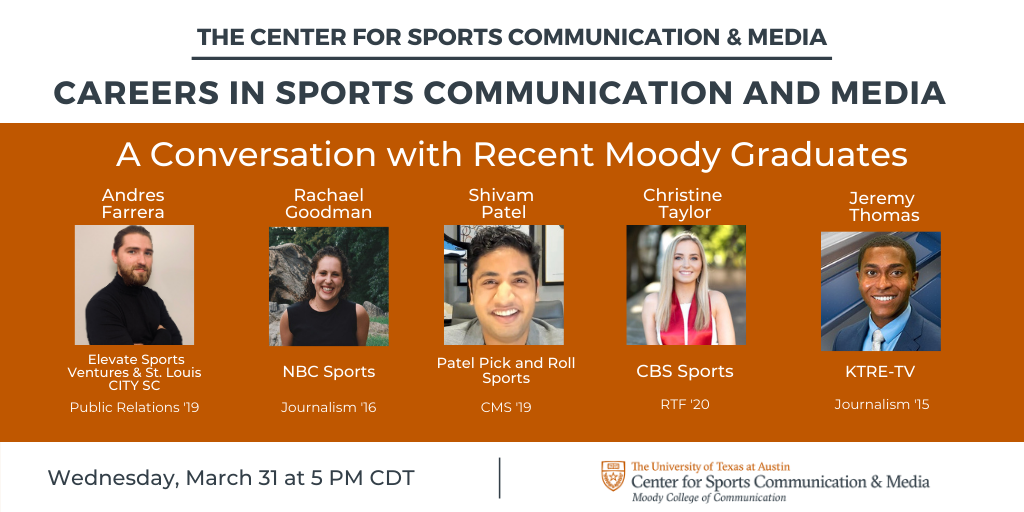 Kevin Robbins, CSCM Associate Director and Professor in the School of Journalism and Media, led a roundtable discussion with five recent graduates of the Moody College of Communication who are working in various capacity in sports journalism and sports media. Participants include:
Andres Farrera, Stan Richards School of Advertising & Public Relations (2019), Corporate Account Executive, St. Louis FC
Rachel Goodman, School of Journalism and Media (2016), Associate Producer, NBC Sports
Shivam Patel, Department of Communication Studies (2019), Founder and Host, Patel Pick and Roll Sports, Media and Promotions
Christine Taylor, Department of Radio-TV-Film (2020), Production Assistant, CBS Sports
Jeremy Thomas, School of Journalism and Media (2015), Multimedia Journalist, KTRE-TV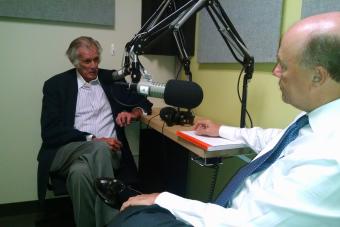 The Frank Deford Lecture in Sports Journalism
The Center for Sports Communication and Media hosts the Frank Deford Lecture in Sports Journalism every April on the UT-Austin campus to hear leading professionals address the pressing cultural issues of the day. Named after the iconic journalist who left substantial bodies of work in print, radio and television at the time of his death in 2017, the Deford Lecture offers Moody College students access to the leading sports journalists of the day.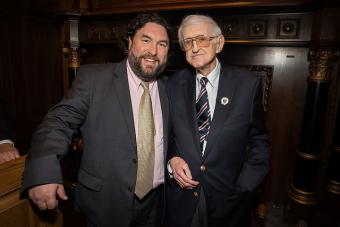 The Dan Jenkins Medal for Excellence in Sportswriting
The Center for Sports Communication and Media hosts the Dan Jenkins Medal for Excellence in Sportswriting as a celebration of the craft and history of sportswriting. Named in honor of the legendary Texan and one of the most accomplished sportwriters of his generation, the Jenkins Medal is awarded annually at a dinner every fall.