---
Our Departments
Visit our departmental websites:
Mission & Diversity Statements
The mission of the Moody College of Communication at The University of Texas at Austin is to advance and enhance society through the study and practice of human communication.
---
Our History
How we have grown and changed over the course of the University's history.
---
Advisory Council
Established in 1969, the Moody College of Communication Advisory Council is comprised of communication industry leaders who support excellence in communication education.
The Moody College Complex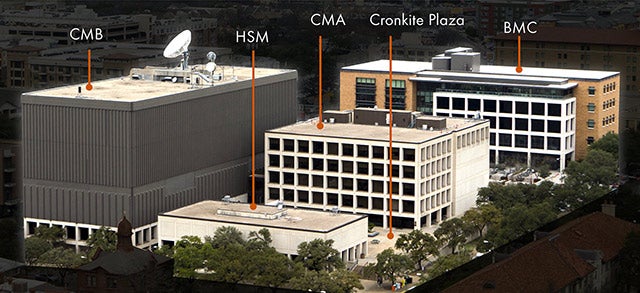 ---
The Belo Center for New Media serves as a national center for work on media convergence and houses the Stan Richards School of Advertising and Public Relations, the School of Journalism, the College's Dean's Office, Austin's NPR station KUT and its sister station, KUTX, the Austin Music Experience.
View Floorplan of BMC 
Reserve rooms in BMC 
---
CMA houses the departments of Communication Sciences & Disorders, Communication Studies, and Radio-TV-Film as well as state-of-the-art classrooms that range from a 200-seat auditorium to seminar rooms that seat 15.
View Floorplan of CMA 
Reserve rooms in CMA 
---
CMB contains more than 25,000 square-feet of studio space for film and television production work along a vertical axis that maintains a central equipment core via a freight elevator capable of hauling large scenery or equipment.
View Floorplan of CMB 
Reserve rooms in CMB 
---
HSM houses Texas Student Media, which is composed of several student-produced media properties including the Daily Texan, KVRX Student Radio and KVR-TV. The building also now houses RTF Equipment Checkout.