Extremely large 9000 sqft film & TV production studio with dimmed & motorized lighting grid, acoustical isolation, switchable HVAC, & 5-camera HD TV production system connections.
Capacity: 300 student seats + 1 presenter seat, unconstrained wheelchair seating
CMB 6.102 - Moody Studio 6A
Moody College of Communication Studio 6A CMB 6.102 is located in the Jesse H. Jones Communication Center - Building B (CMB). The 85'x110' production studio features exceptional acoustical isolation with switchable HVAC service, 24'x24' raised performance stage, large 12' high x 8' wide doors for prop & set load-in, 2,000 amps of power for lighting serving (156) 20 amp & (176) 50 amp dimmed circuits on 18 motorized ceiling grids. 

A large 18' D x 9' W x 12' H freight elevator allows load-in from a street-level alley which is large enough to provide pull-through access for large tractor-trailer rigs.

The room has HD projection and stereo audio. For multi-camera TV production, the room has 4 HD pan-tilt-zoom cameras (3 on rolling pedestals, 1 on a 20' crane) plus 1 HD roving shoulder camera, video switcher with ISO recording, program video recording & streaming, teleprompter, and production intercom. For audio production, the room includes 4 wireless microphones (lavalier & hand-held) plus 24 wired stage microphone inputs. These inputs are distributed via a DANTE audio split serving mixers at front-of-house, stage monitors, and audio-for-video. The stage has 8 channels of monitor returns with 4 QSC powered wedges.
CMB 6.102 - Moody Studio 6A
    Capacity: 300 student seats + 1 presenter seat, unconstrained wheelchair seating
    Whiteboard: No
    WiFi: No
    Media Player (Blu-Ray/DVD/CD): No
    Audio Recording System: No
    Press Feed Audio Out: No
    Analog Aux In: No
    HDMI Aux In: No
    HD-SDI Aux In: No
    Video Conferencing Available: No
    Tabletop Speaker Phone: No
    Wall Phone: No
    Vision Impaired Touchpanel Available: No
Scheduling Department
Moody Facilities
CMB 6.102 - Moody Studio 6A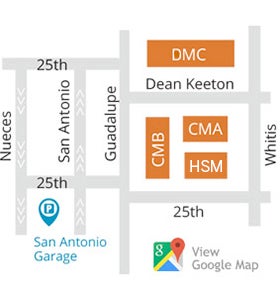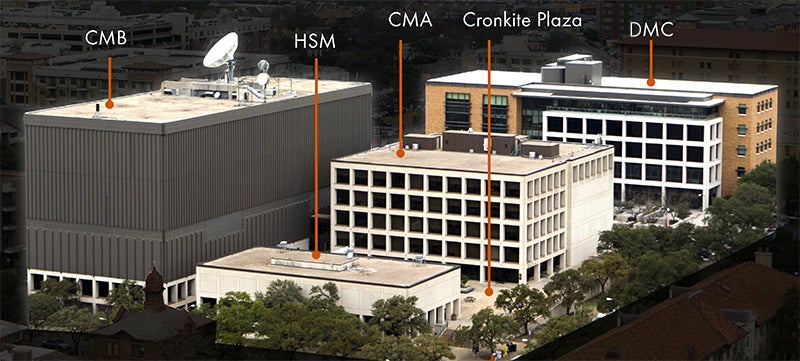 Physical Address
The University of Texas At Austin      
Moody College of Communication      
CMB Building       
2504 Whitis Ave       
Austin, TX 78712
Building Hours
Room Assistance
Technology Services: 512-471-1199 or Request Help
Facilities: 512-471-1199 or Request Help; after hours: 512-471-2020
Custodial: 512-471-1199 or Request Help; after hours: 512-471-2020
Emergencies: 911 or UTPD 512-471-4441