Small conference room with LCD monitor & speakerphone. No PC - laptop only.

Capacity: 7 attendee seats + 1 presenter seat, unconstrained wheelchair seating

Room Style: Conference Room, Flat Floor
DMC 2.408 - Career Services Conference Room
Moody College of Communication Career Services conference room DMC2.408 in the Dealey Center for New Media is a small meeting room with seating for 8 around a conference table.

A speakerphone and laptop power are provided at the table. Laptop connections are provided which feed a wall-mount LCD.

No AV control system nor classroom PC are provided.
DMC 2.408 - Career Services Conference Room
    Capacity: 7 attendee seats + 1 presenter seat, unconstrained wheelchair seating
    Primary Venue: Conference Room
    Floor Style: Flat Floor
    Seating Style: Rolling Chairs
    Table Style: Fixed Table
    Lighting: 1 zone basic on/off
    Whiteboard: Yes
    Student Power Profile: 100% of student seats have power
    A/V Presentation Console: Conference Table
    Display: 1080p HD Large LCD
    Audio: TV Speakers
    WiFi: Yes
    Presenter PC: no presenter computer
    User/Attendee PC Count and Type: No User PCs
    Document Camera: None
    Media Player (Blu-Ray/DVD/CD): No
    Voice Reinforcement: No Microphone
    Audio Recording System: No
    Press Feed Audio Out: No
    Special Event Media Support: Set up Camera
    Analog Aux In: No
    HDMI Aux In: Yes
    HD-SDI Aux In: No
    Webcam: Skype Webcam Available
    Video Conferencing Available: Yes
    Tabletop Speaker Phone: Yes
    Wall Phone: No
    Vision Impaired Touchpanel Available: No
    Hearing Impaired Assistance: Available

Scheduling Department
Moody Student Affairs
 DMC 2.408 - Career Services Conference Room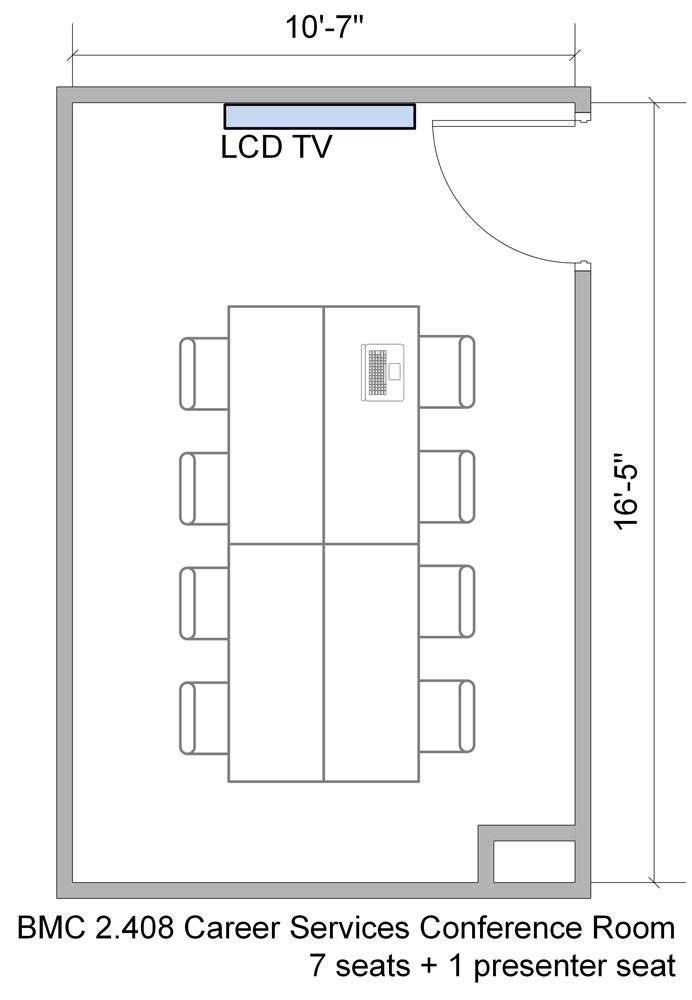 DMC 2.408 - Career Services Conference Room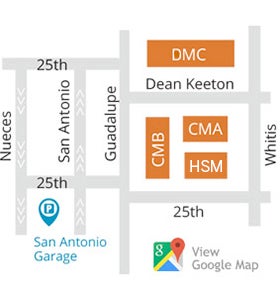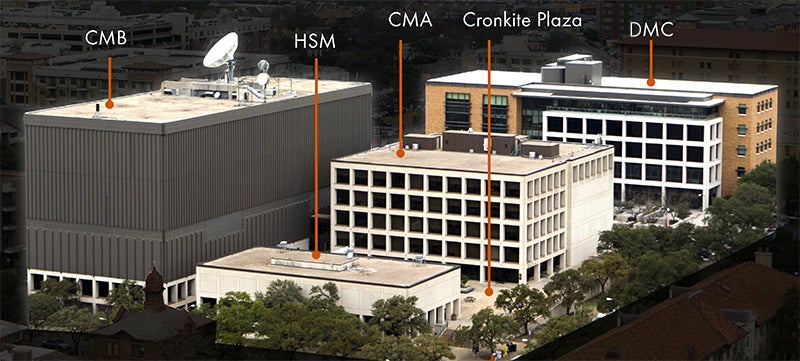 Physical Address
The University of Texas At Austin   
Moody College of Communication   
DMC Building    
300 W. Dean Keeton St    
Austin, TX 78712
Building Hours
Room Assistance
Technology Services: 512-471-1199 or Request Help
Facilities: 512-471-1199 or Request Help; after hours: 512-471-2020
Custodial: 512-471-1199 or Request Help; after hours: 512-471-2020
Emergencies: 911 or UTPD 512-471-4441