Small conference room with LCD monitor & speakerphone. No PC - laptop only.
Capacity: 7 attendee seats + 1 presenter seat, unconstrained wheelchair seating
Room Style: Conference Room, Flat Floor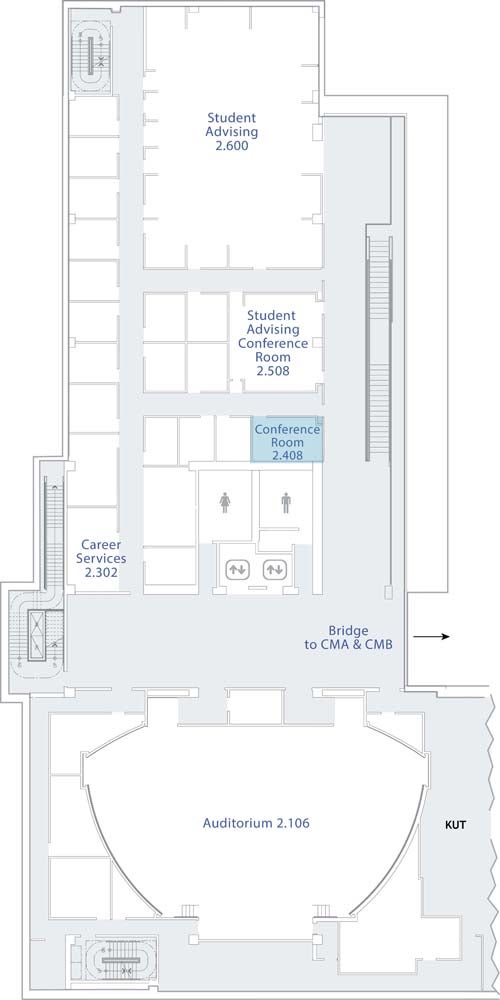 DMC 2.408 - Career Services Conference Room
Moody College of Communication Career Services conference room DMC2.408 in the Dealey Center for New Media is a small meeting room with seating for 8 around a conference table.
A speakerphone and laptop power are provided at the table. Laptop connections are provided which feed a wall-mount LCD.
No AV control system nor classroom PC are provided.
DMC 2.408 - Career Services Conference Room
    Capacity: 7 attendee seats + 1 presenter seat, unconstrained wheelchair seating
    Primary Venue: Conference Room
    Floor Style: Flat Floor
    Seating Style: Rolling Chairs
    Table Style: Fixed Table
    Lighting: 1 zone basic on/off
    Whiteboard: Yes
    Student Power Profile: 100% of student seats have power
    A/V Presentation Console: Conference Table
    Display: 1080p HD Large LCD
    Audio: TV Speakers
    WiFi: Yes
    Presenter PC: no presenter computer
    User/Attendee PC Count and Type: No User PCs
    Document Camera: None
    Media Player (Blu-Ray/DVD/CD): No
    Voice Reinforcement: No Microphone
    Audio Recording System: No
    Press Feed Audio Out: No
    Special Event Media Support: Set up Camera
    Analog Aux In: No
    HDMI Aux In: Yes
    HD-SDI Aux In: No
    Webcam: Skype Webcam Available
    Video Conferencing Available: Yes
    Tabletop Speaker Phone: Yes
    Wall Phone: No
    Vision Impaired Touchpanel Available: No
    Hearing Impaired Assistance: Available
Room Assistance
Technology Services: 512-471-1199 or Request Help
Facilities: Request Help
Custodial: Request Help
Emergencies: 911 or UTPD 512-471-4441
Scheduling Department
Moody Student Affairs
 DMC 2.408 - Career Services Conference Room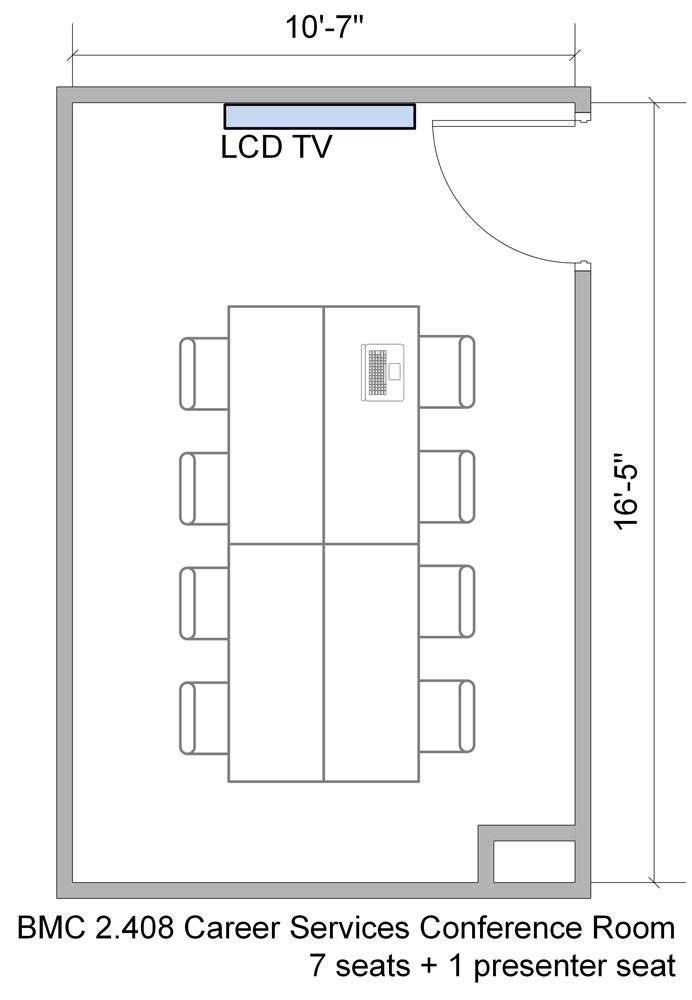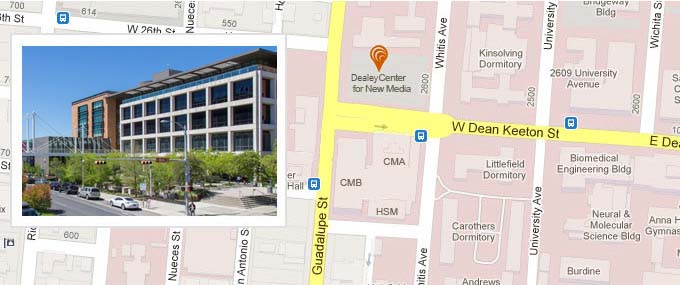 Physical Address
300 W. Dean Keeton St
Austin, TX 78712
Building Hours
Monday - Saturday 7 AM - 11 PM
Sunday10 AM - 11 PM
Room Assistance
Technology Services: 512-471-1199 or Request Help
Facilities: Request Help
Custodial: Request Help
Emergencies: 911 or UTPD 512-471-4441