Private audio podcast recording, audio/video editing suite for recording interviews with 2 people in person or 1 by phone.
Capacity: 2 student seats
DMC 4.206a - ADV Podcasting Room
Stan Richards School of Advertising & Public Relations Podcasting Room DMC 4.206a is located in the G. B. Dealey Center for New Media (DMC, formerly BMC).  The room is a small private audio/video editing suite. The room features an podcast recording mixer/audio console, 2 interview microphones, audio/video editing PC, and telephone interview system.
DMC 4.206a - ADV Podcasting Room
    Capacity: 2 student seats
    Lighting: 1 zone with dimmer
    Whiteboard: No
    WiFi: No
    Media Player (Blu-Ray/DVD/CD): No
    Audio Recording System: No
    Press Feed Audio Out: No
    Analog Aux In: No
    HDMI Aux In: No
    HD-SDI Aux In: No
    Video Conferencing Available: No
    Tabletop Speaker Phone: No
    Wall Phone: No
    Vision Impaired Touchpanel Available: No
Room Assistance
Technology Services: 512-471-1199 or Request Help
Facilities: Request Help
Custodial: Request Help
Emergencies: 911 or UTPD 512-471-4441
DMC 4.206a - ADV Podcasting Room 
DMC 4.206a - ADV Podcasting Room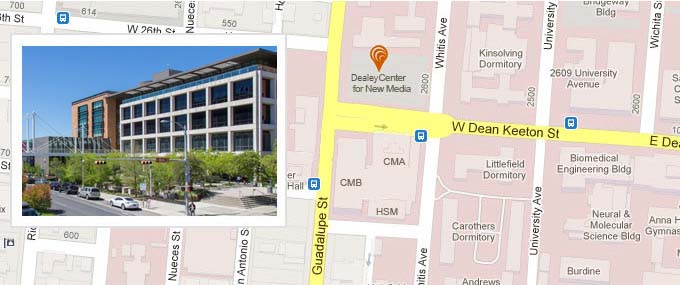 Physical Address
300 W. Dean Keeton St
Austin, TX 78712
Building Hours
Monday - Saturday 7 AM - 11 PM
Sunday10 AM - 11 PM
Room Assistance
Technology Services: 512-471-1199 or Request Help
Facilities: Request Help
Custodial: Request Help
Emergencies: 911 or UTPD 512-471-4441