2021 Jenkins Medal/Best Sportswriting finalists named
CSCM is announcing its 12 nominees for Best Sportswriting of the Year for the fifth iteration of the Dan Jenkins Medal for Excellence in Sportswriting. The awards are presented annually in honor of the legendary Texas sportswriter and best-selling author, who defined the sportswriter's craft for a generation.
The nominees for the 2021 Best Sportswriting category are:
The Jenkins Medal is awarded in two categories:
The Dan Jenkins Medal for Lifetime Achievement in Sportswriting Award
The Dan Jenkins Medal for Best Sportswriting Award
The Best Sportswriting award cites accomplishment for a single piece published in the previous calendar year (2020). Both awards accompany a cash prize.
"In a year defined by challenges, sports remained an important daily touchstone," said Dr. Michael Butterworth, director of the Center for Sports Communication & Media. "This year's nominees reveal how sports reflected and defined the most crucial issues of 2020, with some assessing their absence and presence during the pandemic, calls for social justice, and political divisions in an election year. Other nominees remind us that sports need not be understood only in the context of crisis, as they offer unique windows into human relationships and universal themes of hope and opportunity. Together, these 12 outstanding finalists eloquently express the complexity of sports and the role they can play in our lives."
Final voting for Best Sportswriting award will be conducted by a jury of sportswriters that include co-chairs Sally Jenkins and Michael MacCambridge and committee members Kevin Blackistone, Kirk Bohls, Bryan Curtis, Melanie Hauser, Kathleen McElroy, Kevin Robbins, John A. Walsh, Gene Wojciechowski, Grant Wahl and Alexander Wolff.
The voting for lifetime achievement in sportswriting will be conducted by the co-chairs Jenkins and MacCambridge with a committee that includes Chuck Culpepper, Gerald Early, Vahe Gregorian, Will Leitch, Joe Posnanski, Steve Rushin, Wright Thompson and Seth Wickersham. Nominees for the lifetime achievement award are not made public.
This year's winners will be announced in September. In lieu of the traditional awards banquet, the Center will host a live virtual event, celebrating the winners and the craft of sportswriting, which Jenkins personified. An in-person awards dinner is expected to resume in the fall of 2022.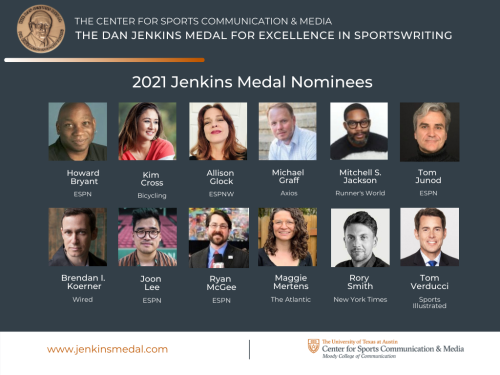 By Dan Jenkins
A documentary commissioned to celebrate the creation of the Dan Jenkins Medal for Excellence in Sportswriting
By Dan Jenkins was commissioned by the Center for Sports Communication and Meda and debuted at the 2017 Jenkins Medal awards dinner in Dallas. The film was shot, edited and directed by Kelly Lipscomb and Matt Tisdale and co-produced by Michael MacCambridge.
Dan Jenkins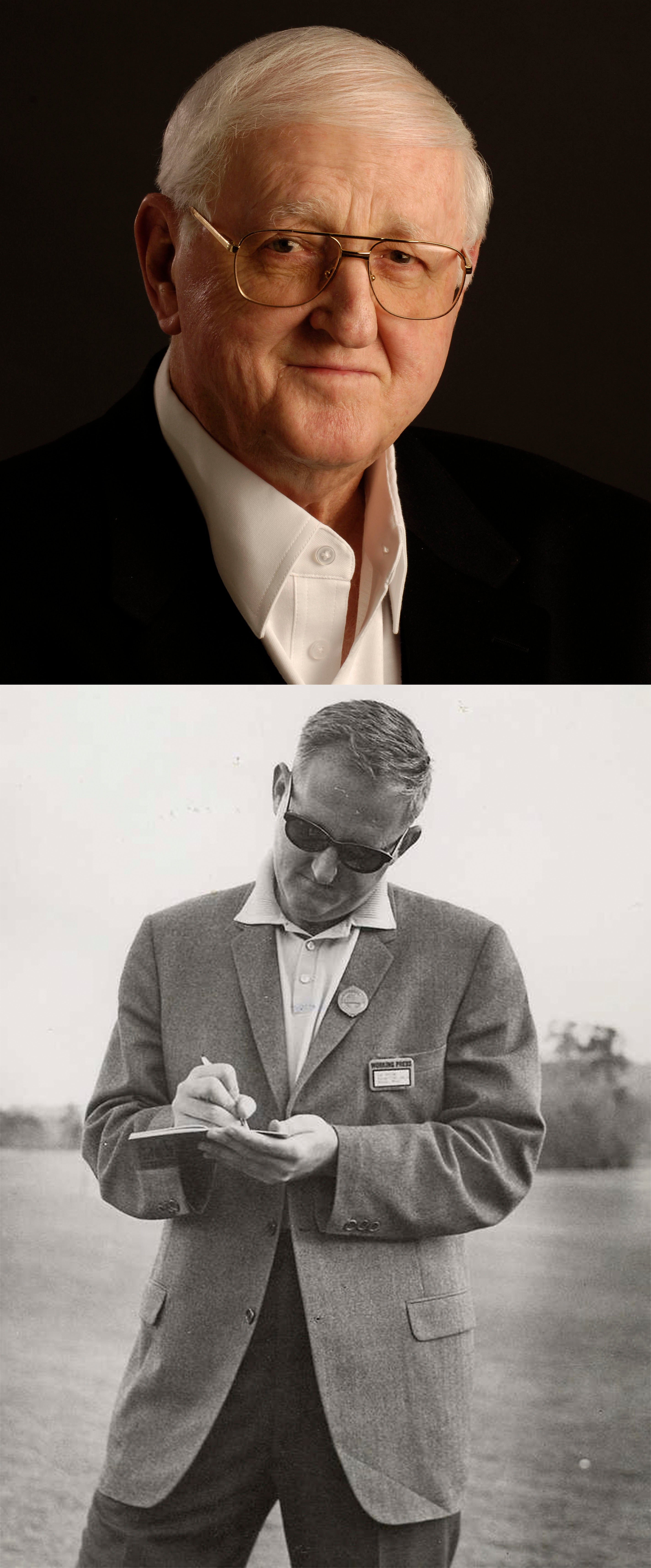 Dan Jenkins was an award-winning sportswriter and best-selling novelist whose career spanned more than six decades. The Fort Worth native was born on December 2, 1938 and died on March 7, 2019. Jenkins was the author of 24 books—12 novels and 12 works of non-fiction. After 15 years of writing for newspapers in Fort Worth and Dallas, Jenkins became nationally known for his stories in Sports Illustrated for more than a quarter of a century, and afterward for his five-year stint of writing a sports column for Playboy, and since then for his columns, features, and tweets in Golf Digest. Three of his best-selling novels—Semi-Tough, Dead Solid Perfect, and Baja Oklahoma—have been made into movies. He is one of only three sportswriters to be inducted into the World Golf Hall of Fame. He has also been inducted into the National Sportswriters and Sportscasters Hall of Fame, the Texas Sports Hall of Fame, the  Texas Golf Hall of Fame, and the TCU Lettermens Hall of Fame. For a lifetime of excellence in his profession, Jenkins has received the Red Smith Award from the Associated Press Sports Editors Association, the Ring Lardner Award from the Union League of Chicago, the PEN/ESPN Award for literary sports writing, the lifetime achievement award in sports journalism from the PGA of America, the William D. Richardson Award for outstanding contributions to the game from the Golf Writers Association of America, the Old Tom Morris Award from the Golf Course Superintendents Association of America, the Lincoln A. Werden Memorial Award from the Metropolitan Golf Writers Association for a lifetime of contributions to golf journalism, and the Amateur Football Award from the National Football Foundation and College Football Hall of Fame. But Jenkins said he was proudest of the fact that he managed to stay employed by one publication or another throughout his long career.