The Center
The Center for Sports Communication & Media (CSCM) brings together interests in the instruction, practice, and scholarship of sports journalism, broadcasting, media production, and human communication. It serves the mission of the Moody College of Communication and The University of Texas at Austin through its commitment to the highest quality of teaching, research, and interdisciplinary collaboration.
CSCM recognizes that sports represent perhaps the most universal form of popular culture. They influence our identities, consumption choices, interpersonal relationships, and media habits. Sports also promote some of the most visible and profitable industries in the world. As a result, how we communicate about sport, how sport is communicated to us, and what is communicated by sport are all important components of understanding and navigating contemporary life.
Launched in the fall of 2017, CSCM builds on the foundation built by the Texas Program in Sports & Media (TPSM) and its founding director, Michael Cramer. (For more information on TPSM and the founding members of its board of advisors, see this page.) The new Center sponsors TPSM programming such as the McGarr Symposium on Sports and Society, which includes the annual Frank Deford Lecture on Sports Journalism. In addition to these lectures and events, CSCM seeks to connect students to peers, faculty, and industry experts by developing professional networks and hosting educational programs on campus. CSCM also supports the Sports Media Certificate, administered by the Richards School of Advertising and Public Relations. Beginning in 2018, CSCM will administer a Sports Media minor, available to undergraduate students at UT.
Meet the Director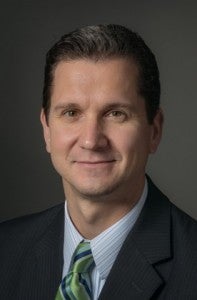 Dr. Michael L. Butterworth (Ph.D., Indiana University, 2006) is the Director of the Center for Sports Communication & Media, and Professor in the Department of Communication Studies. His research explores the connections between rhetoric, democracy, and sport, with particular interests in national identity, militarism, and public memory. He is the author of Baseball and Rhetorics of Purity: The National Pastime and American Identity during the War on Terror, co-author (with Andrew Billings and Paul Turman) of Communication and Sport: Surveying the Field, and editor of Sport and Militarism: Contemporary Global Perspectives.
Dr. Butterworth's essays have appeared in journals such as Communication and Critical/Cultural Studies, Communication and Sport, Communication, Culture & Critique, Critical Studies in Media Communication, the International Review for the Sociology of Sport, the Journal of Communication, the Journal of Sport & Social Issues, and the Quarterly Journal of Speech. He also contributes to websites such as Reading the Pictures and The Vision Machine.
Dr. Butterworth serves as Chair of the Communication and Sport Division for the National Communication Association and Secretary of the Sports Communication Interest Group for the International Communication Association. He previously served as the Founding Executive Director of the International Association for Communication and Sport. Dr. Butterworth earned his Ph.D. in Rhetoric and Public Culture at Indiana University-Bloomington. He also has an M.A. in Communication and a B.A. in Political Science from Northern Illinois University.