Deford, Thompson honored at inaugural Jenkins Medal Dinner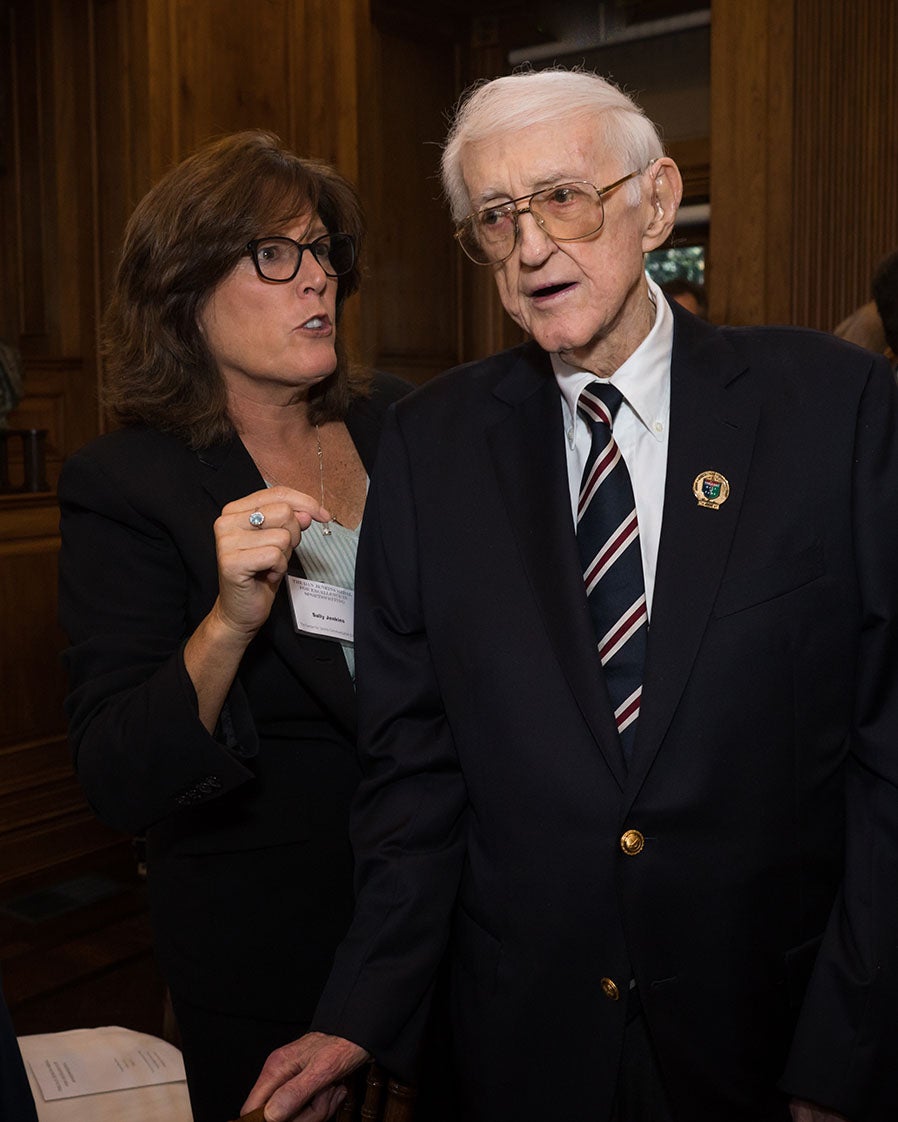 Frank Deford and Wright Thompson were named winners of the first-annual Dan Jenkins Medals for Excellence in Sportswriting during a ceremony in Dallas on Oct. 13, hosted by the Center for Sports Communication & Media. The national awards, named after the legendary Texas sportswriter Dan Jenkins, were presented before a capacity crowd of 150 at the Pecan Room in Dallas.
Deford, a sportswriting icon, was recognized posthumously with the Jenkins Medal for Career Achievement in Sportswriting, for an unsurpassed career that defined cultural engagement with and observation of American and international sports. Thompson, a writer for ESPN The Magazine, was presented with the Jenkins Medal for Best Sportswriting of 2016 for his profile, "The Secret History of Tiger Woods."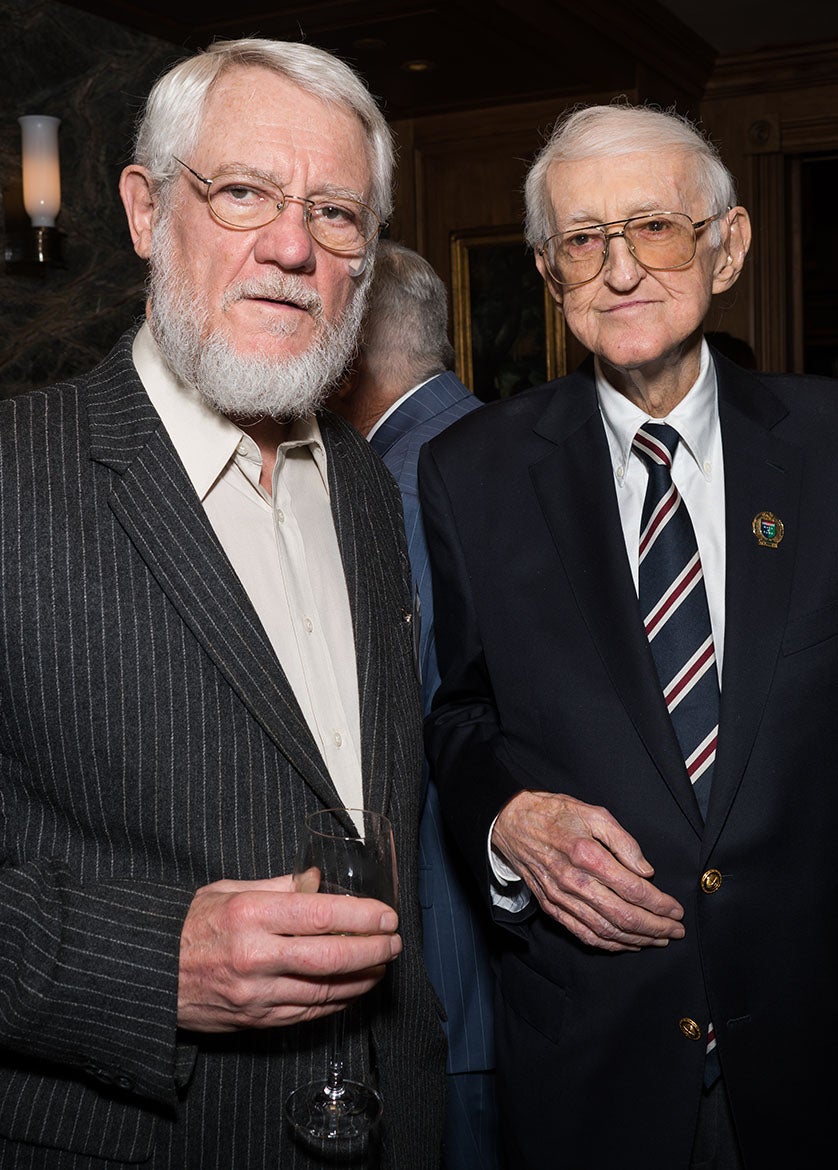 The writer Roy Blount Jr., a colleague of both Jenkins and Deford at Sports Illustrated in the '70s, served as emcee of the evening, which also featured a sneak preview of the documentary short "By Dan Jenkins," a retrospective of Jenkins' career, by Austin filmmakers and UT alumni Kelly Lipscomb and Matt Tisdale.
"Deford was the sportswriter who, through the sheer gorgeousness of his words, made the rest of us want to be sportswriters," said Joe Posnanski, executive columnist for MLB Advanced Media.
Deford, who passed away in May of 2017 at age 78, began writing at Sports Illustrated in 1963, and perfected the "takeout piece," a long-form tour-de-force that set a standard for his peers. In addition to his time at Sports Illustrated, Deford was the founding editor of the critically acclaimed but short-lived National Sports Daily newspaper that operated from 1990-91. He was a regular commentator for National Public Radio's Morning Edition from 1980 until his passing. Deford also contributed to HBO's Real Sports With Bryant Gumbel, beginning in 1995. The Center for Sports Communication and Media hosts the annual Frank Deford Lecture in Sports Journalism at Moody College annually in the spring.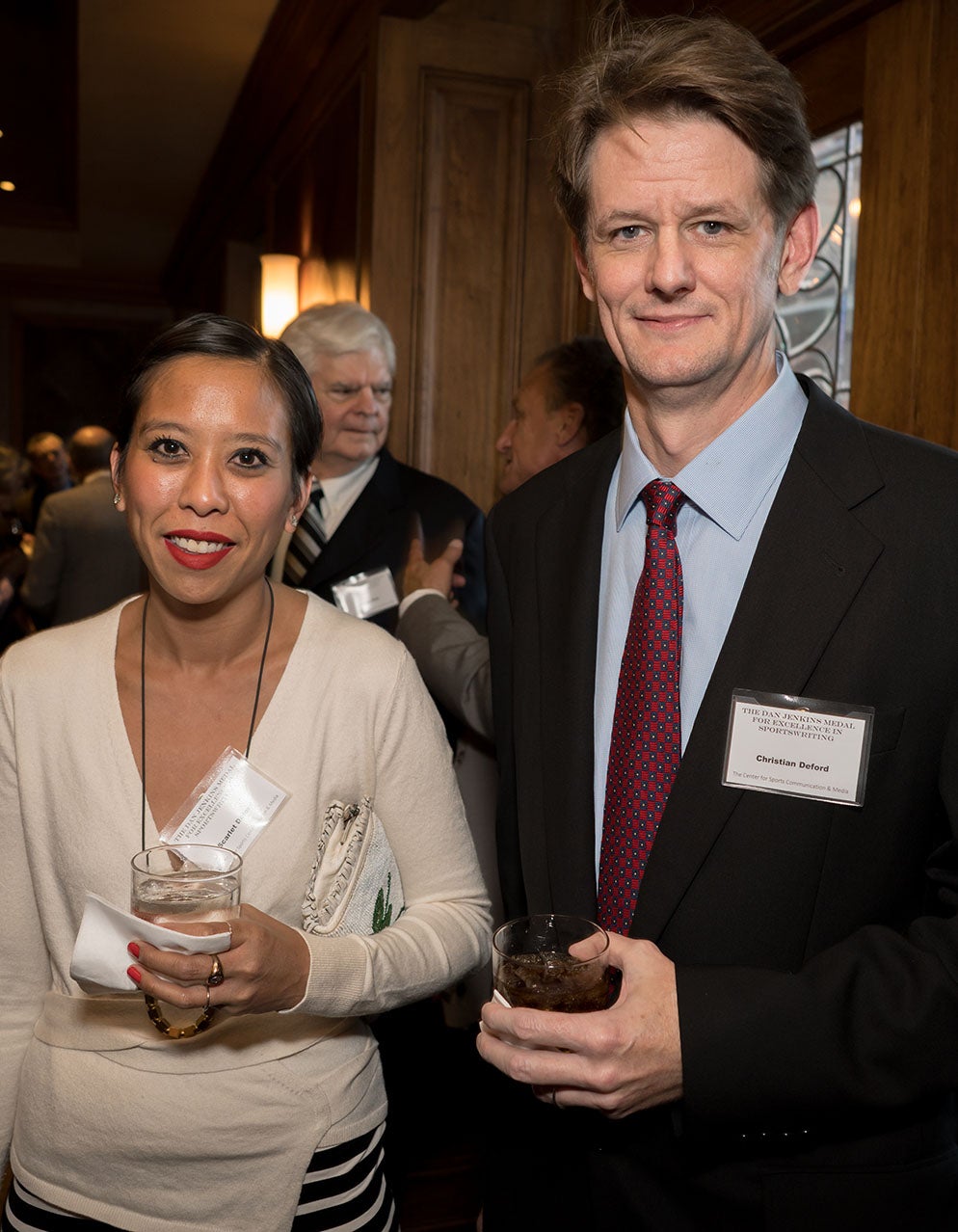 Deford's wife, Carol, and children, Christian and Scarlet, accepted the recognition on his behalf.
Thompson's winning article topped a field of 13 writers shortlisted as candidates for Jenkins Medal for Best Sportswriting of 2016.
"Wright is at his best when he's uncovering mysteries," said, John A. Walsh, former executive editor of ESPN, who emphasized Thompson's Southern roots and storytelling acumen, and how those elements combined for the complex profile of the elusive icon Woods.
After beginning his career at the Fort Worth Press and the Dallas Times Herald, Jenkins gained national prominence during his nearly quarter-century spent as the most prolific writer in the history of Sports Illustrated, where he became the nation's best-known writer on college football and golf, and authored "Semi-Tough," the first in a series of best-selling novels.
To date he has authored 23 books – 12 novels and 11 works of non-fiction. Jenkins has received the Red Smith Award from the Associated Press Sports Editors Association, the Ring Lardner Award from the Union League of Chicago, the PEN/ESPN Award for literary sports writing and the lifetime achievement award in sports journalism from the PGA of America.
"Because of what Dan Jenkins has meant to sportswriting – both in Texas and nationally—it was ideal that his be the name on this award," said Michael MacCambridge, co-chair of the jury. "He began writing at Sports Illustrated more than 50 years ago, but his influence can still be felt today."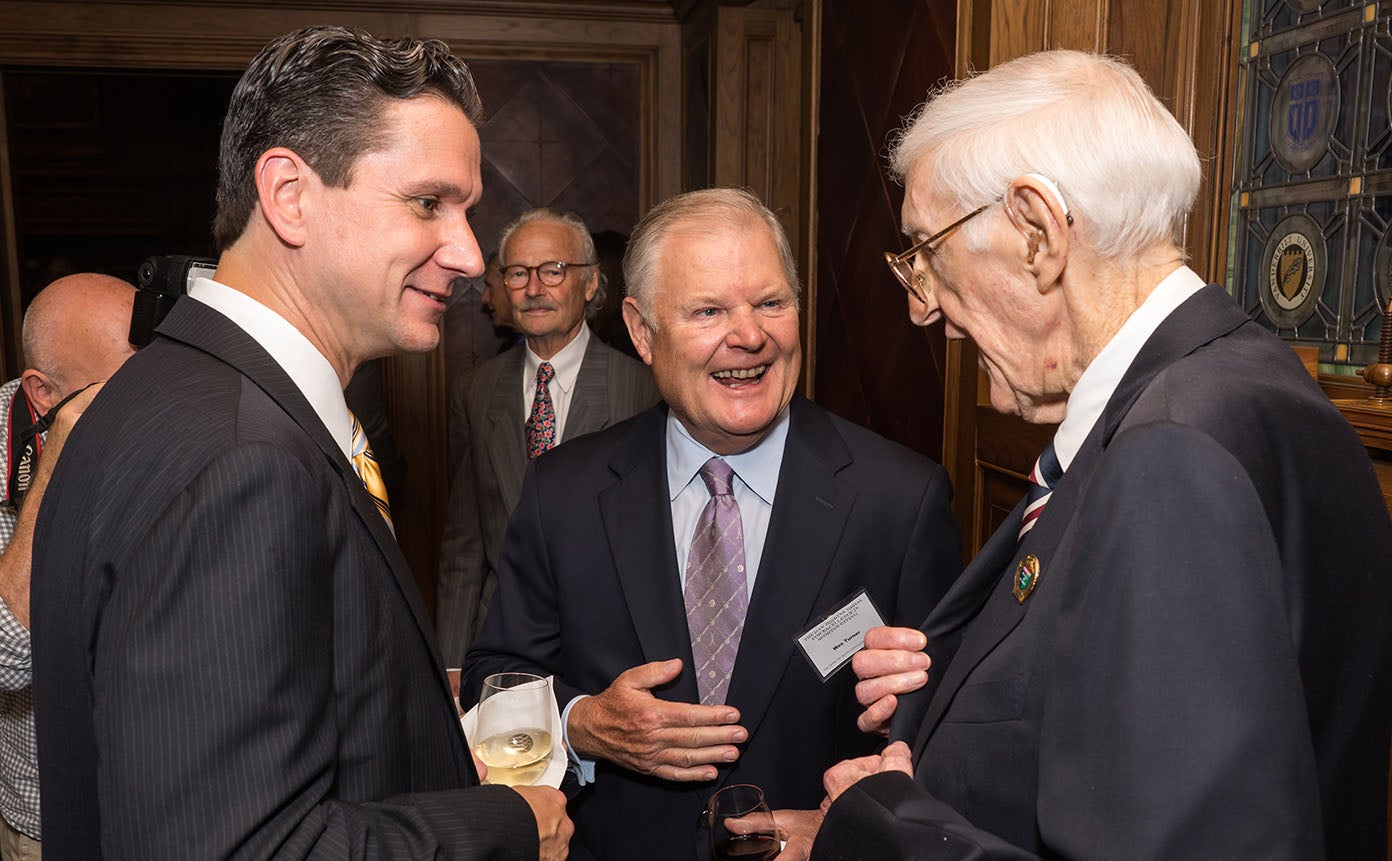 The Center for Sports Communication & Media in the Moody College of Communication sponsors the Jenkins Medal and hosted the awards dinner on the eve of the The University of Texas at Austin and Oklahoma University football game. The center brings together interests in the instruction, practice and scholarship of sports journalism, broadcasting, media production and human communication.
The Center builds on the foundation established by the Texas Program in Sports and Media. It sponsors programming such as the McGarr Symposium on Sports and Society, which includes the annual Frank Deford Lecture on Sports Journalism. In addition to these lectures and events, the Center seeks to connect students to peers, faculty and industry exerts by developing professional networks and hosting educational programs on campus.
Awards dinner honorary co-chairs
A committee of noted athletes, sports business professionals and Dallas/Fort Worth luminaries is supporting the Dan Jenkins Medal for Excellence in Sportswriting reception and dinner, signalling their admiration and respect to Mr. Jenkins' contributions to sportswriting and American culture.
Jerry Jones, Dallas Cowboys
Stephen Jones, Dallas Cowboys
Roger Staubach, Super Bowl champion
Tom Hicks, formerly Texas Rangers and Dallas Stars
Jim Moroney III, Dallas Morning News
Wes Turner, formerly Fort Worth Star-Telegram
Jerry Tarde, Golf Digest
Hunter Enis, Texas Christian University
Ben Crenshaw, PGA champion
Tom Kite, PGA champion
Kathy Whitworth, LPGA champion
Scotty Sayers, Coore and Crenshaw Associates
Lance Barrow, CBS Sports
Brian Jones, CBS Sports
Jay Bernhardt, UT-Austin
Mike Perrin, UT-Austin
Chris Plonsky, UT-Austin
Mack Brown, UT-Austin
Edith Royal, UT-Austin
UT-Austin alums Dr. Lee Anderson and Cappy McGarr are serving as hosts for the evening. The reception and dinner for the Dan Jenkins Medal for Excellence in Sportswriting will be held at 6:30 pm on October 13 in Dallas at the Pecan Room in Old Parkland Hospital. A VIP reception will precede the dinner at 5 pm.
Moncrief and Priest endow Jenkins Medal awards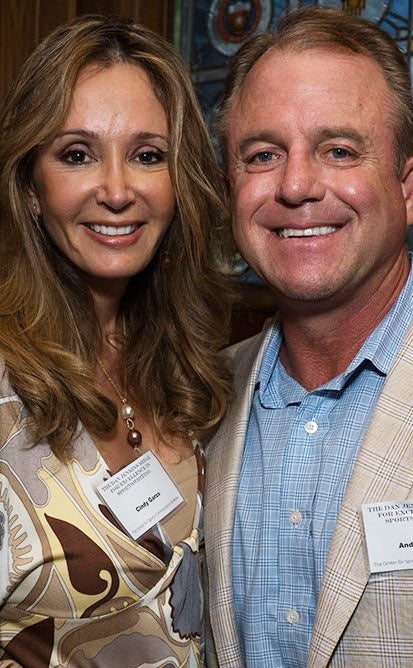 Cindy Garza and Andy Priest at the 2017 Jenkins Medal award dinner
Legendary University of Texas at Austin alumni W. A. "Tex" Moncrief and Andrew J. Priest have made significant gifts to support the Dan Jenkins Medal for Excellence in Sportswriting, ensuring its growth, development and longevity. Both are successful businessmen and noted supporters of UT Athletics. Mr. Moncrief is a Ft. Worth-based oilman and a long time friend of Mr. Jenkins. Mr. Priest is a College of Communciation graduate who has grown his financial services business in Houston.