The McGarr Symposium on Sports and Society
---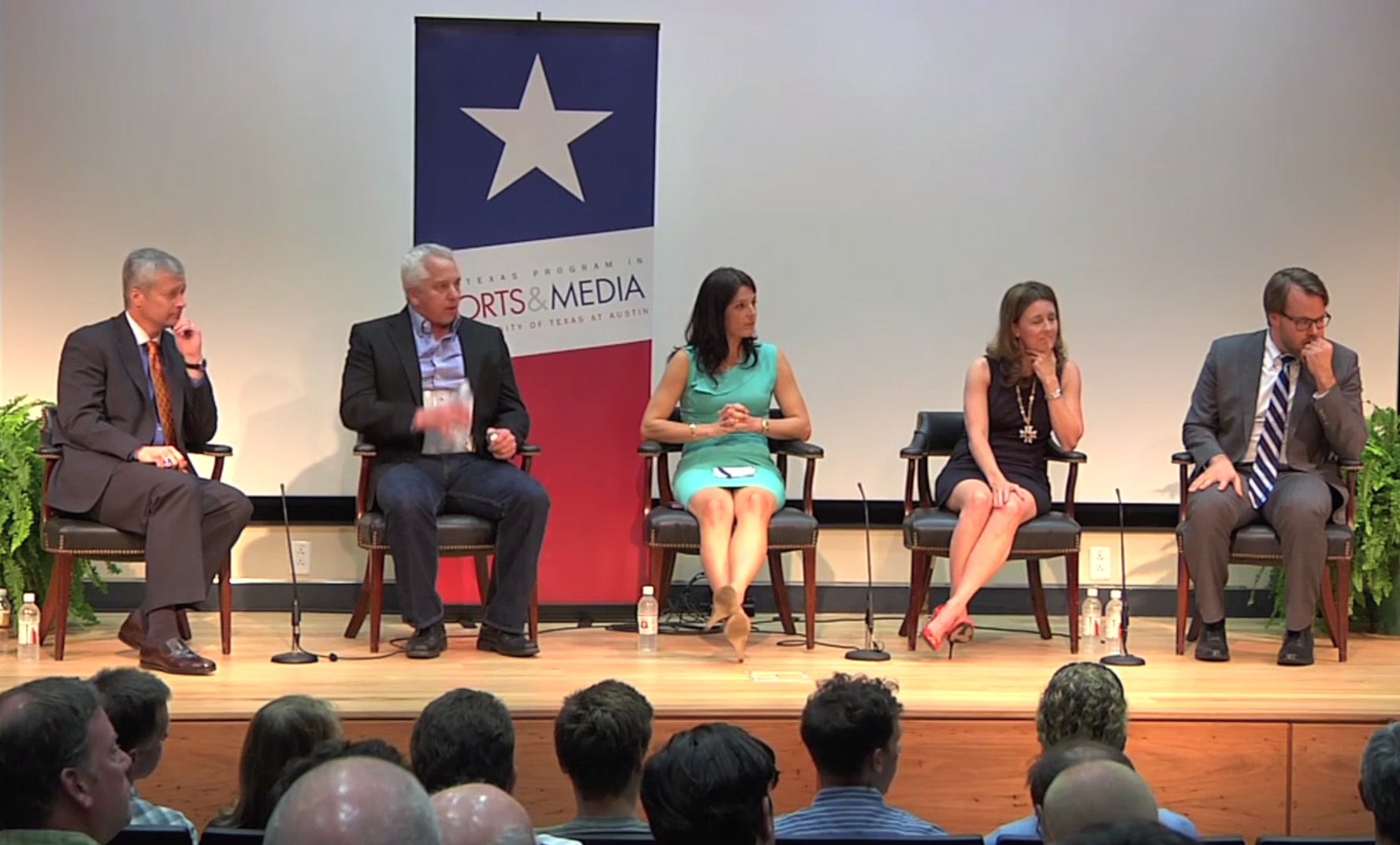 The McGarr Symposium brings to life a robust and interactive conversation about the role of sports and media and their collective impacts on American culture. The conference brings academics and working professionals to the UT-Austin campus to discuss sports-related public policy issues, cultural challenges and societal imperatives of sport consumption behavior. The event was named in the honor of Cappy McGarr (B.A. 1973, B.J. 1975, M.B.A. 1977). First held in 2006, the McGarr Symposium has featured world-class athletes in addition to scholars, journalists and sporting world luminaries. In The Real Price of Winning at All Costs: A Discussion about Elite Cycling the McGarr Symposium hosted three-time Tour de France winner Greg LeMond, his wife Kathy LeMond, Bill Bock, general counsel to the US Anti-Doping Agency, Reed Albergotti, a reporter at the Wall Street Journal, and Betsy Andreu, the wife of professional cyclist Frankie Andreu. In conjunction with the Civil Rights Summit, hosted by the LBJ Presidential Library and Museum, the McGarr Symposium presented Bill Russell and Jim Brown in conversation with Dr. Harry Edwards about their experiences and perspectives through a lifetime of activism as world-class athletes. In conjunction with that event, Dr. Edwards presented A 'Blueprint' for Educational Achievement: Lessons from the Life and Calling of a Once-failed Student. The 2018 McGarr Symposium feature Arthur Sulzberger Jr., publisher (retired) of The New York Times. Additional Symposium participants include Deford Lecturers Sally Jenkins, David Maraniss, Jeremy Schaap, Neil Lifer, Taylor Branch, Dr. Andrew Zimbalist and John A. Walsh. Broadcaster Bob Costas delivered the 2018 Deford Lecture. Mina Kimes, NFL Analyst, Senior Writer, Podcast Host and Television Contributor at ESPN, spoke in 2020.
The Frank Deford Lecture in Sports Journalism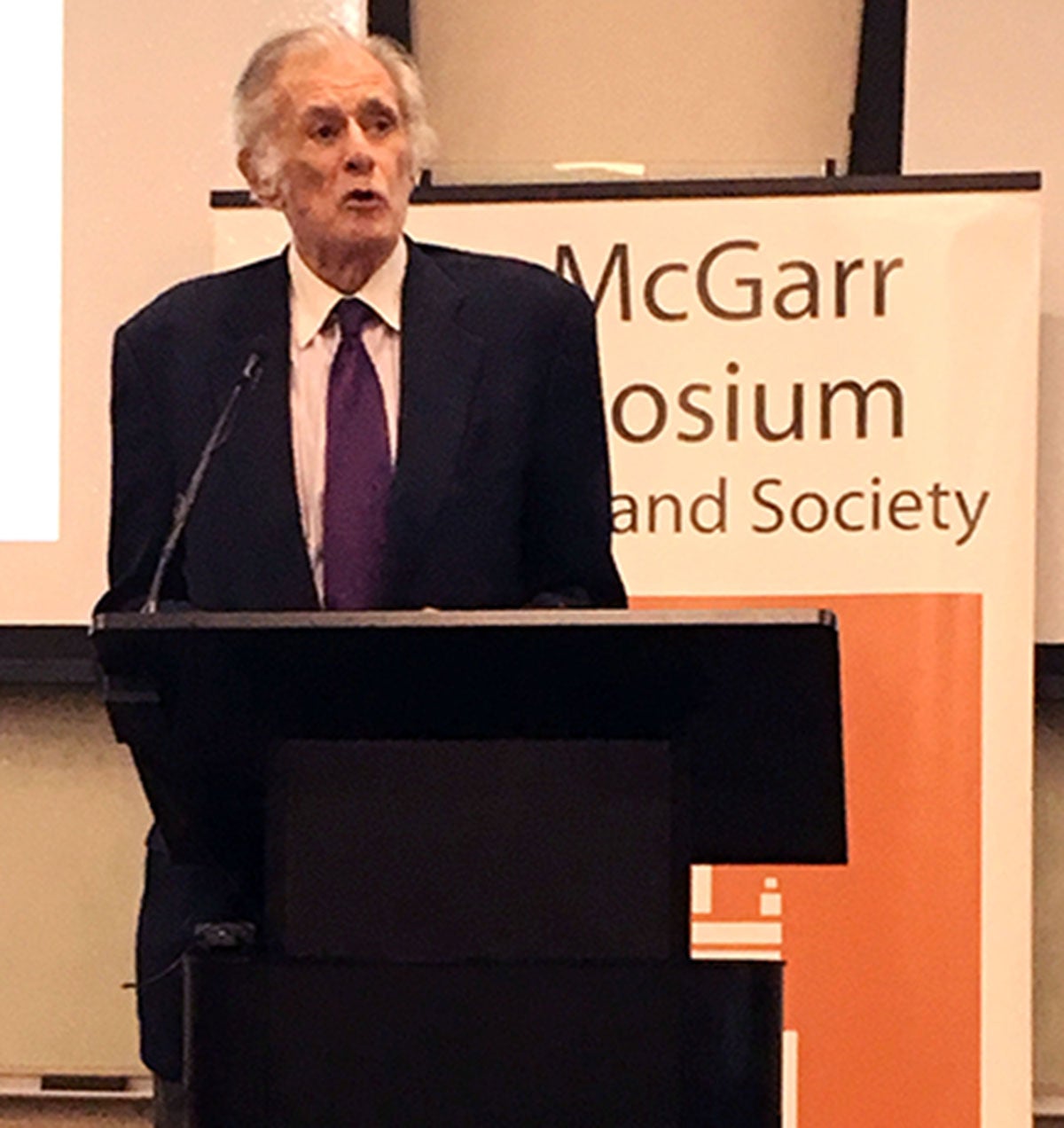 The McGarr Symposium on Sports and Society has also hosted the Frank Deford Lecture in Sports Journalism annually since 2010. Created to honor the iconic sportswriter and carry his unique vantage point on the intersection of sport and society into the 21st Century, the Deford Lecture has hosted journalists, scholars and leading thinkers to discuss pressing cultural issues with the UT-Austin community. Frank Deford (1938-2017) was amongst the most versatile of American writers. On radio, he was heard as a commentator every Wednesday on Morning Edition on National Public Radio. On television, he worked as a Senior Correspondent for the HBO show, Real Sports with Bryant Gumbel. In print, he was Senior Contributing Writer at Sports Illustrated–– an association that dates back to 1962. As a journalist, Deford was elected to the Hall of Fame of the National Association of Sportscasters and Sportswriters and named U.S. Sportswriter of the Year six times, as voted by his peers. Sportswriter of The Year. The American Journalism Review has likewise cited him as the nation's finest sportswriter, and twice he was voted Magazine Writer of The Year by the Washington Journalism Review. Posthumously, Deford received the inaugural Dan Jenkins Medal for Excellence in Sportswriting for his lifetime achievement. Other honors Deford received include a National Magazine Award for profiles, a Christopher Award and journalism Honor Awards from both the University of Missouri and Northeastern University. In broadcast, Mr. Deford has won both an Emmy and a George Foster Peabody Award. ESPN presented a television biography of Mr. Deford's life and work, You Write Better Than You Play. The Sporting News described Mr. Deford as "the most influential sports voice among members of the print media." The magazine GQ has called him, simply, "the world's greatest sportswriter." Deford authored 18 books in his career, including Five Strides on the Banked Track: The Life and Times of the Roller Derby (1971), Cut 'n' Run (1973), Over Time: My Life as a Sportswriter (2012). Moreover, two of his books—the novel, Everybody's All-American, and Alex: The Life Of A Child, his memoir about his daughter who died of cystic fibrosis—were made into movies. Two of his original screenplays—"Trading Hearts" and "Four Minutes"—have also been filmed. From 1982-1999 Deford served as national chairman of the Cystic Fibrosis Foundation, and he remains chairman emeritus. A native of Baltimore, Deford was a 1962 graduate of Princeton University.
The Dan Jenkins Medal for Excellence in Sportswriting
---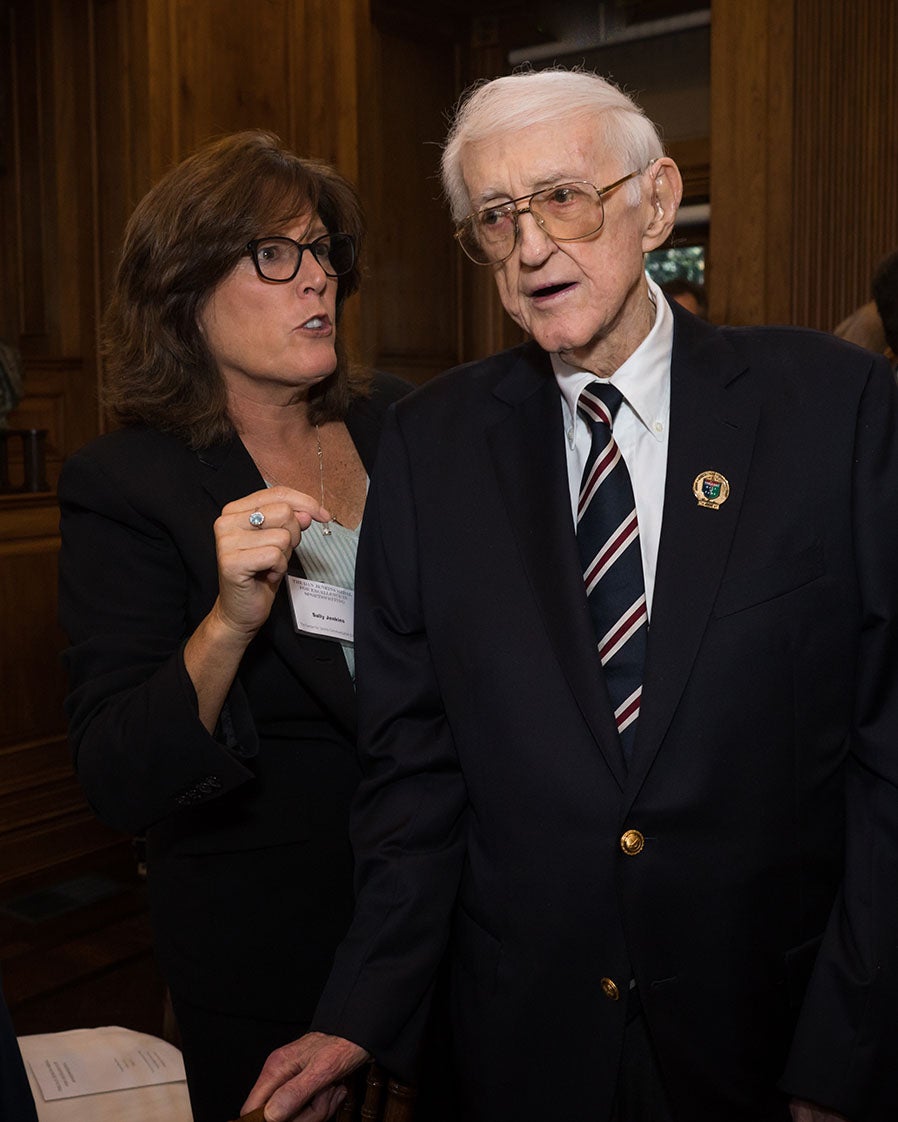 The Dan Jenkins Medal for Excellence in Sportswriting was established as a national award to honor the sportswriter's craft and sensibility in a spirit befitting its eponymous namesake. An iconoclast Texan, Dan Jenkins revolutionized sportswriting during his tenure at Sports Illustrated from the 1960s to 1980s, impacting how a coming generation of sports media professionals would regard the unique cultural embrace Americans have for their athletes, teams and leagues. The Jenkins Medals were awarded in two categories: one for lifetime achievement in sportswriting, and one for the most outstanding work of sportswriting published in the previous calendar year. Jenkins Medal winners in the Lifetime Achievement category include Frank Deford (2017), Dave Kindred (2018), Gary Smith (2019), Rick Telander (2020) and Roger Angell (2021). Jenkins Medal winners in the Best Sports Writing category include Wright Thompson.(2017), Chris Ballard (2018), Sarah Spain (2019), Dave Sheinin (2019) Liz Merrill (2020) and Mitchell S. Jackson (2021).
Dan Jenkins is a native of Fort Worth and graduate of Texas Christian University. Jenkins covered sports for the Fort Worth Press and Dallas Times Herald before moving to New York City in the early 1960s to write more than 500 articles for Sports Illustrated, cementing himself as the nation's authority on golf, college and professional football. Since 1985, Jenkins has written a monthly column for Golf Digest. He has written 23 books, including the novels "Semi Tough," "Dead Solid Perfect" and "Baja Oklahoma," each of which was made into a feature film. In 2005, he served as official historian of the National Football Foundation and in 2012 Jenkins became one of only three writers to be inducted in the World Golf Hall of Fame. In addition to numerous awards and lifetime achievement honors, Jenkins' career spans more than six decades and includes induction in the National Sportswriters and Sportscasters Hall of Fame, Texas Sports Hall of Fame, Texas Golf Hall of Fame, and the TCU Lettermen's Hall of Fame.
The Jenkins Medal is determined by a 16-member jury of working writers and editors. Inaugural members include: co-chair Sally Jenkins, Dan's daughter and writer for the Washington Post; Kirk Bohls of the Austin American-Statesman; Chuck Culpepper of the Washington Post; Gerald Early, author and professor of humanities at Washington University in St. Louis; Houston-area sportswriter Melanie Hauser; Joe Posnanski of MLB.com; John Walsh, long time executive editor of ESPN; Gene Wojciechowski of ESPN; co-chair Michael MacCambridge, author of numerous books; Karen Crouse of The New York Times; Bryan Curtis of The Ringer.com; Vahe Gregorian of the Kansas City Star; Kathleen McElroy, associate director of UT's School of Journalism and former editor of The New York Times; Steve Rushin of Sports Illustrated; Seth Wickersham of ESPN The Magazine; and Alexander Wolff, author and contributing writer at Sports Illustrated.