Michael Butterworth, Director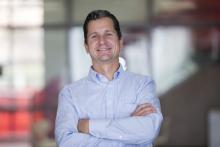 Dr. Michael L. Butterworth (Ph.D., Indiana University, 2006) is the Director of the Center for Sports Communication & Media, the Governor Ann W. Richards Chair for the Texas Program in Sports and Media, and Professor in the Department of Communication Studies at The University of Texas at Austin. His research explores the connections between rhetoric, democracy, and sport, with particular interests in national identity, militarism, and public memory. He is the author of Baseball and Rhetorics of Purity: The National Pastime and American Identity during the War on Terror, co-author (with Andrew Billings and Paul Turman) of Communication and Sport: Surveying the Field, editor of Sport and Militarism: Contemporary Global Perspectives and The Handbook of Communication and Sport, and co-editor (with Daniel A. Grano) of Sport, Rhetoric, and Political Struggle and Rhetorics of Democracy in the Americas (with Adriana Angel and Nancy Gómez). Dr. Butterworth's essays have appeared in journals such as Communication and Critical/Cultural Studies, Communication and Sport, Communication, Culture & Critique, Critical Studies in Media Communication, the International Review for the Sociology of Sport, the Journal of Communication, the Journal of Sport & Social Issues, the Quarterly Journal of Speech, and Rhetoric & Public Affairs. Dr. Butterworth serves as Chair of the Sport Communication Interest Group for the International Communication Association. He previously served as the Chair of the Communication and Sport Division for the National Communication Association and was the Founding Executive Director of the International Association for Communication and Sport. Dr. Butterworth earned his Ph.D. in Rhetoric and Public Culture at Indiana University-Bloomington and has an M.A. in Communication and a B.A. in Political Science from Northern Illinois University.
Associate Directors of the Center for Sports Communication & Media

Natalie Brown Devlin, assistant professor in Stan Richard School of Advertising and Public Relations, researches crisis communication and digital media in the context of sport. Her work examines how social media empowers organizational stakeholders during sports-related crises. In her capacity as CSCM Associate Director, Dr. Devlin coordinates Center-affiliated research initiatives.

Kevin Robbins, senior lecturer in the School of Journalism, joined the journalism faculty in 2012 after 22 years in daily newspapers including stints at The (Memphis, Tenn.) Commercial Appeal, the St. Louis Post-Dispatch and the Austin American-Statesman. His biography on the legendary golf instructor, "Harvey Penick: The Life and Wisdom of the Man Who Wrote the Book on Golf," was published by Houghton Mifflin Harcourt in 2016. In his capacity as CSCM Associate Director, Robbins coordinates Center-related student initiatives.
Moody College faculty affiliates of the Center for Sports Communication & Media
UT-Austin faculty affiliates of the Center for Sports Communication & Media
Graduate Student Affiliates
Harlie Collins, Stan Richards School of Advertising and Public Relations
Adrianne Grubic, School of Journalism and Media
Alec Hurley, Department of Kinesiology and Health Education
Yongwoog Jeon, Stan Richards School of Advertising and Public Relations
Lily Kunda, Department of Radio-Television-Film
Katie Lever, Department of Communication Studies
Gwen Lockman, Department of History
Vincent Pena, School of Journalism and Media
Sam Schelfhout, Department of Kinesiology and Health Education
Brett Siegel, Department of Radio-Television-Film
Hyunsang Son, Stan Richards School of Advertising and Public Relations
CSCM Advisory Coiuncil

Jon Berger
Berger is Dallas-based Partner/Managing Director within Accenture's Global Market Maker Group. Current role involves creating new businesses and growth opportunities with Fortune 500 clients in addition to leading Accenture's US Sports Analytics Business, and Accenture's relationship with the University of Texas Business of Sports Institute. An Austin native, he graduated from the Ohio State University. Earlier in his career, he worked with CBS Sports, ESPN, NFL Network, and Fox Sports. In 2008, Berger and Rich Cellini were nominated for an Emmy for Best Live Sporting Event - BYU vs Utah.

Ken Capps
Capps graduated UT-Austin with a Journalism Degree with High Honors in 1982. He was also named the Outstanding Journalism student his senior year. Ken received his Master's Degree in Journalism at Northwestern University, and spent 35 years as a broadcast reporter and corporate media executive. His first day on the job as VP-Public Affairs at DFW International Airport was September 11, 2001. Ken serves on multiple campus committees and now covers college football for Football Writers Association of America.

Druley, who claims to be the first Texas Longhorn hired at ESPN, is the Worldwide Leader's Executive Vice President for Event and Studio Production, having risen up through ESPN's studio production department since joining the company in 1990. Her current responsibilities include event and studio coverage of NFL; college football; NBA; men's and women's college basketball including the women's NCAA tournament plus college soccer, softball, volleyball and more; and professional and international soccer. She also oversees the production of the SEC Network, ACC Network, Longhorn Network, ESPN Deportes, and ESPN's networks outside the U.S.

Feferman is Founder of The FefCo, where she offers high-level producing and strategy in content, business development, and brand management across the intersection of sports, entertainment, and culture for clients like Spurs Sports & Entertainment, Katie Nolan, and Dave & Busters among others. Prior to starting her company in 2016, Rebecca spent eight years at SXSW, where she navigated multiple roles, creating and running sports-focused track SXsports, and serving as Head of Convergence Programming. A proud graduate of the University of Michigan, Feferman originally hails from Albuquerque, New Mexico.

Shane Hildreth
Hildreth is the Chief Executive Officer for VYPE Media. VYPE Media, headquartered in Houston, provides exclusive content and services for high school and youth sports. Prior to becoming CEO of VYPE, Hildreth was the Chief Revenue Officer for Work America Capital. Earlier in his career, he worked in sales and development roles for IMG College, the Houston Astros and Lone Star Sports and Entertainment, a division of the Houston Texans, among other organizations. Hildreth received a Bachelor of Arts from the University of Texas at Austin with a major in Psychology

Fran Harris
Harris was a member of UT's 1986 undefeated (34-0) NCAA women's basketball championship team. She earned a BA and MA in Journalism from UT's School of Communication, and a Master of Science in Technology Commercialization (MSTC) from the McCombs School of Business. She played on the Houston Comets' first WNBA Championship team in 1997, and was inducted into the Texas Athletics Longhorn Hall of Honor in 2007. The author of 23 books, and a 20-year veteran television broadcaster, In 2010, Fran became the first African American to host a series on HGTV, and spent 20 years as an ESPN, SEC Network and Longhorn Network sports announcer. In 2023, The Athletic Club, her first indoor/outdoor sports complex will open on 38 acres in Sunnyvale, Texas, a suburb of Dallas.

Doug Lindauer
An Austin native and former UT-Austin baseball player (1982-87), Lindauer worked for 25 years in distribution sales for Turner Broadcasting. Among other duties, he worked closely with cable and satellite companies to secure distribution of TBS, TNT, CNN, TCM, Cartoon Network and many other networks. Lindauer now works with Ted Turner directly as the second largest private landowner in the United States. There he helps with land conservation and animal welfare projects through the hospitality and hunting opportunities made available by Ted Turner Reserves. Lindauer received a BBA in Finance and Marketing from the McCombs School of Business.

McGarr is an entrepreneur, fundraiser, author, and Emmy-nominated producer based in Dallas. He created the McGarr Symposium on Sports and Society at UT-Austin and is the author of The Man Who Made Mark Twain Famous: Stories from the Kennedy Center, the White House, and Other Comedy Venues. McGarr serves on the boards of The Foundation for the National Archives and The Lyndon Baines Johnson Foundation. He is also a member of the Council on Foreign Relations in New York. He serves on The Better Angels Board of Directors, filmmaker Ken Burns' advisory board. McGarr has chaired a White House Fellows Regional Panel in 2012 and 2013 and has served as a panelist from 2009 to 2013. McGarr received three degrees from The University of Texas: a Bachelor of Arts in 1973, Bachelor of Journalism in 1975, and a Master of Business Administration in 1977.

Rebecca Otto
Otto is Vice President of Talent Marketing and Media at Wasserman, where she advances content development for professional athletes. She works across all divisions at global sports and entertainment marketing agency Wasserman, managing media and content development for clients in every sport. In the past, she handled the PR and content marketing for Wasserman's NFL division with some 100 NFL clients including Michael Bennett, Malcolm Jenkins and Justin Tuck. She was responsible for projects such as Marshawn Lynch's "No Script", Warner Brothers and HBO Max's adaptation of Bennett's New York Times best-selling book "Things That Make White People Uncomfortable", Maxx Crosby's podcast "REAXX with MAXX" with Blue Wire and Cam Jordan's podcast with The Players Tribune and docuseries with the NFL. Otto is a 2006 graduate of UT-Austin.

Mark Pannes
Pannes is President, Strategy and Corporate Growth, for Circuit of the Americas, North America's premier motorsports and entertainment venue. He previously served in CEO roles for Major League Soccer's Vancouver Whitecaps FC, Italian Serie A football club AS Roma, and later its stadium development company, Stadio della Roma. Pannes earned a JD from Fordham Law School's evening program and is a member of the New York State bar. He graduated from the University of Texas at Austin as a William Randolph Hearst Scholar and was named a Moody College Distinguished Alumnus in 2009. He is a past chair of the CSCM advisory council and a Lecturer in the Stan Richards School of Advertising and Public Relations.

Bryan Perez
Perez is currently the President and CEO of AXS, a leading live event ticketing company with operations in the US, UK, EU and Japan. Prior to this, he was the President of Digital, Ticketing, and Media at Anschutz Entertainment Group (AEG), a global sports, concerts and facilities company. Previous experience has included Senior Vice President and General Manager for NBA Digital, CEO of Live Nation's Global Digital division and positions at Clear Channel Entertainment, the National Hockey League's Dallas Stars and Madison Square Garden. Bryan holds a JD/MBA from Stanford University and a BBA in Finance from the University of Texas at Austin. He is currently chair of the CSCM Advisory Council and a teaching fellow.
Mark Phillip
Phillip is the CEO and Founder of Are You Watching This?! and MetaBet, two sports tech companies using patented technology to drive engagement for fans and revenue for media companies and sportsbooks. A Brooklyn native, MIT dropout, and lifelong Yankees fan, Mark is obsessed with enhancing the game-watching experience through digital and physical innovation, whether it's teaching a DVR to automatically extend the recording of a game going into Overtime, or hand-building wireless LED excitement meters for every TV in his favorite sports bar. When he's not watching Cricket at 4am, you'll find him working to improve diversity and equality in the tech community, mentoring at schools, accelerators, and incubators around Austin.

Yesko is a documentary filmmaker and journalist. Her films include Tainted Blood: The Untold Story of the 1984 Olympic Blood Doping Scandal, Broken Trust: Athlete Abuse Exposed and Uphill Climb: The Women Who Conquered the Impossible Race. Her podcast The Bounce: Sport Talk With a Spin airs on NPR.
Senior Fellow
Michael J. Cramer
Cramer is CSCM's Senior Fellow. Formerly Director of the Texas Program in Sports and Media, Cramer continues to teach in the Moody College of Communication and contribute his thoughts and observations on topical issues of sport and culture. From 1998-2004, Cramer serverd as the president and chief operating officer of Southwest Sports Group (SSG), the holding company for the Texas Rangers.and Dallas Stars while Thomas O. Hicks owned the teams. Among other accomplishments, Cramer led the development of three of the largest mixed use developments in the Dallas - Ft. Worth area in creating new home stadia for the Stars, Rangers and Double A Frisco Rough Riders. Cramer also led SSG's 2000 negotiations with Fox Sports Net, which resulted in the industry's highest valuation for local broadcast rights at the time the deal was signed.
Cramer received his B.A. from the State University of New York at Albany in 1974 and a J.D. from Marquette University Law School in 1978. He also taught at the Preston Robert Tisch Center for Hospitality, Tourism and Sports Management at New York University s School of Continuing and Professional Studies