2019 Awards Dinner at Fort Worth's Colonial Country Club, October 25, 2019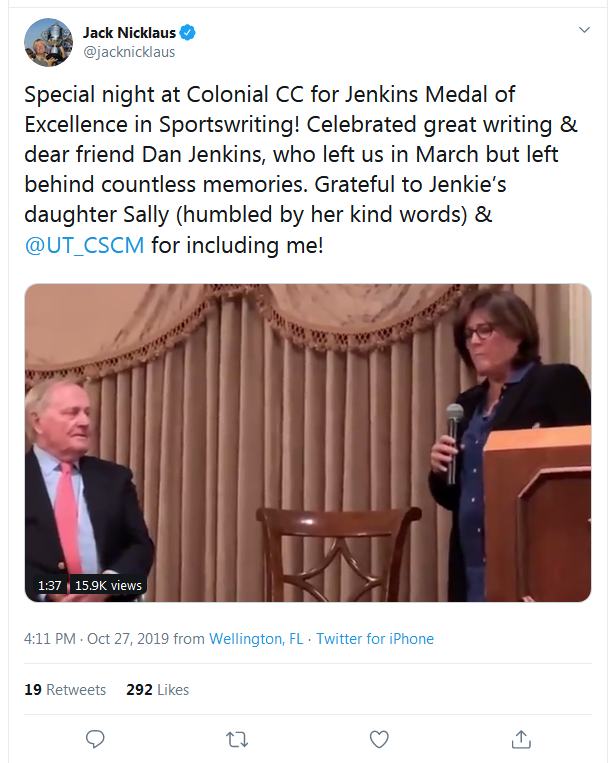 Gary Smith, Sarah Spain and Dave Sheinin have been named 2019 award winners by the Dan Jenkins Medal for Excellence in Sportswriting jury.
Smith receives the Lifetime Achievement award, while Spain and Sheinin are recognized for the best sportswriting of the previous year. The winners will be celebrated and receive their medals at a banquet at the Colonial Country Club in Fort Worth on Oct. 25, hosted by The University of Texas at Austin's Center for Sports Communication & Media. This year's ceremony will honor the memory of Dan Jenkins, who passed away in March at age 90, and feature a conversation with legendary golfer Jack Nicklaus.
This is the third year these national awards have been presented. They are named in honor of Jenkins, the legendary Texas sportswriter, to celebrate the craft and culture of sportswriting he personified through his storied career. See the list of 2019 Jenkins Medal finalists here.
In his decades writing for Sports Illustrated, Smith became regarded -- by readers and writers alike -- as the master of the long takeout piece, astutely and humanely profiling a great athlete (like the brilliant but reserved Mia Hamm, who launched a generation of soccer players) or an impossibly complex situation (like the sexual assault conviction of schoolboy basketball great Richie Parker). His wide-ranging stories remain the definitive works on their subjects, and Smith remains the gold standard against which other writers judge themselves.
"The art of the long profile story, the bonus piece, began in Sports Illustrated in the Sixties," said Michael MacCambridge, co-chair of the Jenkins Medal jury. "But in the '80s and beyond, Gary Smith expanded and deepened the form. His 1988 piece on the aging Muhammad Ali and his entourage is one of the greatest stories in the history of sportswriting. It speaks to the depth of Gary's work that he wrote dozens of other stories of comparable quality."
Spain and Sheinin will both receive 2019 Jenkins Medal for Best Sportswriting awards. Spain is being acknowledged for Runs in the Family, published by ESPN, which is a feature on Kansas City Chiefs running back coach Deland McCullough and his search for his birth father. Sheinin's Washinton Post profile on Brian Mazone, A Lifelong Dream Washed Away, recounts the minor leaguer's experience with his big league call up. The work from Spain and Sheinin topped a field of 12 writers shortlisted as candidates for 2019 Jenkins Medal for Best Sportswriting.
Spain is an Emmy and Peabody Award-winning radio host, TV personality and writer. She is the host of the "Spain and Company" radio show, airing weeknights on national ESPN radio, a writer for espnW.com, host of ESPN's "That's What She Said" podcast and a regular on "Around The Horn," "Highly Questionable," "The Dan Le Batard Show with Stugotz," and "SportsCenter." Spain received a bachelor's degree in English from Cornell University, where she competed as a heptathlete and served as co-captain of the track & field team.
Sheinin has written for The Washington Post since 1999. His work has twice been featured in the Best American Sports Writing anthology and he won the National Headliner Award for sports writing in 2010. A graduate of Vanderbilt University, where he majored in English and music and trained as an opera singer, he is also an accomplished musician and songwriter whose debut full-length album of original pop/rock songs, First Thing Tomorrow, was released to critical praise in 2018.
From CSCM Director Dr. Michael Butterworth:
"The Center for Sports Communication & Media is honored to present three Dan Jenkins awards this year. Lifetime achievement winner Gary Smith has authored definitive profiles of athletes ranging from Muhammad Ali to Mia Hamm to Pat Tillman. More than merely offering careful studies of these individuals themselves, Smith has the gift of illustrating the complexity of sporting celebrity and the impact athletes have on their fans and communities. Now retired from Sports Illustrated, Smith's stories are as relevant to sportswriters today as they were when they were first published.
"Our annual winners confirm why so many see sport as a metaphor for life itself. Spain's feature on Deland McCullough finds hope and affirmation in the relationships forged through football, framed through a plot twist seemingly only possible in a Hollywood film. Sheinin, meanwhile, spotlights former pitcher Brian Mazone, for whom baseball became not the romantic metaphor for life's possibilities but instead a lesson in opportunities denied. Both are outstanding studies in character that use sport as a lens to view the hopes and dreams we all share."
Previous winners of the Jenkins Medals were Frank Deford and Dave Kindred in the Lifetime Achievement category and Wright Thompson and Chris Ballard in Best Sportswriting.
The Dan Jenkins Medal for Excellence in Sportswriting is awarded by a jury of renowned sportswriters and editors from across the country, including co-chairs Sally Jenkins and Michael MacCambridge. Jury members for lifetime achievement in sportswriting include Karen Crouse, Chuck Culpepper, Vahe Gregorian, Will Leitch, Joe Posnanski, Steve Rushin and Seth Wickersham. For best sportswriting of the previous year, jury members include Kirk Bohls, Bryan Curtis, Tracee Hamilton, Melanie Hauser, Kathleen McElroy, John Walsh and Gene Wojociechowski.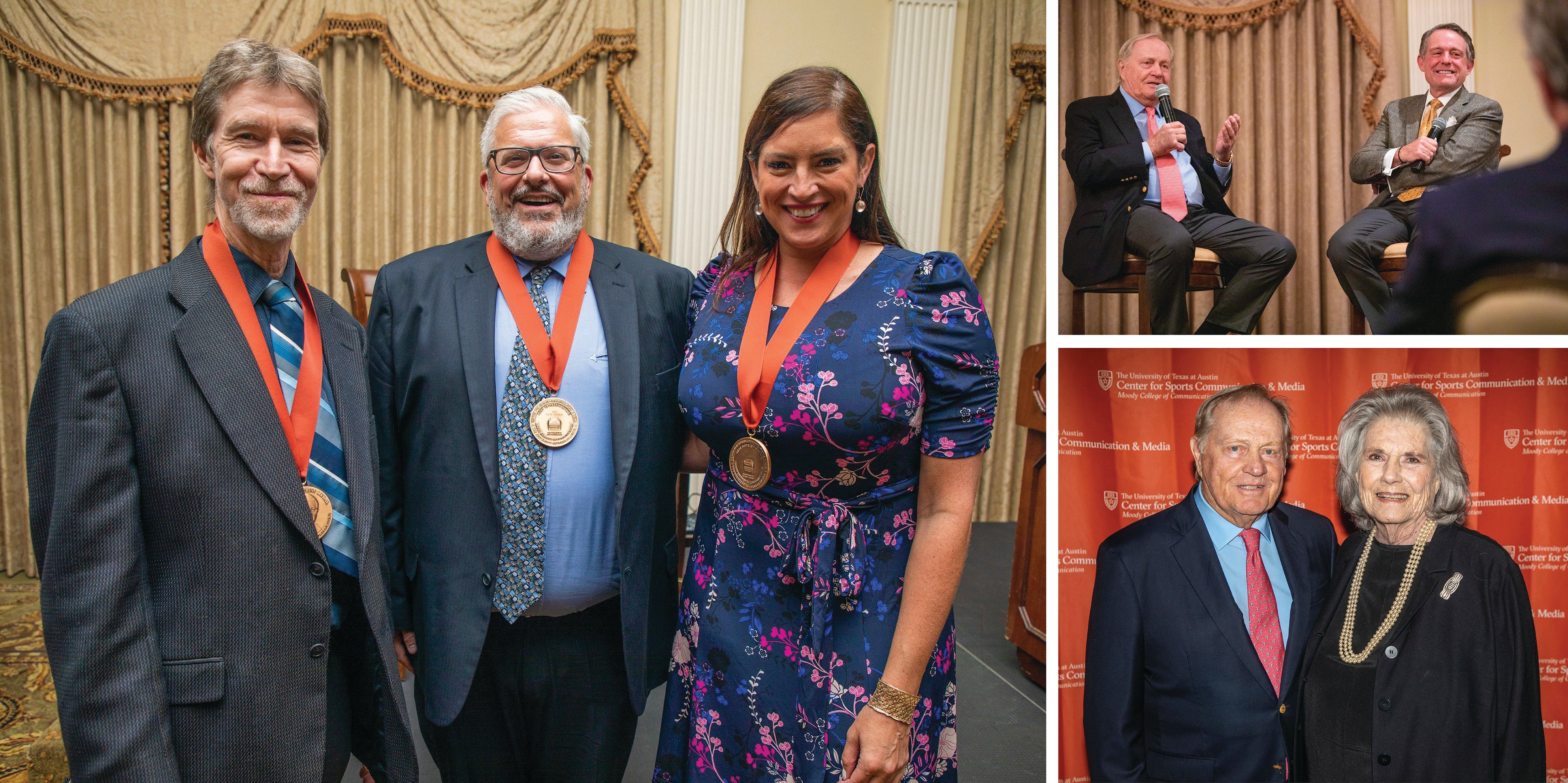 Life through a learner's eyes: Dan Jenkins remembered as insightful storyteller
By Marc Speir
According to golfing legend Jack Nicklaus, his friend, fellow legend and late sportswriter Dan Jenkins shared with him "one of the greatest lessons" he ever learned.
At the 1960 U.S. Open in Englewood, Colo., Nicklaus was paired with Texan and veteran golfer Ben Hogan. Nicklaus led the tournament going into the back nine only to finish runner-up to Arnold Palmer after a pair of missed putts, which opened the way for a surging Palmer to erase a seven-stroke deficit in the final round.
"The first time Dan saw me really play was at Cherrywood there," Nicklaus said.
Nicklaus later learned that Hogan said to Jenkins, "I played with a young kid (Nicklaus). If he'd known how to win, he would've won by several strokes."
The 20-year-old Nicklaus was the reigning U.S. Amateur Champion and admitted he didn't initially understand Hogan's sentiment. He became a quick study and took the advice to heart. His Hall of Fame career includes a record-setting 18 major championships.
"As you go on, you've got to learn how to win, you've got to learn how to be smart," Nicklaus said. "That's all part of learning how to play golf … learning anything about life. You go through life and if you don't learn from your mistakes — if you don't learn from things that happen — you don't ever get anywhere. And I paid particular attention to the kind of things I screwed up and tried not to repeat them."
Successes and failures often crystallize as narratives. The Center for Sports Communication & Media at the Moody College of Communication examines how these stories are mirrored in life and are also communicated through the lens of sport.
Nicklaus was the featured storyteller at the center's 2019 Jenkins Medal Awards Dinner last fall at the Colonial Country Club in Fort Worth, Texas. During a moderated question-and-answer session with NBC sportscaster Jimmy Roberts, Nicklaus described his relationship with Jenkins and how it grew through the decades.
"Jenkins had his own sense of humor," Nicklaus said. "Creative. Funny. I loved his books. I read every one of his books, and I don't read much. He had a great wit." 
Nicklaus said he was honored to be recognized as the inaugural Dan Jenkins Medal Sports Legend but what really fueled his desire to attend the ceremony was to celebrate Jenkins. Jenkins passed away in March 2019 at the age of 90.
"I'm here because Dan was a great friend, and I loved my relationship with him," Nicklaus said.
Jenkins Medal Award winners for 2019 include Gary Smith for the Lifetime Achievement Award, and Sarah Spain and Dave Sheinin for the Best Sportswriting of the Previous Year Award.
"Adding the 'Jenkins Legend' to the Jenkins awards event allows us to emphasize the importance of storytelling across forms of sports communication and media," said Michael Butterworth, director of the Center for Sports Communication & Media. "I can think of no one more appropriate than Jack Nicklaus to inaugurate this feature."
Known primarily as an author and journalist with a particular gift for bringing golf narratives to life, Jenkins was published in newspapers and magazines and authored multiple books. He was known to gain the trust of his subjects as he explored and weaved their stories.
By sponsoring the Jenkins Awards, the center seeks to celebrate these narratives and preserve the legacy of great sportswriting. The center is equally committed to making sense of sport's communicative potential in contexts ranging from broadcast production to interpersonal communication and public persuasion.
The center holds Jenkins' sportswriting archive among other collections from Michael MacCambridge, Frank Deford and other icons in the industry. In addition to the Jenkins awards, the center presents the McGarr Symposium on Sports and Society, which includes the Frank Deford Lecture in Sports Journalism and connects students to alumni and professionals in sports communication and media industries.