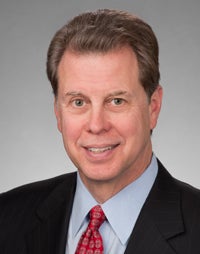 Paul Watler (Dallas, TX) earned a bachelor of journalism degree from the University of Texas in 1976 and was an award-winning newspaper reporter before returning to Austin for law school. He earned his J.D. from the University of Texas School of Law in 1981 where he was a member of Texas Law Review.
Mr. Watler has devoted much of his legal career to representing Texas newspapers, broadcasters and journalists in trials and appeals of First Amendment, libel, privacy and freedom-of-information suits. Two cases he successfully argued in the Texas Supreme Court, WFAA-TV, Inc. v. McLemore and City of Garland v. Dallas Morning News, are among the most frequently cited authorities in Texas on libel and public information, respectively.
His media clients have been recognized with the Pulitzer Prize for Investigative Reporting and the rarely-bestowed Columbia-Du Pont Gold Baton for news reporting projects for which Mr. Watler provided First Amendment counsel.
In 2007, Mr. Watler was named as the "Go To Lawyer" for media litigation by Texas Lawyer. Many of his media cases have been high-profile, including litigation related to the JFK assassination, the Branch Davidian shoot-out in Waco and the Oklahoma City bombing. His media clients have included major metropolitan and national newspapers, magazines, and wire services, as well as television stations.
Mr. Watler has long been active in giving back to the media and legal professions. He served as president of the Freedom of Information Foundation of Texas in 1996-99 and as a board member of that First Amendment group since 1988. Mr. Watler was elected to serve as a member of the board of directors of the Texas Association of Broadcasters and North Texas Public Broadcasting (KERA). He has served as chairman of the Public Affairs Committee of the State Bar of Texas and of the Media Relations Committee of the Dallas Bar Association.
Although his primary concentration has been on First Amendment and media cases over the past 33 years, he has extensive experience in a variety of business litigation matters involving aviation, employment, health-care, securities, banking, intellectual property, antitrust, oil and gas, and real estate. Mr. Watler has been listed in The Best Lawyers in America since 1995 and is among a select group of attorneys recognized in four categories. He was named one of the 250 Best Lawyers in Dallas by D Magazine and a "Texas Super Lawyer" by that publication annually since 2003.
Mr. Watler's wife, the former Julia Oberg, his adult children, Blair Watler and Reid Watler, and his daughter-in-law, Shannon Dodds Watler, are all graduates of The University of Texas at Austin.