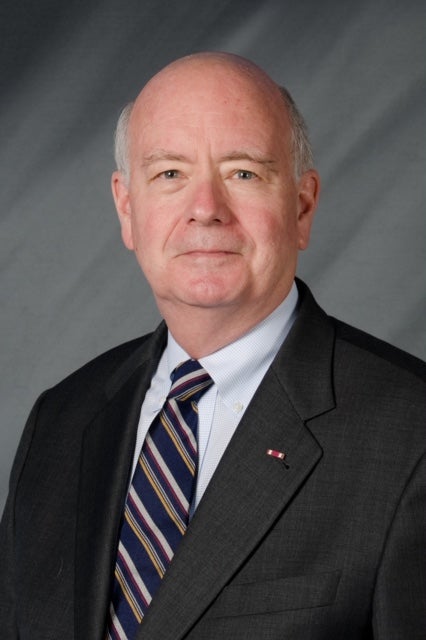 Joseph MacDonald "Joe" Dealey, Jr., a recipient in 2013 of the Robert C. Jeffrey College Benefactor Award, is a fourth generation Texan and member of the Texas broadcasting and publishing Dealey family of Dallas, which traces its roots to Galveston in 1870.
Following Joe's resignation in 1983 from the A.H. Belo Corporation, now Belo Corp, he joined in 1984 the Senior Staff of Dallas/Fort Worth Airport Board as Public Information Manager.
Later, as Director of Public Affairs, Joe was responsible for planning and implementing the DFW International Airport Board's media and public relations activities and assisting with legislative and congressional initiatives in Austin and Washington, D.C. until his resignation in December 1999.
Joe's public recognition of newspaper, radio and television reporters as "First Responders", most notably during two major airliner crashes at DFW in August 1985 and August 1988, was acknowledged as fostering among airports nationwide an acceptance of and appreciation for the media that changed the way airports and airlines dealt with broadcast and print media reporters.
Joe is Chairman of the History of Aviation Advisory Council at the University of Texas at Dallas; a Trustee of Scottish Rite Hospital for Children; a Member of the Parkland Foundation Board of Directors; Chairman of the Board of Trustees and President of the Joe M. and Doris R. Dealey Family Foundation; a Volunteer at the Dallas Veterans Administration Medical Center; and Communicant, Acolyte and Lector at Saint Michael and All Angels Episcopal Church.
Joe is married to Sally Duncan Grenier, a proud Longhorn Alumnae, whose grandparents, Mary Hilliard Bickler and Max Hermann Bickler, are namesakes of a Memorial Scholarship established by her mother, Jane Bickler Grenier, for Moody College of Communication students in the Department of Communication Sciences and Disorders.
Joe's grandfather, E.M. (Ted) Dealey; father, Joe M. Dealey and son Christopher Charles Dealey were members of University of Texas Classes of 1913, 1941,
and 1999, respectively. His brother, Russell, a Member of the Reddick Society, received his Masters Degree from UT in 1974.