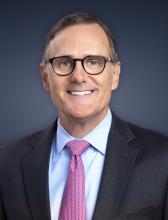 Eric Lassberg is Vice President & General Manager of KXAN-NBC. Under his leadership KXAN has grown from a distant third place station in market share to the number one station In Austin since 2015.  KXAN's dominant news leadership position is marked by an in-depth and investigative brand that was launched in 2011 and has been recognized for many prestigious journalism awards including a national Alfred I. duPont award, six national Edward R. Murrow awards, three Walter Cronkite awards, and many others.
Eric started in the business as a Sales intern for KXAS in the summer of 1984. A second-generation Longhorn, Eric graduated from the University of Texas with a degree in advertising.  Following his May '85 graduation, he went to work at KXAS as an Account Executive. In 1987 he went to work at KTXA where he remained until 1995 when he was promoted to General Sales Manager and transferred out of Texas to Atlanta, Georgia. His next move was to be GM at KSCW in Wichita, Kansas.
In 2006, Eric returned to Austin as the General Manager of KXAN. He focused first on the business's most valuable resource: its people. In 2010 he launched a core values initiative that changed the culture of the station and trajectory of the business. Collaboration, candor, respect, passion and humility can be found in each KXAN staff member. With a unified purpose of informing and enriching the community they serve, KXAN's people and culture is the main reason for its success. 
In 2019, The Texas Association of Broadcasters awarded Eric the TV Broadcaster of the Year award for the state of Texas.
Eric serves on the board of The American Heart Association and ABC Kite Festival. Eric is also a member of The Longhorn Foundation Advisory Council.
Eric married Ashley Lassberg in 2003.  They have two children, a daughter, and a son, and are living the dream in the greatest city in the world, Austin, TX.  Hook 'em horns!
"Eric Lassberg is hands-down the best general manager I have worked for in 36 years of television broadcasting," said KXAN chief forecaster, Jim Spencer.  "Under his leadership we all learned the importance of defining our culture, core values and purpose. Those are things most of us had never considered.  He guided us in establishing some goals for KXAN that had never been achieved in the history of the television station. They were lofty goals, but many of them we have already achieved, years ahead of schedule. He is smart, driven, very hard-working, down-to-earth, fair and unflappable. I've been extremely lucky to have worked for him, and more importantly, learned from him."
KXAN is committed to the community with its in-depth and investigative news, first warning weather, and community service initiatives.  The KXAN team has won a multitude of journalism awards with Eric at the helm. These include some of the most prestigious in the business:
2017 Alfred I. duPont Columbia University Award

Walter Cronkite Award for Excellence in Television Political Journalism (3)

Edward R. Murrow Award (regional)
In 2019, KXAN has been recognized with these awards:
Walter Cronkite Award for Excellence in Television Political Journalism - Oil Empire

Edward R. Murrow Award - Multimedia - KXAN Investigates/

KXAN.com

Texas Associated Press Broadcasters-Freedom of Information Foundation of Texas Award - DENIED

Texas Associated Press Broadcasters Series Award - Long Road to Equality

Texas Associated Press Broadcasters Spot News Award - Llano Wildfires

Society of Professional Journalists First Amendment Award - Investigation Category - Oil Empire

Society of Professional Journalists First Amendment Award - Defending the Disadvantaged Category - DENIED

Texas Medical Association Anson-Jones Award - Complaints Kept Quiet

Investigative Reporters & Editors Award (Finalist) - Oil Empire
As broadcasters know, we can make a difference if we unite the community for great causes. KXAN has used the power of the broadcast medium to help raise awareness for organizations such as The Trail Foundation, Family Eldercare, The Boys & Girls Club and more. In 2018, Eric created a new health initiative in partnership with the American Heart Association. The station-wide mission was named Simple Health and was designed to provide Central Texans with stories and resources that would help them live happier and healthier lives. Another key component to the cause was providing Central Texans access to hands-only CPR training to raise Austin's bystander rate beyond the national average.  
Eric continues to work each day to serve his community through his focus on the culture of KXAN, and the invaluable resources his team can provide to Central Texans.