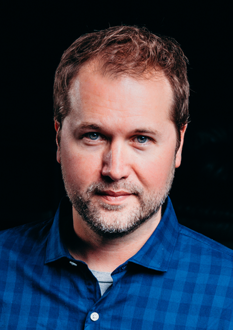 Matt Hullum (Austin, TX) is the CEO of Rooster Teeth, a pioneering media and entertainment company that boasts more than 45 million subscribers across its YouTube network. He was recently named one of Variety's "Top Digital Entertainment Execs to Watch in 2018." As a Writer/Director/Producer Matt has directed more than 30 national television commercials, over 40 short films, and a dozen music videos.
In 2015 he directed his first feature film Lazer Team, which set records for crowd funding and cinema-on-demand sales before its launch as the premiere movie release on YouTube Premium. Matt also co-directed the popular sequel Lazer Team 2, as well as seven seasons of the most successful web series of all-time, Red vs. Blue. Matt appears in front of the camera from time-to-time, and remains a starring member of the cast of Red vs. Blue, voicing the characters of Sarge, Doc, O'Malley, Wyoming and Maine.
Matt often serves as Executive Producer on Rooster Teeth's marquee productions, including the upcoming horror comedy film Blood Fest, and the long-running series RWBY, which is the first American-made anime to be released in Japan by a major studio (Warner Bros.). He currently lives in Austin, TX, with his wife and two sons and knows all the best Mexican restaurants in town.