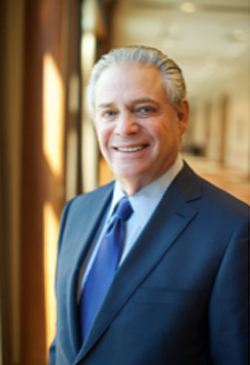 Larry Safir (McAllen, Tx) has been recognized as one of the countries' top Media Executives. In 2014, he was awarded the Texas Associationof Broadcasters' "Life Time Achievement Pioneering Award" for his career and contributions in the field of Broadcasting. Mr. Safir's resume also includes being Executive Producer/Producer and Investor in many Broadway and Las Vegas shows, plus in the field of music he is a two time Grammy nominated Executive Producer.
Throughout his career he built and managed television and radio stations around the United States. From 1992-2010 as Executive Vice President of Entravision, he helped build and simultaneously managed nine media properties under one roof in McAllen that included five TV network affiliates and four radio stations and produced the first US based Spanish language newscast for Univision in the Rio Grande Valley of Texas. His news programs rapidly obtained market-leading ratings which he maintained for over two decades. He is also credited for producing and launching a prototype model for doing Spanish language and English language news using a single newsroom, studio and staff that is still copied by many to this day.
Mr. Safir is also a minority owner of the National Association of Basketball's (NBA) Houston Rocket's G league affiliate "The Rio Grande Valley Vipers". Mr. Safir is currently retired from Broadcasting and is now serving as a managing partner of "Doctors Hospital at Renaissance" the nation's largest physician owned hospital with over 5,000 employees. Mr. Safir also serves as the Chairman of the Hospital's Cancer Foundation.