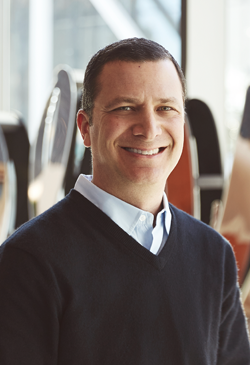 Villarreal Society
Littlefield Society
Jordan Levin (Austin)
A proven creator, operator and strategist in both traditional and new media, Levin has been instrumental in launching numerous entertainment franchises that have left a lasting impact on popular culture over the past three decades as an enterprising network and studio executive, producer, director and digital entrepreneur. Acknowledged for his insightful understanding of youthful audiences, Levin's experience spans a broad range of content genres in both long and short-form series and film, including scripted comedy and drama, unscripted formats, reality, documentary, news, live events, animation, podcasting, commercials and more. Considered a prominent thought leader, innovative builder and collaborative partner, Levin has been recognized by many publications and organizations for his forward-thinking influence across the entertainment, sports, advertising and technology communities.

Presently, Levin is General Manager of Rooster Teeth, a dynamic media and entertainment company that is a subsidiary of Warner Bros. Discovery. Based in Austin, Texas with offices in Los Angeles, Rooster Teeth reaches a large and passionate community of engaged fans around the world with original content that drives a diversified business model of direct subscription membership, advertising sales and sponsorships, content production, licensing and distribution, events, and e-commerce revenue. In this role, he is responsible for leading all aspects of the business including oversight of strategy, creative and operations.

Before joining Rooster Teeth in 2019, Levin served as the CEO of Awesomeness, a multiplatform media company and premier entertainment brand serving the global Gen-Z audience. Previously owned by parent company DreamWorks Animation, along with Verizon and the Hearst Corporation, Comcast NBCUniversal recruited Levin to evaluate the majority stake in Awesomeness it acquired following its purchase of DreamWorks Animation. In this capacity, he oversaw the growth of the company's leading digital networks, its world-class film and television studio behind hits like the Netflix feature film, "To All the Boys I've Loved Before," and Hulu's critically acclaimed "PEN15," as well as its full-fledged creative agency. In 2018, Levin successfully initiated and facilitated the sale of Awesomeness to Viacom.

Earlier, Levin spent two years serving as the NFL's first Chief Content Officer, overseeing the league's content portfolio across the NFL Network, its digital properties, NFL.com and NFL Mobile, newsroom, social media channels, NFL Films, event programming such as the Super Bowl Halftime Show and NFL Honors, and external partnerships. Prior to the NFL, Microsoft sought Levin in early 2014 to join its nascent Xbox Entertainment Studios division as General Manager tasked with coordinating the launch of an interactive, subscription video on demand programming service creating original premium content for the global, over-the-top Xbox platform. In 2005, Levin built Generate, a pioneering studio and talent management company. He sold the company to Alloy Digital in 2011 and served as President of the new entity, during which time Alloy Digital subsequently merged with Break Media to form Defy Media.

Previously, Levin joined The WB Television Network (now The CW) in 1994 as part of its founding executive team where he spent a decade helping to launch, build and brand America's most successful broadcast network targeting young-adult audiences through hit programs like "Dawson's Creek," "Buffy the Vampire Slayer," "Felicity," "Smallville," "Gilmore Girls," "Charmed," "7th Heaven," and "One Tree Hill," amongst others. He became sole President of Programming in 2001, included oversight of 'Kids' WB,' and two years later became the youngest CEO in broadcast television history. Levin began his career as a member of the creative team that revitalized the Disney brand in network television having developed shows including "Home Improvement," "Ellen," and "Boy Meets World," managed series like "The Golden Girls," and established the Walt Disney Writers Fellowship Program to create opportunities for underrepresented writers.

A frequent keynote speaker, moderator, panelist and presenter, Levin is also a published author and adjunct professor for the University of Texas at Austin's Moody College of Communication and previously USC's Annenberg School for Communication and Journalism. An Emmy-award winning producer, Levin is a member of both the Academy of Television Arts & Sciences and the Directors Guild of America, having made his directorial debut in 2004 on an episode of "Everwood." He has lent his strategic acumen to a variety of boards: including non-profit organizations, academic institutions, political advocacy groups, early stage media companies, and industry associations such as NATPE, for which he is a past Chairman, HRTS, for which he is a past President, the Los Angeles Board of Governors for the Paley Center for Media, the Austin Television Festival, the Austin Film Society, the University of Texas at Austin's Moody College of Communication Advisory Council and the Los Angeles Network for Moody College, for which he is Chair. He was named the College's Alumnus of the Year in 2002, was the University Alumni Organization's 2004 Outstanding Young Texas-Ex Award recipient, selected as one of the University's 125 Extraordinary Exes in 2010 and presented the Robert C. Jeffrey College Benefactor Award in 2018.