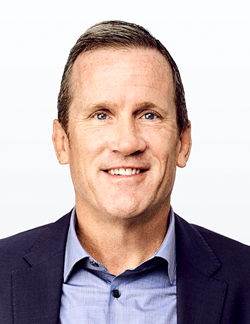 Joe Hogan is executive vice president of sales and marketing for WarnerMedia. In this role, Hogan leads WarnerMedia's sales business, which includes oversight of the company's agency & client relationships, digital, direct response & content partnerships. Hogan is based in New York.
A sales veteran with domestic and international business experience, Hogan has held leadership positions in Atlanta, Hong Kong, Chicago and New York. Prior to his current role, Hogan led the company's client sales business as executive vice president of portfolio sales and client partnerships. Before expanding his oversight across the company's full portfolio, Hogan led ad sales as executive vice president for Turner's emerging consumers division, which includes Adult Swim, Boomerang, Cartoon Network and truTV, as well as their related digital businesses. During this time, Hogan also was part of the executive team who introduced reduced ad loads on truTV through our limited commercial interruption offerings. Prior to his promotion to this position in 2012, Hogan served as senior vice president and national sales manager for Turner's entertainment brands, managing the development of truTV ad sales, which attracted dozens of new advertisers to the growing network, while also overseeing ad sales strategy for the top-rated networks TNT and TBS.
Hogan started his career with Pepsi before joining Turner a year later, as an Atlanta-based account executive selling across all of the company's properties. In 1992, Hogan relocated to Hong Kong for two years as vice president of Turner International Distribution and Business Development. In that role, he oversaw distribution strategy for the Hong Kong, Taiwan and China markets. Two years later, he returned to Atlanta where he expanded his oversight as senior vice president of distribution for all of Turner International, including Latin America, Europe, the Middle East, Africa and Asia Pacific. During this time, Hogan launched the international market's venture news project and built Asia Pacific and India's sales business from the ground up.
Throughout the next two years, Hogan held brief leadership positions at both The Weather Channel in Atlanta, where he spearheaded the company's international expansion and FOX in Chicago, launching the first-ever sales team at FX. He returned to Turner in Chicago in 1998, this time as vice president and Midwest sales manager for TBS and TNT. He remained in Chicago for several years within ad sales leadership roles, including periodic oversight for Cartoon Network Ad Sales. He was promoted to senior vice president in 2006, where he led sales for TBS, TNT, Adult Swim and Cartoon Network.
He graduated from the University of Utah with a Bachelor of Science degree in mass communications, with a focus on Radio, TV and Film. In 2015, Hogan became a board member of The University of Texas at Austin's Moody College of Communications. He and his wife reside in New York and have a son and daughter. 

WarnerMedia is a leading media and entertainment company that creates and distributes premium and popular content from a diverse array of talented storytellers and journalists to global audiences through its consumer brands including: HBO, HBO Now, HBO Max, Warner Bros., TNT, TBS, truTV, CNN, DC Entertainment, New Line, Cartoon Network, Adult Swim, Turner Classic Movies and others.
WarnerMedia is part of AT&T Inc. (NYSE:T).