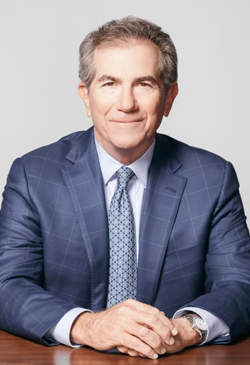 Life Member Texas
Leadership Society
Jeff Cohen (Houston, TX) helps drive policy change through the use of media relations, digital messaging, and national outreach, working with team leaders in order to "share the Arnold Ventures story." That effort utilizes a number of different media platforms, including the website, social media, and news media outreach. He also oversees our efforts in building brand consistency.
Jeff comes to the Arnold Ventures team after spending more than 40 years with Hearst Newspapers. There, he served as the editor of the nation's seventh-largest newspaper, the Houston Chronicle, and in 2008, was named the "Ben Bradlee Editor of the Year" by the National Press Foundation. He also served as a Pulitzer Prize juror on six separate occasions. His career in journalism began 200 miles west of Houston as a reporter in the newsroom of the San Antonio Light and went on to become the newspaper's managing editor. After a stint at the Hearst Corporation's New York City headquarters, he served as editor of the Times Union in Albany, N.Y., before returning to his hometown of Houston to lead the Chronicle.
Jeff has been a fellow in the Multicultural Management Program at the University of Missouri School of Journalism and at the Newspaper Management Center at Northwestern University's Kellogg Graduate School of Management. He was a member of the accrediting committee of The Accrediting Council on Education in Journalism and Mass Communications, the agency responsible for the evaluation of professional journalism and mass communications programs in colleges and universities.
A graduate of the University of Texas at Austin, Jeff is a past president and life member of UT's College of Communication Advisory Council and a recipient of the college's Robert C. Jeffery Benefactor Award.