Second Annual Politics in Sports Media Report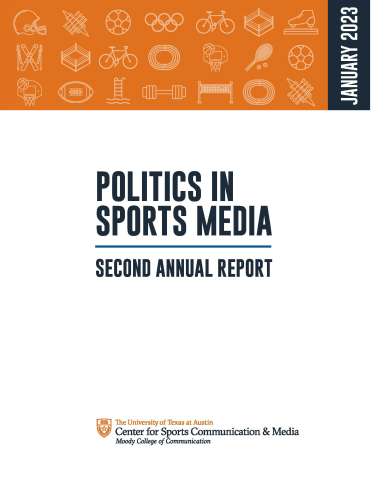 CSCM is proud to announce our second annual report, "Politics in Sports Media." This comprehensive study of sports media content in the United States captures a range of audience perceptions and details critical issues in sports media.
The report's research team includes 11 faculty members and graduate students from the Moody College of Communication. The team was led by Dr. Natalie Brown-Devlin, Dr. Jennifer McClearen, and CSCM director, Dr. Michael L. Butterworth.
As with CSCM's inaugural report last year, we define politics broadly, focusing on the ways power and resources are acquired, distributed, and limited in and around sports in the United States. Thus, we are interested in both formal political contexts, such as elections and legislative debates, and the equally important deliberations concerning race, gender, sexuality, class, labor, economic development, the environment, and more. We also retain our focus on "mainstream sports media," meaning that we are attending to electronic and broadcast outlets with the widest reach. "Politics in Sports Media" defines "politics" broadly to include references to campaigns, elected officials, and legislation as well as matters of power, resources, and equity. The relationship between sports and politics is neither new nor temporary and CSCM plans to issue this report each January.
Research revealed transgender participation in sports to be the most political topic in sports coverage in 2022. While the issue of transgender rights was noted as a top-ranked political topic in sports this past year, it was more so for Republicans than Democrats, illustrating the difference in how people from different political parties consume sports news.
Other top political topics included sports team hiring practices, professional athlete compensation, race, gender and athlete health and safety.
Both ESPN.com and Yahoo Sports reported on political topics the majority of days during 2022, which shows how important politics are in sports media coverage. Understanding the political nature of sports is important for athletes, agents and reporters, who should consider political implications in sports participation and sports coverage, says Michael Butterworth, director of the Center for Sports Communication & Media.
"The 'Politics in Sports Media' report is meant to identify the various contexts, issues, and stakes that characterize the intersection of politics and sports," Dr. Butterworth said. "We believe a more comprehensive and nuanced understanding of this intersection can facilitate better, more ethical coverage and consumption of sports."
To compile the report, researchers from the Center for Sports Communication & Media surveyed nearly 500 sports fans about how they define and react to political content in sports and how they perceive leading sports media brands and their mix of sports and political content. The report also includes a content analysis of ESPN and Yahoo websites that reveal which political topics are most frequently featured in mainstream sports media, as well as case studies evaluating five news stories from 2022 that featured politics and sports. These included coverage of WNBA superstar Brittney Griner's detainment in Russia for allegedly carrying illegal cannabis oil in her luggage. Griner was finally freed from Russian prison last month after U.S. officials negotiated a prisoner swap with Moscow for notorious arms dealer Viktor Bout.
In 2022, the Olympics and the FIFA Men's World Cup dominated sports headlines. While these were important moments in sports history, the report also found that consumers viewed these events as inherently political. This was contextualized by FIFA's decision to hold the World Cup in Qatar, despite that nation's history of human rights abuses, as well as preventing athletes from wearing rainbow armbands in support of the LGBTQ community.
But respondents also felt other moments rose to significance even though they received very little news coverage, including athletes kneeling during the national anthem, which shows that other factors play into consumers' ideas about politics and sports other than news coverage.
"It's likely that sports consumers are influenced by previous events and other media sources," Butterworth said.
Other important findings included participants' belief that athletes should not share their political beliefs on sports media platforms. Nearly 60% stood behind this idea, a slight increase from last year's results. More Republicans than Democrats shared this belief.
Sports media consumers also rated ESPN as the most accurate and credible major sports media outlet, which was the same as last year's report. Sports media consumers viewed FOX Sports as the most conservative outlet and ESPN as the most liberal outlet, a change from last year when it was NBC Sports.
Highlights from the second annual Politics in Sports Media report
Viewer Evaluations of Sports Media
Participants evaluated six top sports media brands (ESPN, Fox Sports, Bleacher Report, CBS Sports, NBC Sports, and Yahoo Sports) in terms of their perceived credibility, accuracy, and trustworthiness. Overall, participants continued to rate ESPN the highest in terms of credibility (n = 5.37), accuracy (n = 5.28), and trustworthiness (n = 5.08). When examining the evaluations by political party, results followed trends similar to last year's results, as Republicans tended to be more favorable of Fox Sports, ranking it highest in terms of credibility (n = 5.33), accuracy (n = 5.25), and trustworthiness (n = 4.98). Democrats and Independents ranked ESPN highest in all three areas.