Michael Butterworth reflects on the sportswriter's legacy
We are all saddened today by the news that Dan Jenkins has passed away at the age of 89. It is impossible to overstate his impact in the world of sports journalism. He is, quite simply, among the most celebrated, awarded and beloved writers in American history. There will be many tributes to Dan in the coming hours and days, and he will be worthy of all of them. He was a premier authority on golf and college football. He created indelible characters in books such as "Semi-Tough," "Dead Solid Perfect" and "Baja Oklahoma." He brought his wit to the modern age on Twitter. But most of all, he lived a life as fully as one could imagine, embracing the world with determination, grace and a world class sense of humor.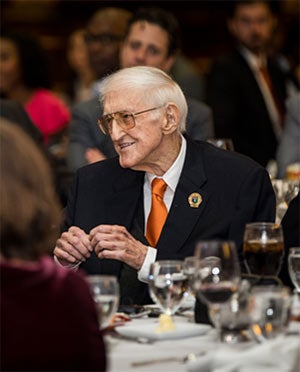 Dan was a Fort Worth native and proud alumnus of Texas Christian University. It is no small matter, then, that he welcomed a relationship with The University of Texas at Austin through the Center for Sports Communication & Media. The center is proud to recognize great sports journalism through the annual Dan Jenkins Medal for Excellence in Sportswriting. Inaugurated in 2017, the Jenkins Medal has been given for annual achievement to ESPN's Wright Thompson and Sports Illustrated's Chris Ballard, and for lifetime achievement to Frank Deford and Dave Kindred. Award winners are selected by a jury of accomplished sportswriters, chaired by Dan's daughter, Sally Jenkins, and Michael MacCambridge. The annual Jenkins Medal ceremony is one of the center's signature programs, primarily because it provides a platform for celebrating both his legacy and the contemporary landscape of outstanding sports journalism.
In association with the Dan Jenkins Medal for Excellence in Sportswriting, Dan has donated to the Center for Sports Communication & Media much of his magazine collection, copies of his 23 books, and original bound volumes of Sports Illustrated, Golf Digest, and Playboy, the magazines that feature much of his best work. His and his family's generosity will help ensure that The University of Texas at Austin and the Moody College of Communication can provide students and researchers with access to the archives of one of the nation's greatest writers.
As Director of the Center for Sports Communication & Media, I have been privileged to work with Dan over the past two years. I am honored by the formal relationship the center has with Dan's legacy. But I am all the more grateful for the opportunity to get to know him personally. Words cannot express how much I appreciate the chance to meet with and learn from him. Dan Jenkins was one of a kind, and we will all miss him very much. Our hearts and thoughts are with him, his wife, June, Sally, and their sons Marty and Danny.