New Annual Report on Politics in Sports Media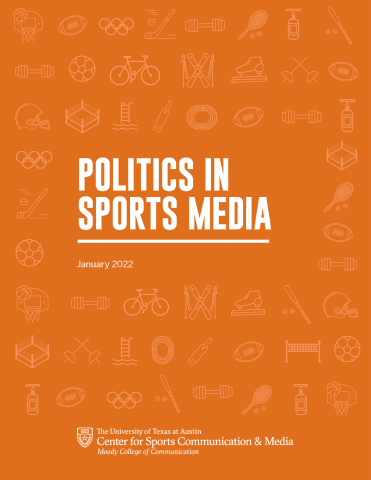 The Center for Sports Communication & Media (CSCM) at The University of Texas at Austin is proud to announce its first annual report, "Politics in Sports Media." This comprehensive study of sports media content in the United States captures a range of audience perceptions and details critical issues in sports media.
The report's research team includes 16 faculty members and graduate students, mostly in the Moody College of Communication. The team was led by Dr. Natalie Brown-Devlin, Dr. Jennifer McClearen, and CSCM director, Dr. Michael L. Butterworth. "Politics in Sports Media" defines "politics" broadly to include references to campaigns, elected officials, and legislation as well as matters of power, resources, and equity. The relationship between sports and politics is neither new nor temporary and CSCM plans to issue this report each January. Highlights for 2022 include:
Sports media viewers rated topics involving elected officials or candidates as the most political topic

Sports media viewers rated athlete protests as one of the most political topics

Sports media viewers rated transgender athlete rights as political but were more neutral about gender issues generally

85% of sports media viewers who identified as Republican opposed athlete protests; 68% of those identifying as Democrat supported them

Among mainstream sports media outlets, ESPN received the highest scores for Credibility, Accuracy, and Trustworthiness from sports media viewers

Among mainstream sports media outlets, Fox Sports was perceived to be the most "Conservative" and NBC Sports the most "Liberal" by sports media viewers.

Overall, sports viewers who identified as Democrat were more favorable than those who identified as Republican about the mixing of sports and politics

Critical case studies demonstrate structural relationships between sports media and political issues

The first case study looks to the anniversary of 9/11 to question the use of "unity" as a political symbol in sports

The second case study explores the tension between individualism and the public welfare with regard to COVID vaccines in sports

The third case study examine the metaphor of "paternalism" used in the discussions of name, image, and likeness (NIL) in the NCAA

The fourth case study notes tendencies in sports media to focus on political implications for legislators—and not for athletes—in state bills opposing transgender athlete participation

The fifth case study acknowledges the challenge for advocates of women's sports leagues such as the NWSL who may underplay ethical abuses for fear of blunting the momentum for women athletes

The sixth case study points out sports media limitations in coverage of Black women athletes and suggests individuals such as Simone Biles and Naomi Osaka are increasingly taking control of their own stories

 
Athletes and Sharing of Political Beliefs
Survey participants for the 2022 Politics in Sports Media report were asked why they did or did not feel athletes should share their beliefs publicly on sports media platforms. Their open-ended responses were used to generate word clouds by party identification. The word cloud generated from Democrats' responses featured keywords such as "freedom," "beliefs," "interested," and "human," which highlights the fact that they were, generally, more supportive of athletes using their public platform to share their thoughts on political subjects that interested them. The word cloud generated from Republicans' responses featured keywords, such as"entertainers," "play," "game," and "paid," which highlights the fact that they generally preferred that athletes separate their personal beliefs from the playing of the sport, preferring that political beliefs and sports remain separate.
Some of the participants offered their own comments.
From a Democratic respondent: "Athletes often have a far-reaching platform and can do a lot of good by stating their opinions. Their willingness to speak up can encourage others to do the same, creating an active electorate."
From a Republican participant: "Absolutely not. Sporting events are an enjoyable distraction from all of the negativity which includes politics. Give the fans a break."