SOJ Director Kathleen McElroy interviews Bob Costas
Costas to deliver 2018 Frank Deford Lecture in Sports Journalsim
Iconic sports broadcaster Bob Costas will deliver the 2018 Frank Deford Lecture in Sports Journalism. The lecture will be held on April 30 from 1:30 to 3:00 pm in BMC 2.106. The event is free and open to the university community.
Bob Costas has won 28 Emmy awards – more than any sports broadcaster. His versatility has been recognized with awards and nominations in the categories of hosting, play-by-play, writing, journalism, news, and entertainment. He is the only person ever to have won Emmy's in news, sports, and entertainment. His news Emmy was awarded for his 2011 interview with Jerry Sandusky, the central figure in the Penn State scandal. His entertainment Emmy came in 1993 for his acclaimed late night program "Later with Bob Costas."
Costas' peers have named him the "National Sportscaster of the Year" a record eight times, and in 2012, he was elected to the National Sportscasters and Sportswriters Hall of Fame. Also in 2012, Costas was selected for the Walter Cronkite Award for distinction in journalism. He and Al Michaels are the only sports broadcasters to be so honored. 
In the summer of 2018, Costas will be inducted into the broadcaster's ring of the Baseball Hall of Fame.  He joins broadcasting luminaries such as: Vin Scully, Red Barber, Mel Allen, Jack Buck, Ernie Harwell, and Dick Enberg.  The award, named after former Baseball Commissioner, Ford C Frick, honors those who have demonstrated "excellence in baseball broadcasting."
From the "Baseball Game of the Week" in the 1980s, through his hosting of the Olympics, the late night interview program "Later…with Bob Costas," his programs on HBO, and more, Costas has been a prominent part of the coverage of every major sport over the past three decades. His thoughtful commentaries on a variety of issues have established him as one of his generation's most distinctive voices.
The 2016 Rio, Brazil Summer Olympic Games were Costas' 12th for NBC. Additionally, he has hosted seven Super Bowls, and has been part of the coverage as either play-by play announcer, or host of seven World Series, and ten NBA Finals. Costas has been a prominent part of NBC's presentations of other major events, including the Kentucky Derby, Preakness, and Belmont Stakes, as well as the U. S. Open Golf Championship.
Following the 2016 NFL season, Costas announced that he would no longer be hosting NBC's Sunday Night Football coverage, and would also conclude his quarter century run as host of NBC's Olympic coverage. He continues to contribute to NBC News programs, such as "Nightly News" and the "Today Show," and will make special appearances on major events for NBC Sports. Costas has also increased his presence at MLBN, where he has been able to return to his first love, baseball – contributing interviews, commentaries, and play-by-play to the network.
Costas is a native of Queens, New York and grew up on Long Island. He attended Syracuse University in New York, where he majored in communications. He began his professional career at WSYR-TV and radio in 1973 while studying at Syracuse before joining KMOX radio in St. Louis in 1974. He has been with NBC since 1980.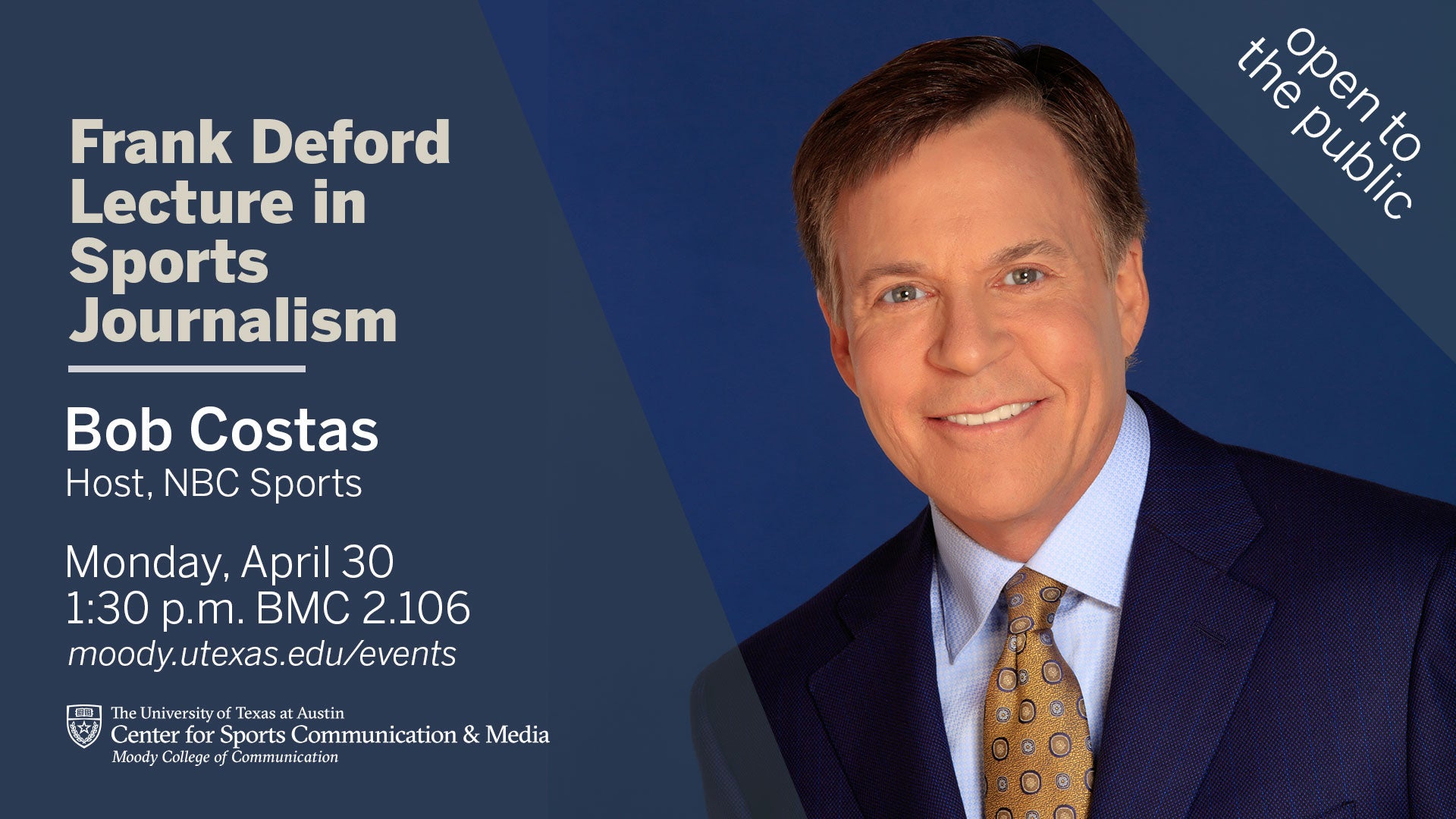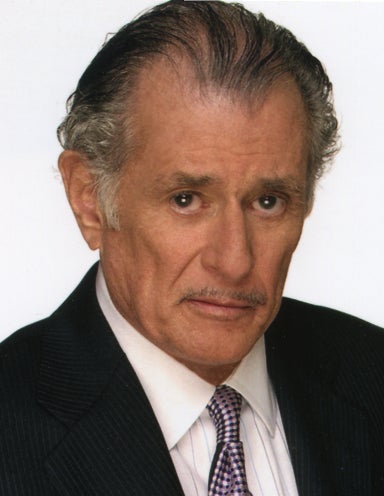 Frank Deford
Writer and commentator, Frank Deford established the Frank Deford Lecture in Sports Journalism at the University of Texas at Austin in 2010 with the gift of his professional papers, "such as they are". Deford Lecturers have included Sally Jenkins, David Maraniss, Jeremy Schaap, Neil Lifer, Taylor Branch, Dr. Andrew Zimbalist, and John A. Walsh. Created to honor the iconic sportswriter and carry his unique vantage point on the intersection of sport and society into the 21st Century, the Deford Lecture has hosted journalists, scholars and leading thinkers to discuss pressing cultural issues with the UT-Austin community.
Frank Deford (1938-2017) was amongst the most versatile of American writers. On radio, he was heard as a commentator every Wednesday on Morning Edition on National Public Radio. On television, he worked as a Senior Correspondent for the HBO show, Real Sports with Bryant Gumbel. In print, he was Senior Contributing Writer at Sports Illustrated–– an association that dates back to 1962. As a journalist, Deford was elected to the Hall of Fame of the National Association of Sportscasters and Sportswriters and named U.S. Sportswriter of the Year six times, as voted by his peers. Sportswriter of The Year. The American Journalism Review has likewise cited him as the nation's finest sportswriter, and twice he was voted Magazine Writer of The Year by the Washington Journalism Review. Posthumously, Deford received the inaugural Dan Jenkins Medal for Excellence in Sportswriting for his lifetime achievement. Other honors Deford received include a National Magazine Award for profiles, a Christopher Award and journalism Honor Awards from both the University of Missouri and Northeastern University. In broadcast, Mr. Deford has won both an Emmy and a George Foster Peabody Award. ESPN presented a television biography of Mr. Deford's life and work, You Write Better Than You Play. The Sporting News described Mr. Deford as "the most influential sports voice among members of the print media." The magazine GQ has called him, simply, "the world's greatest sportswriter."
Deford authored 18 books in his career, including Five Strides on the Banked Track: The Life and Times of the Roller Derby (1971), Cut 'n' Run (1973), Over Time: My Life as a Sportswriter (2012). Moreover, two of his books—the novel, Everybody's All-American, and Alex: The Life Of A Child, his memoir about his daughter who died of cystic fibrosis—were made into movies. Two of his original screenplays—"Trading Hearts" and "Four Minutes"—have also been filmed. From 1982-1999 Deford served as national chairman of the Cystic Fibrosis Foundation, and he remains chairman emeritus. A native of Baltimore, Deford was a 1962 graduate of Princeton University.