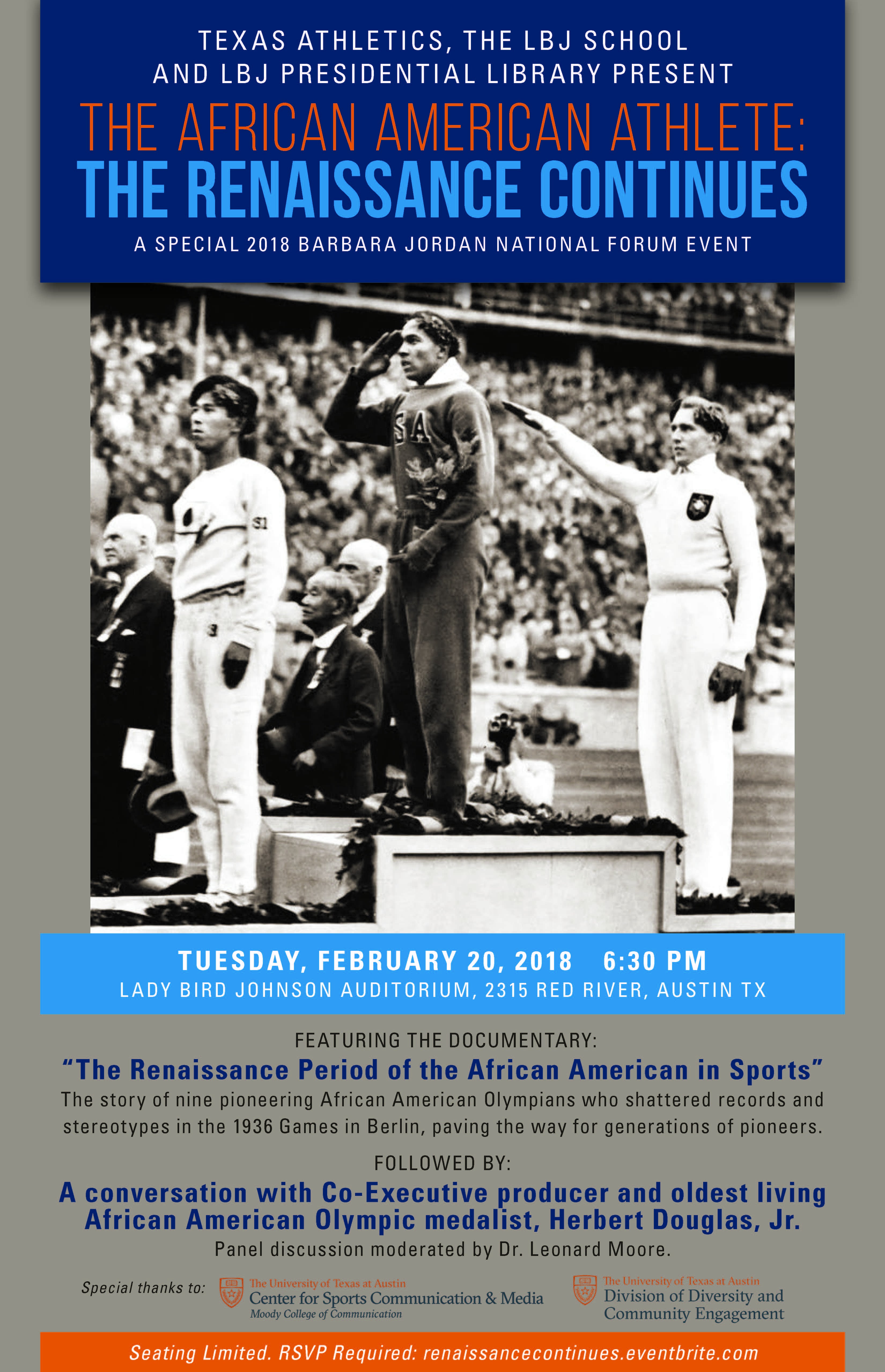 In honor of Black History Month and The LBJ School of Public Affair's 2018 Barbara Jordan Forum, Texas Athletics is delighted to collaborate with the LBJ Presidential Library, UT's Center for Sports Communication and Media, the Center for Sports Leadership & Innovation, the Division of Diversity and Community Engagement and the Diversity and Inclusion Council to present the documentary, "The Renaissance Period of the African American in Sports." The event, which includes the documentary screening followed by a panel discussion, takes place on Tuesday, Feb. 20 at 6:30 p.m. in the LBJ Auditorium.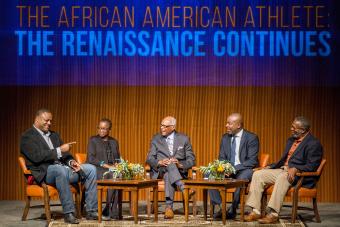 On Tuesday, Feb. 20, 2018, members of the public and UT Austin students were invited to a screening of "The Renaissance Period of the African American in Sports," a documentary that explores the story of nine pioneering African American Olympians who shattered records and stereotypes at the 1936 games in Berlin, paving the way for future generations.
Documentary: "The Renaissance Period of the African American in Sports"
Everyone knows the triumphant story of Jesse Owens and his accomplishments in the 1936 Berlin Olympics, winning four gold medals. The little-known story is how he, along with eight other track and field medalists, ushered in the era of African Americans in sports. At those games, USA athletes won every sprint event from the 100-800 meters along with two jumping events – 15 medals in all.
This documentary should serve to inspire our collegiate student-athletes, who, like these competitors of the 1930s, face their own set of challenges amid evolving technologies in an ever-changing global environment. The documentary also highlights the athletes' significant accomplishments off the field -- receiving college degrees, their fight against Jim Crow laws, and becoming civic leaders.  Also featured are pre-taped interviews with Olympic greats Edwin Moses, John Carlos, Gabby Douglas and Harrison Dillard. In addition to the documentary, there will be a brief Q&A afterward involving (among others) USA Track & Field Olympic medalist Herbert Douglas and documentary executive co-producer Robert Lott. They are our guests for this event. Mr. Douglas is the oldest living African American Olympic medalist and one of the first black executives in corporate America. Mr. Lott is president of Teamwork Production has been a pioneer and film production award winner in the entertainment industry.   
The "Renaissance" documentary premiered at the Lincoln Center in New York and has received rave reviews and accolades. It has been screened at Morehouse College in Atlanta, at the University of Pittsburgh and that city's Heinz History Museum, and at the Olympians Reunion in Las Vegas. The film won a gold medal at the 2016 Philadelphia Film Festival.