Courtney Byrd, Lang Stuttering Institute Student Leadership win campus awards
Before Courtney Byrd became an associate professor in the Department of Communication Sciences and Disorders at the Moody College of Communication or became founding director of the Michael and Tami Lang Stuttering Institute, she was a post-doctoral fellow with the National Institute of Health researching the etiological contributors to childhood stuttering at UT Austin. It was at that point she received an innovation award from previous Provost Sheldon Ekland-Olson to establish a center for excellence in treatment and clinical training.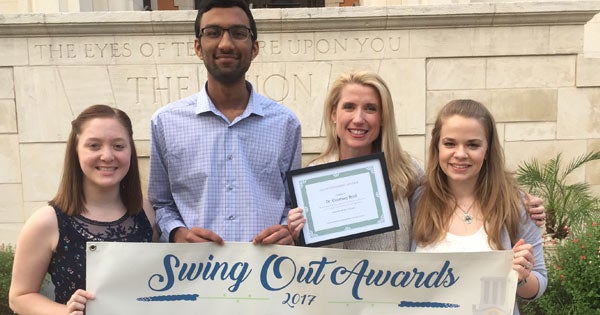 The Lang Stuttering Institute Student Leadership Organization was founded in 2015.
"Among the over 153,000 practicing clinicians in the U.S., less than 1 percent feel competent to provide services to the nearly 20 million children and adults who stutter. Yet 95 percent report having multiple persons who stutter on their caseload," said Byrd, who has taught at The University of Texas at Austin since 2004. "Given this extreme paucity in competent clinicians, people who stutter commonly report disappointment, frustration, and anger regarding the substandard services they've received."
In recognition of both her undergraduate teaching and research related to stuttering and her efforts to end the substandard cycle of care through open access to evidence-based stuttering treatment, Byrd was awarded the William David Blunk Memorial Professorship for 2017-2018. The professorship is given for one academic year. Since its inception in 1978, five other faculty members of Moody College have won the award including John Daly, Charles Ramirez Berg, Mark Knapp, Mark Bernstein, and Deborah Morrison. Byrd was selected as winner with one nomination granted per college with 18 colleges and schools participating at UT Austin. Byrd is also a past Friar Centennial Fellowship recipient, serves as the Provost's Teaching Fellows ambassador, has been inducted into the Academy of Distinguished Teachers and has received multiple other awards for her dedication to students.
Additionally, the Lang Stuttering Institute Student Leadership Organization (LSI-SLO), a student advocacy group Byrd founded and serves as faculty sponsor was awarded, "Best New Student Organization" for 2015-2016 and "Best Political/Activist Organization" for 2015-2016 and again for the 2016-2017 term from the Office of the Dean of Students. Through her role in LSI-SLO, Byrd was the recipient of the university's 2016-2017 "Outstanding Advisor Award."
Department of Communication Sciences and Disorders senior and LSI-SLO president Amy McCoy said the group currently has about 50 members representing majors across every college with the mission to unite students from diverse backgrounds and majors in order to educate, advocate and spread awareness about stuttering. "There's a lot of misinformation about stuttering," said McCoy. "LSI-SLO is reducing stigmatization by helping people separate fact from fiction."
McCoy said the LSI-SLO works with persons who stutter who are affiliated with the LSI through a pay-it-forward peer program for social outings, open mic advocacy sessions, brown bag lunches to learn about the latest research, tabling and recruiting across campus and the local Austin community, promoting International Stuttering Awareness Day in October, and sponsoring an on-campus dinner that features inspirational speeches by children and adults who stutter known as the LSI's semi-annual Celebration of Communication Excellence.
McCoy noted that her experience as a student clinician at the LSI helped her decide the focus of her career as she plans to attend graduate school this fall.
"I had a 7-year-old client and you can see the shame and embarrassment they feel and it is amazing to facilitate their shift to acceptance and even confidence when we focus on appropriate and healthy views toward stuttering and being an effective communicator," said McCoy. "I've learned so much from Dr. Byrd about the role of empathy and self-compassion in treatment efficacy."
Byrd said she strongly believes education and experiential learning is the key to opportunity in life and encourages her students to never limit themselves.
"My students inspire me to work harder every day and I want them to know there is no one who believes in their potential more than I do." Byrd says having this confidence in students "propels them to be their best selves and be better equipped to make a meaningful difference."
Byrd has taught graduate and undergraduate courses in stuttering fluency disorders, assessment and treatment of child speech and language disorders, the origin and evolution of the stuttering stereotype, evidence-based practices in communication sciences and disorders, leadership and mentorship, and has overseen more than 500 independent studies and supervised more than 95 master's theses. She plans to continue teaching and directing the Lang Stuttering Institute.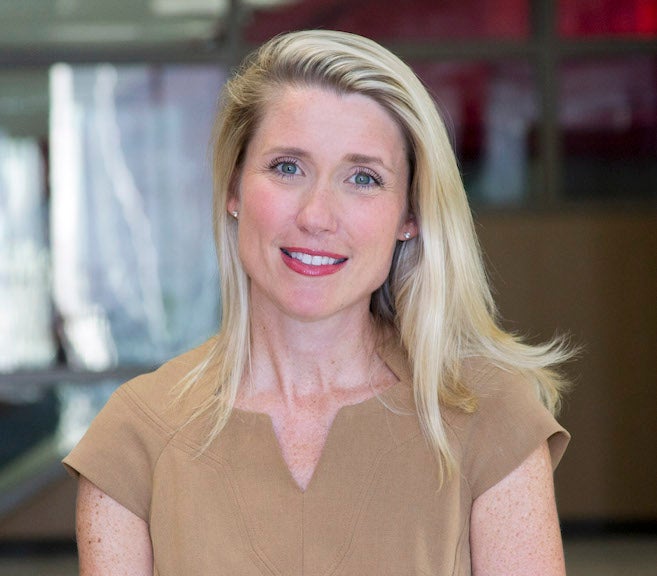 Courtney Byrd is a Friar Centennial Teaching Fellow and Distinguished
Teaching Professor.
Originally from New York but spending most of her life in the south, Byrd worked full-time to support her way through school as she earned an undergraduate degree in communication sciences and disorders from Louisiana State University-Shreveport, a master's in speech-language pathology from Texas Christian University, and a doctorate in speech-language pathology with a specialization in stuttering from Vanderbilt University. After completion of her post-doctoral fellowship at UT Austin, she joined the faculty in 2006 and in 2012, her research lab received an endowment and was renamed the Dr. Jennifer and Emanuel Bodner Developmental Stuttering Laboratory. In 2014, the Michael and Tami Lang Stuttering Institute was established to provide treatment and clinical research following a $3 million gift and has continued to grow at a rapid pace.
"My teaching informs the research I do and my research informs my teaching," said Byrd. "For me, excellence in teaching is interdependent with excellence in research."
Byrd also noted the transformation of the Michael and Tami Lang Stuttering Institute is largely due to the extraordinary volunteer efforts of the students she mentors on a daily basis. She is planning for expansion of its programs following another gift from the Langs as well as continued donations from individuals across the world.
In February 2018, LSI's Camp Dream. Speak. Live. will have its first international launch in the Netherlands. The annual international programming is scheduled for multiple years through the LSI's establishment of the United States' first and only partnership with the European Clinical Specialization in Fluency Disorders Consortium.
"The demand for participation in the programs at the LSI is high, but our capacity is limited – children and adults who stutter have to wait an average of one year for our services," said Byrd. "We are in significant need of funding to expand our capacity and reduce our waitlist. Any gift will be honored and maximized in every away as every penny donated is 100 percent tax-deductible and goes directly back to the evidence-based programs we provide to the stuttering community and the students we train."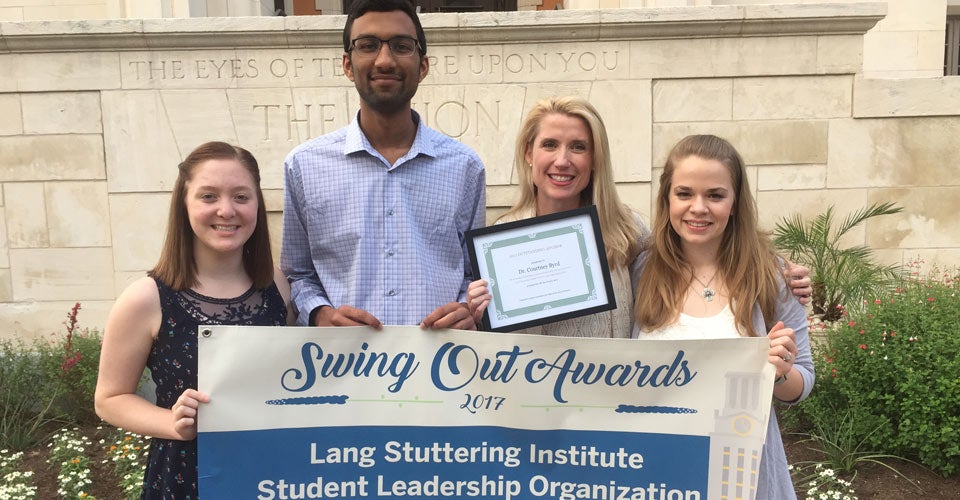 Photo and video credit: incoming Lang Stuttering Institute Student Leadership Organization President Kelly Woodworth (far left).