Research
In addition to investigating the linguistic, motor and social emotional factors that contribute to the onset, development and maintenance of stuttering, Dr. Courtney Byrd and her team have delivered speech therapy to over 400 children and adults who stutter—most of whom have also participated in the research projects. The therapy they provide is based on what researchers and therapists understand as the best treatment in the field.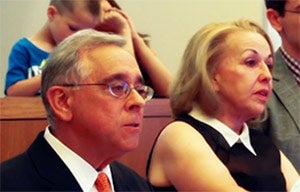 Mr. & Dr. Bodner
Dr. Byrd also is piloting new and innovative clinical training programs that may eventually become part of the standard treatment protocol. Additionally, Dr. Byrd's stuttering research has provided unique opportunities to both undergraduate and graduate students interested in working with people who stutter.
Through the Bodner Developmental Stuttering Lab, Dr. Byrd offers continuing education workshops for practicing speech-language pathologists, provides biweekly counseling groups to parents of children who stutter, organizes biannual public forums for individuals who stutter and their families, and collaborates with the National Stuttering Association on its monthly local chapter meetings. "I was attracted to this line of research because stuttering affects every area of someone's life. It speaks to both the head and the heart," Dr. Byrd says. "I have yet to meet a person who stutters who hasn't taught me something significant. There's so much left to discover about the nature of the disorder. We've just begun to scratch the surface."
Support
In 2012, the lab received an endowment and was officially renamed the Dr. Jennifer and Emanuel Bodner Developmental Stuttering Laboratory.
Emanuel "Manny" Bodner has witnessed first-hand the benefits of therapy and family support in treating a stutter. Growing up with a stutter, Mr. Bodner recounts a particularly painful experience as a child.
As he was competing in a spelling bee, the judges asked him to recuse himself from the competition, even though he had become a finalist and had provided all the correct answers. He attributes this to his stutter.
Since then, Mr. Bodner has been able to transcend his stuttering through speech-language therapy and family support. In 1969, he graduated from The University of Texas at Austin and succeeded in business, leading the Bodner Metal & Iron Corporation for several decades.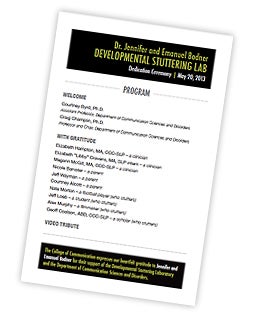 To request copy of program,
email Dr. Byrd
In early 2012, Mr. Bodner made a donation to support the work of Dr. Courtney Byrd and the research she was completing through her Developmental Stuttering Lab. The lab was re-named in honor of him and his wife, Dr. Jennifer Bodner. "When we saw firsthand the power of her success and strength of passion, we knew we wanted to encourage her continued work," Mr. Bodner says. "Stuttering research and therapy is essential to empower people's desire to communicate."
Description
The Bodner Lab is outfitted with 2 administrative computers, 4 testing computers, and 4 analysis computers. The testing workstations in the lab are configured to allow for high resolution digital recording of participants for later analysis. The recordings feature studio quality audio of the test subject, a close-up video image of the test subject's face and a small video inset window showing the testing workstation's display. Additionally, the testing workstations utilize serial response boxes which allow for timing subject response using tactile button presses and spoken feedback. The testing workstations also feature high-fidelity direct-to-disk recording and analysis tools for analyzing specific aspects of the human speech process. The analysis workstations in the lab are configured to allow easy viewing, transcription, and coding of digital recordings. The workstations feature high-fidelity monitor speakers, headphones, and multiple monitors to allow for efficient workflows. In order to guarantee the highest fidelity recordings during lab tests, the lab has been fitted with sound proof insulation and the lab utilizes high-quality condensor microphones, studio-grade microphone pre-amps, and studio-grade wiring and accessory electronics. Software and data co-processors specific to the functions of the lab include SuperLab, E-Prime, the research version of SALT V9, and CSL. Finally, the Bodner Lab has direct access to 12 therapy rooms that come equipped with two-way mirrors and audio and video recording devices. Additional clinical research space is available to the Bodner Lab through its affiliation with the Michael and Tami Lang Stuttering Institute.
A thank you video made in honor of the Bodner's generous support