Service
One of the founding principles of the Moody College Honors Program is the desire to foster well-rounded students with the courage to take on the big and enduring questions of communication and society. This often means getting involved in communities outside of one's immediate experience, and we encourage this by having our students use their talents as thinkers, writers, and leaders for learning and dialogue outside the classroom.
Whether it be mentoring incoming and at-risk students, planning and hosting enrichment activities, acting as a tour guide for prospective students, or doing community outreach, service experiences will prepare students to be tomorrow's leaders in human communication and media.
The development of service activities and their requirements is ongoing, but Moody Honors students will have the opportunity to participate in some of the activities below, or propose their own ideas for service projects for consideration by the Honors Faculty Committee.
☆ Mentoring in-coming and at-risk students
☆ Being guides and ambassadors of the college for prospective students and special events
☆ Coordinating enrichment activities
☆ Acting as a liaison to in-coming and minority students
☆ Serving on the Honors Student Advisory Council
☆ Volunteering with the Longhorn Center for Community Engagement to help underserved Austin communities
☆ Details on service options and procedures will be announced in the coming months.
Enrichment Activities
From student-led public forums, film screenings and social receptions, to guest lectures by academics, writers, and creatives, the Moody College Honors Program provides a wealth of activities to enrich the undergraduate experience.
For information on past and upcoming events, please visit our News page.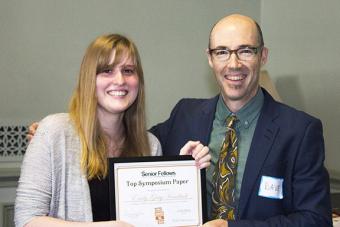 Honors student Emily Kendrick receiving the Top Symposium Paper award from Director Dave Junker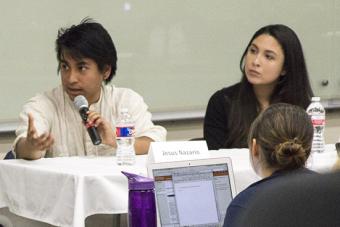 Honors students Jesus Nazario and Claudia Iraheta participating in a public panel discussion on diversity and social justice on campus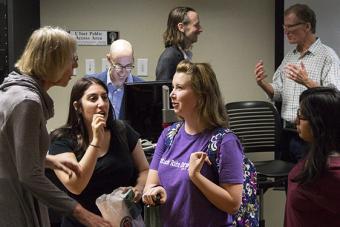 Students Rebecca Hanai, Lacey Arnett and Laura Herrera engaging with faculty after a lecture by tech journalist Rob Walker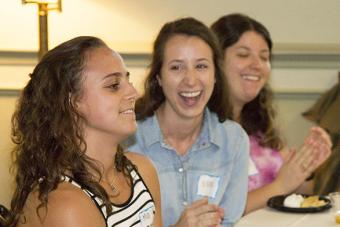 Mia Fredricks, Ellen Barth and Bryna Herskowitz sharing a laugh at the annual reception to welcome new students and honor graduating seniors
Moody Honors Student Council 
The Moody Honors Student Council is the cornerstone of the honors program community. Comprised of a board with five chair members, the HSC works to foster the unique experience of all Moody College Honors Program students by integrating students, faculty, and community members.
This year's board members:
President – Sanika Nayak
Financial Director – Jordyn Anders
Communication Director – Brenna Van Skiver
Service Director – Adriana Kelly
Social Director – Logan Ulery 
For more information contact moodyhonors@gmail.com