2022-23 Honors Program Student Award Winners Announced
At the conclusion of each academic year, the Moody College Honors Program recognizes important student contributions to the honors classroom and community. This year's winners are Munji Nfor and Ramiro De Los Santos (Socrates Award), Alisa Ishikawa (Service and Citizenship Award), Trisha Dasgupta (Top Life-of-the-Mind Essay), Caroline Osborn (Project of Distinction) and Rose Marin (Thesis of Distinction). 
Based on votes from faculty and peers, Munji Nfor and Ramiro De Los Santos were named co-winners of the Socrates award for their contributions to critical and productive dialogue in the honors classroom.
Munji is a senior majoring in public relations and earned high praise for her ability to cultivate critical dialogue in the classroom. One of her faculty nominators wrote the following: 
"I am so incredibly proud to know Munji and have had the opportunity to learn with, and from her, as co-creators of knowledge in and out of the classroom. Munji is a passionate and committed young woman who aims to bridge her public relations background with social justice, advocacy, and change."
Ramiro is a senior in journalism and European Studies and a member of the Jefferson Scholars Program. He is well known for his broad knowledge and deep intellectual interests. One of his peer nominators wrote, "Ramiro is the best example I know of a modern Socrates — consistently curious, insightful, and thoughtful."
This year's Service and Citizenship Award went to Moody Honors Student Council President Alisa Ishikawa, a senior in Speech, Language and Hearing Sciences.  This award recognizes dedication to service, citizenship, and community engagement in the Honors Program or beyond it. Like the Socrates Award, it is also determined by nominations from faculty and peers. 
 "Alisa is an amazing president, and her contributions to this program have not gone unnoticed," wrote one of her peer nominators. "She is considerate, intentional, and an impactful leader." 
The three remaining awards recognize outstanding work in the foundations and capstone courses, and are judged by honors instructors and capstone advisors. 
The Top Life-of-the-Mind Essay recognizes the most impressive final essay in the honors foundation course, COM 307H Life of the Mind. While there were a number of strong essays this year, according to Director Dave Junker, instructor of the class, Trisha Dasgupta's essay, "Life of the Mind: Finding Home," rose to the top. He praised Trisha's "wonderful, deep, nuanced, moving essay" about her evolving perspective on identity and home as a Bengali American, a Texan and a first-year Longhorn.
These three awards were first announced at the annual Honors Program reception on April 13.  
For outstanding capstone work, two awards were presented this year: Honors Project of Distinction, for exceptional work in the one-semester capstone class (COM 330H Honors Project) and Honors Thesis of Distinction (COM 679H), for a noteworthy Honors Thesis. 
Caroline Osborn, graduating senior in Speech, Language and Hearing Sciences, won the Honors Project of Distinction for designing and installing communication boards for children with limited language and communication skills. Caroline's communication boards are set for installation at "Play for All Abilities" Park in Round Rock, Texas. For this meaningful and impactful work, Caroline also received a Hart Student Achievement Award. Her expert consultant was Natalie Czimskey, Assistant Professor of Instruction in SLHS.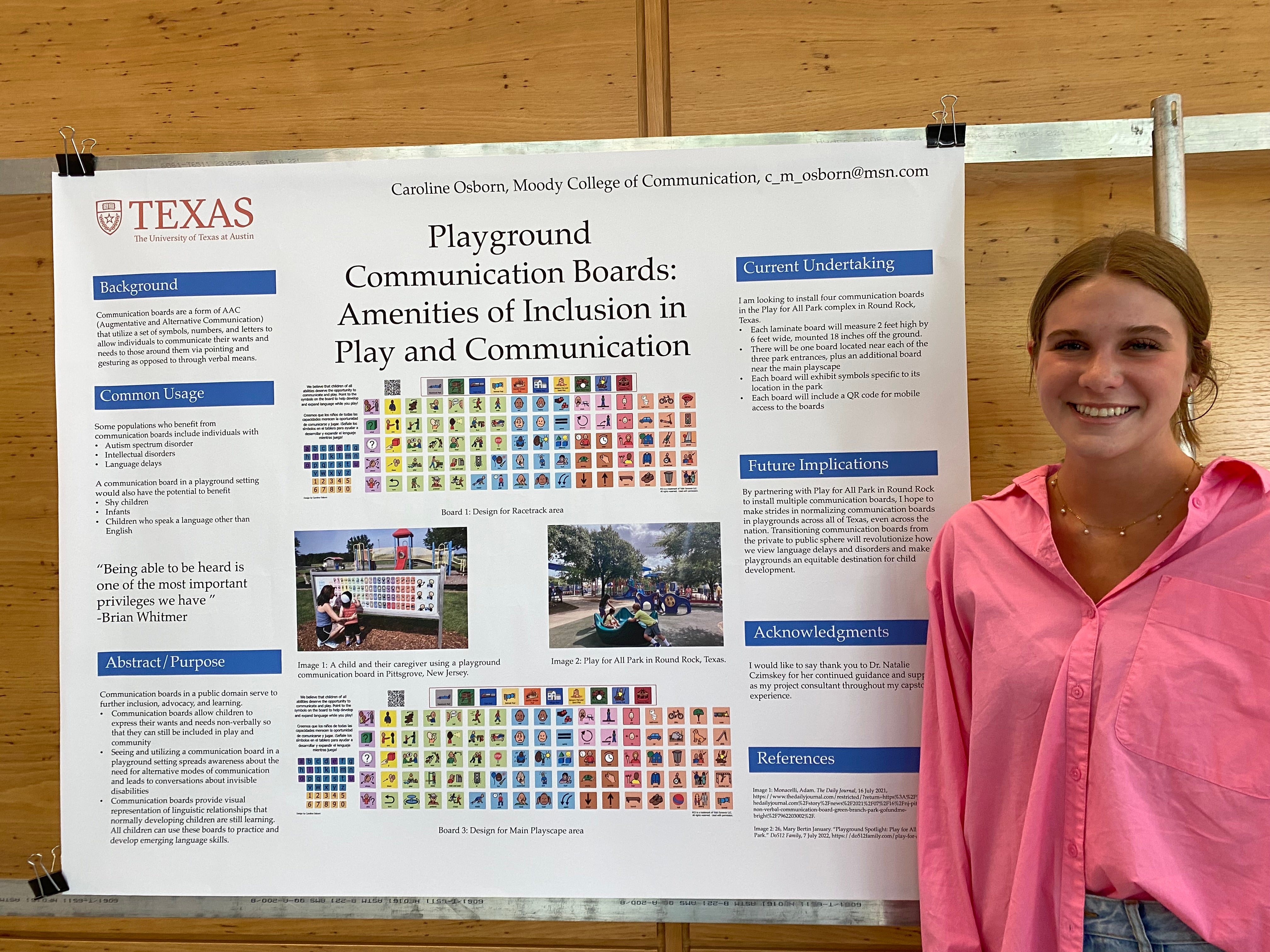 The final award went to Rose Marin, who earned the Honors Thesis of Distinction for her two-semester thesis, "Human Nature: Religious and Moral Frames in Climate Change Communication." Rose's advisor was Anthony Dudo, Associate Professor and Director for Science Communication in the UT Center for Media Engagement.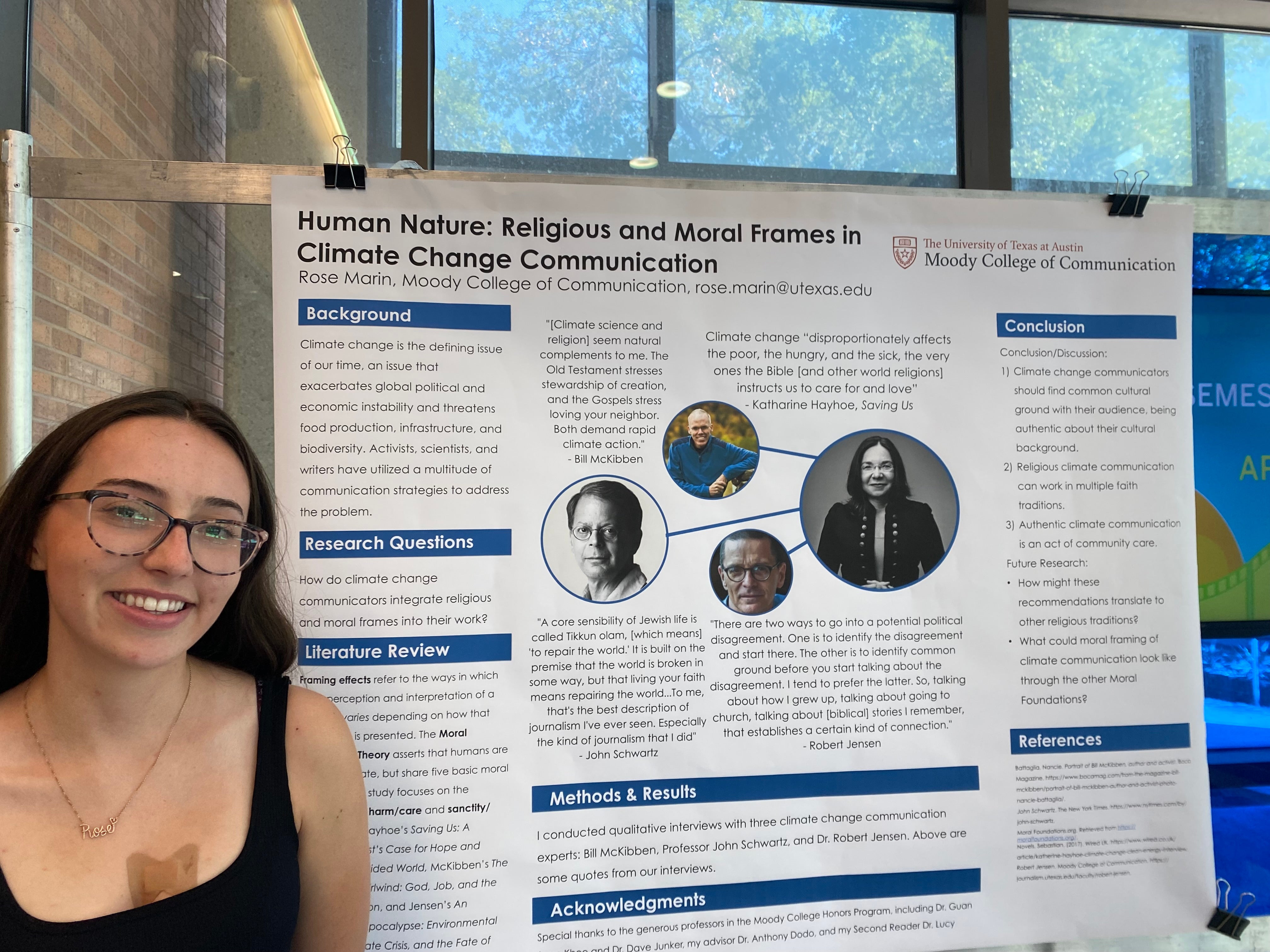 "Rose has done exceptional work on her thesis," Dudo wrote. "The quality of her writing and thinking shines in the final product, and she pushed herself to learn a new methodology (semi-structured interviews). Overall, a thoughtful and professional project." 
All project and thesis students, including Rose and Caroline, presented their work at the annual capstone symposium on April 24. Guan Soon Khoo, Associate Professor of Instruction,  served as the capstone instructor for all project and thesis students.