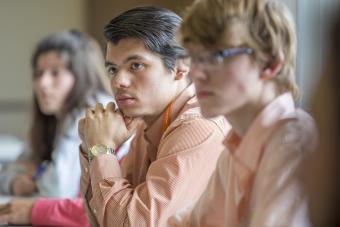 ---
Students can apply to the Moody College Honors Program both as incoming freshmen and as current students at the University of Texas at Austin.
We look for applicants who are capable of critical and independent thinking, show intellectual curiosity and creativity, and have a variety of experiences and backgrounds. An outstanding academic record is expected, but is far from the only trait that defines a Moody Honors student. 
The application for current students to apply to the Moody Honors Program will open on Monday, January 22, 2024. 
Please check back here for access to the application. 
Prospective Students
Freshmen applications to the Moody College Honors Program are accepted one of two ways.
1. As an incoming freshman, students can apply to the Moody Honors Program as part of their regular UT application process.
2. Freshmen applicants can also apply to the Moody Honors Program using a separate online application once their UT Admission application has been submitted and received. Students can find this application on the "Honors" tab of their MyStatus page. 
Applicants must select a major in Moody College as their-first choice in their admissions application. Visit the Office of Admissions website for more information.
Current UT students in their first year may apply for one of 10 spots to join the Moody College Honors Program by completing our online application for admission. 
In order to be considered, students must:
• be currently enrolled at UT Austin
• be a Moody College major when starting the program
• have at least three years of enrollment to complete at UT Austin
• be able to complete the Moody College Honors Program without delaying their graduation
Application requirements:
• Statement of purpose
• Response to honors essay prompt
Students who are accepted into the Honors Program must register for COM 307H - Life of the Mind in Fall 2023. The date and time for this course for Fall 2023 is Tuesdays and Thursdays from 12:30 p.m. to 2:00 p.m. 
Frequently Asked Questions
I am a current UT student and am considering applying. How will this affect my graduation?
In order to determine if you can complete this program in a timely manner, you must first have a good understanding of the framework of your current major(s), and a general idea of how you can complete it within your four years at UT Austin. If you don't yet have this information, you can use the Interactive Degree Audit to help you, or meet with your major academic advisor. Then, if you have further questions, please email the Moody Honors Program Coordinator at comm-honors@austin.utexas.edu.
I applied for Moody College Honors as part of my UT Admissions application, but I was denied. Is there an appeal process? What should I do now?
We receive many excellent applications from talented and smart students. Unfortunately, space in the Moody College Honors Program is so limited that we just cannot admit them all. There is no appeal process for this decision, but you may apply to be admitted in your second year.
I applied as part of my UT Admissions application, and MyStatus says that I am on the waitlist. How does this waitlist work?
If other students decline their offer of admission to the Moody College Honors Program, then we will consider students from the waitlist for admission. You will be notified via email if a spot becomes available.
I am an incoming freshman and have applied to the Moody College Honors Program. Can I also apply for honors housing?
Immediately after you submit your UT admissions application, you should complete the UT housing application. Your spot in line for dorm placement is determined by when you submit your housing application. You do not need to wait to receive an offer of admission from UT to complete the UT Housing Application.
Moody College Honors will partner with University Housing and Dining to identify admitted students who were also offered a housing contract. Space in the Honors Quad is limited, so not all students admitted to Moody College Honors who complete a housing contract will be able to select a room in the Honors Quad.
Can I double major while in the Moody College Honors Program?
Moody College Honors students are allowed to pursue two degrees while in the program as long as at least one of them is within the Moody College of Communication. If you decide to double major while enrolled in the Moody College Honors Program, you should talk with your academic advisor beforehand to make sure that this plan is feasible for you, and will work within the requirements for your degrees.
When will I be notified about my scholarship?
All incoming freshman students are notified of the details of their scholarship offer within a few weeks of their admission into the program.
All applicants are also encouraged to complete the FAFSA, UT's freshman scholarship interest form and the Texas Exes Entering Freshman Scholarship Application​ (be sure to apply early if you wish to be considered for the Forty Acres Scholar Program).
How does the Moody College Honors Program work with the degree(s) I am pursuing?
Generally, Moody College students can fit the honors curriculum requirements into their degree plan by completing free electives. We recommend that you talk with your academic advisor each semester to make sure that you're choosing the right classes in order to complete your degree and the honors program requirements in a timely manner.
What honors classes will I take during my first semester?
All first-year Moody College Honors Students will take COM 307H - Life of Mind. When you come to freshman orientation, you will meet with a Moody College academic advisor and they will help you select the rest of your classes.