Spring 2022 Graduation Ceremony FAQs
Frequently Asked Questions
Student's approved graduation or walker application serve as their RSVP. There will be no tickets required to attend. However, guests and students will need to check-in together at ceremony registration.
Yes. Students participating in the Moody College Graduation ceremony are expected to wear academic regalia, which are the traditional dress for degree candidates participating in college, school and department graduation ceremonies, as well as the university-wide commencement ceremony.
Ordering and Purchasing Regalia
Important information and deadlines for purchase and rental of regalia are available at the University Co-op's website or at the following Co-op location:
University Co-op
Graduation Department (main level)
2246 Guadalupe St.
Austin, TX 78705
800-255-1896 - Option 2
Check-in will begin at the Texas Cowboy Pavilion 25 minutes prior for doctoral students and 15 minutes prior for both master's and undergraduate students to your scheduled degree ceremony, so please arrive at least 15 minutes before your scheduled time!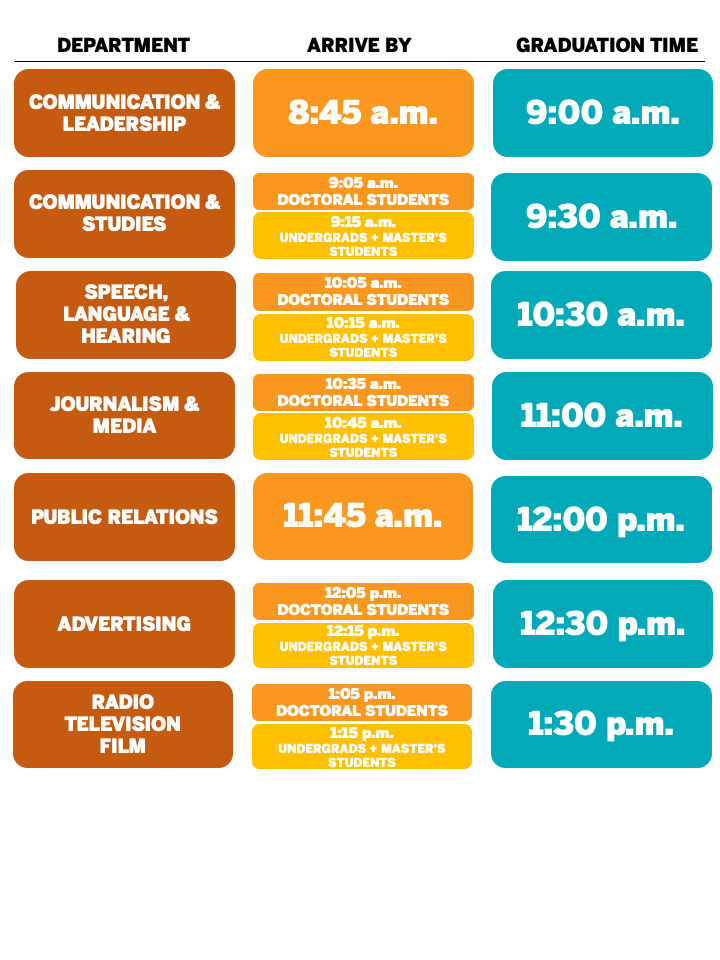 Yes, as is the custom, doctoral students will be hooded at the ceremony. We ask that all graduate students arrive 25 minutes before their major time block is scheduled to begin. Specific instructions will be shared with graduate students about how to prepare for this part of our graduation ceremony.
Honors cords will be distributed to eligible students at the graduation ceremony check-in.
*Note - This is different from Honors Day designation, which is where the University designates outstanding students as College Scholars and Distinguished College Scholars. Graduating with honors, high honors, or highest honors is based on your in-residence GPA upon completing degree requirements (see details below):
Highest Honors:  3.9755 - 4.0
High Honors:  3.9338 - 3.9754
Honors:  3.8693 - 3.9337
**the cutoffs listed above pertain to students graduating in May 2022 through December 2022 and will be recalculated for students graduating May 2023 through December 2023 based on criterion outlined below
To qualify to graduate with University Honors honors you must have completed at least 60 hours at The University of Texas at Austin and be in the top 20 percent of your Moody Communication graduating class.
Official honors will be calculated and posted to the transcript and diploma upon certification of all degree candidates.
The GPA required to graduate with University Honors is recomputed each May based on the top 20% of the May graduation class in the College following regulations listed in the Undergraduate Catalog. This same GPA applies to the following August and December graduation classes. The required minimum GPA may be higher than that listed in the catalog. For further information, please contact your academic advisor or consult the Graduation with University Honors section of the General Information Catalog.
Dual degree candidates may attend one major time block of their choice. Both degrees will be recognized during the ceremony regardless of which time block you choose.
Inclement weather in any season may become an issue. The graduation ceremony activities will continue if it is safe to do so, rain or shine. We will have some tents in outdoor spaces where lines may form while graduates wait to enter the building. Please bring an umbrella and other suitable rain gear, if desired.
The Etter-Harbin Alumni Center and our procession are accessible for all who wish to participate. Those with limited mobility have the option to be escorted directly to where our ceremony will take place. Seating will be available in the ballroom where guests may wait for their students to cross the stage before reuniting and continuing to the post-ceremony toasts and refreshments. Designated staff members will be located south of the Texas Cowboy Pavilion check-in on San Jacinto in front of the Alumni-Center to escort you.
Please contact moodycollegegraduation@austin.utexas.edu with any accommodation requests no later than 7 business days prior to the event date - we will make every effort to provide accommodation requests.
A professional photographer will be present. Students will have the option to purchase their photographs by ordering through the university contracted photographers.
Parking will be free in all university garages; 
We recommend parking in the San Jacinto or Manor Garages for easiest access to the Alumni Center.