Your Summer Read/Listen/Watch List
Check out this can't-miss content from Moody faculty, students and alumni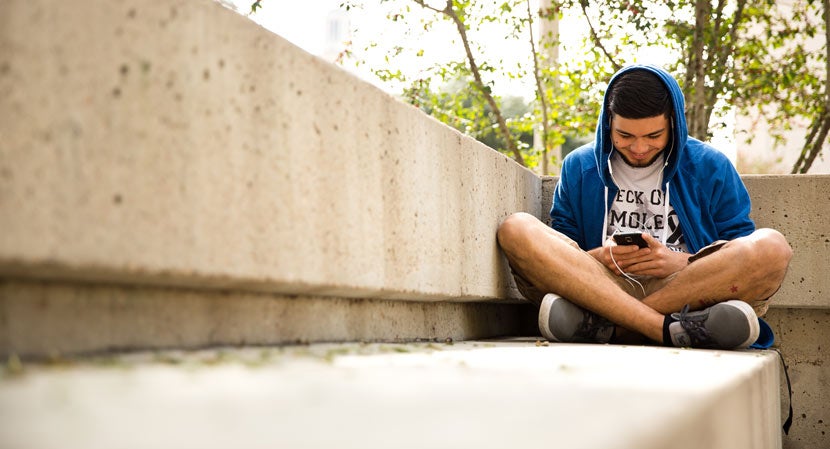 MOVIES
The Batman
There are dozens of Batman movies out there, so why should you watch this one? Producer Dylan Clark, whose son also happens to be a Moody College junior, gave an inside scoop on this newest take during a screening and Q&A on campus last month. He said, since everyone loves a show about serial killers, why not make a Batman detective story? Picture the broody Robert Pattinson working alongside cops to try to solve a series of murders of high-profile Gotham officials, plus a budding romance with Zoë Kravitz as Catwoman. All that with a haunting Michael Giacchino score and Kurt Cobain's "Something in the Way" (Director Matt Reeves used the song as inspiration when he wrote the screenplay), you shouldn't miss it. The movie is available on several streaming platforms and free to watch on HBO Max.
Dune
Another take on an earlier movie, "Dune" is a science fiction epic that follows the brilliant and gifted Paul Atreides, played by Timotheé Chalamet, as he travels to the most dangerous planet in the universe to ensure the future of his family and his people. A big-screen adaptation of Frank Herbert's bestselling 1965 novel, the film took home six Oscars this year — the most of any movie. Among them: Best Sound, which in part was created by Mac Ruth, a production sound mixer and Moody College alum. After four nominations, it was his first Academy Award win. Word is a "Dune 2" is in the works, so you don't want to miss this one. It's available to rent or buy on Amazon Prime Video, Apple TV, Vudu or Google Play. Or hold out for the big screen experience, as it's getting a second theatrical run on many screens nationwide.
What We Leave Behind
Directed by Radio-Television-Film Assistant Professor Iliana Sosa, "What We Leave Behind," centers around a portrait of Sosa's grandfather Julián and his relationship with his family, the United States and Mexico, and his unwavering attitude toward work among thoughts about life as he loses his freedom to old age. Shot over several years in the style of cinema verité, the film took home both the Louis Black Lone Star Award and Fandor New Voices Award at this year's SXSW Film Festival and is a can't miss on your summer watch list. For information on upcoming screenings, visit the film website.
Top Gun: Maverick
Just released in theaters, "Top Gun: Maverick" is the long-awaited follow-up to the 1986 movie starring Tom Cruise. And this one also stars Tom Cruise! Along with Moody College alum Glen Powell, recently named CinemaCon's "Star of Tomorrow." The movie picks up with Cruise's character, Navy captain Maverick, now demoted from test flying cutting-edge military aircraft because of his wily ways, and instead teaching recruits at the elite flight school, Top Gun. One of those recruits is Powell, who plays the cocky fighter pilot, Hangman. The film is already pulling in great reviews and as the year's biggest blockbuster, it's a can't miss.
Sing 2
You may not recognize him, but UT's own Matthew McConaughey stars in the animated musical, "Sing 2." But you can't mistake his characteristic voice. In this sequel to "Sing," Buster Moon returns with his all-star cast of performers as they prepare to launch their most impressive stage performance yet. Except there's one stipulation: They have to persuade the reclusive rock star, played by U2's Bono, to join them. The feel-good movie is available on several streaming platforms, including Amazon Prime Video, Apple TV and YouTube TV, and is just the thing to ease your mind after a stressful semester.
BOOKS
"It's Not Just Cookies: Stories and Recipes from the Tiff's Treats Kitchen"
Many of you may know the story of how Moody College alums Tiffany and Leon Chen founded the famed warm-cookie delivery company Tiff's Treats (or at least have enjoyed a box or two). But their new book gives the inside scoop on their business and marriage you haven't yet heard. A frank account of their highs and lows, along with 28 mouthwatering recipes, this is a book you need for your kitchen and your coffee table. It also makes a great gift! Available in bookstores or to purchase on Amazon.
The Man Who Made Mark Twain Famous
One of UT's most celebrated alums, Cappy McGarr, founder of Moody's sports journalism program, has just released a new book, "The Man Who Made Mark Twain Famous," where he reveals, for the first time, how the Mark Twain Prize for American Humor was conceived. The award, which has gone to the likes of Bill Murray, David Letterman, Steve Martin and Jon Stewart, celebrates people who have had a similar impact on society as the famous 19th Century author. McGarr shares his take on each of these recipients and opens a window into how he got involved in American politics. It's charming, comedic and self-deprecating and a very worthy summer read.
With the Bark Off: A Journalist's Memories of LBJ and a Life in the News Media
Austin journalist Neal Spelce, who graduated with several degrees from UT and was a past president of the Texas Exes, has released a new book where he shares his experiences working with U.S. President Lyndon B. Johnson. He was 24 at the time and working in broadcast news. In the years to come, Spelce would find himself on the scene of the 20th century's most important moments. Go back in time and revisit these events, as well as Spelce's candid moments with other U.S. presidents. It's a must-read for more than just history buffs.
PODCASTS
Tenfold More Wicked
A foremost authority on crime, Journalism and Media Professor of Practice Kate Winkler Dawson is known for her books about murder, serial killers and forensics. She's an admitted superfan of what she calls "death shows" like "Dateline" and "48 Hour Mysteries," which spurred her to create her own crime podcast in 2020, where she interviews journalists and writers about their best true crime cases. This latest season, called "Tiger Woman," follows the story of Clara Phillips, a Southern Hollywood chorus girl turned killer, who is often called Hollywood's first female psychopath. We won't give away too much of the story. Instead, binge it for yourself on Apple Podcasts, Amazon Music or Wondery +.
Crooked Power
The Drag Audio production house, UT's student built and run podcast studio, has churned out hit after hit, starting with the famed "The Orange Tree" podcast, which rose to the top 20 in all categories on Apple Podcasts. Their latest series, "Crooked Power" is the story of an Ecuadorian newspaper that has been the focus of a national controversy since 2011. It's hosted by Maya Fawaz and Cesar Perez, whose family has owned the newspaper for generations, and highlights the importance of the free press, not just in Latin America, but across the world.  A project three years in the works, it's a must-listen by the production house.
Darkness and Devilish Deeds
If you are an avid listener of The Drag Audio, then check out the second installment of "Darkness" about Austin's serial bomber, who in 2018 placed package bombs that killed two people and injured several others. The season gives an inside look at the bombing attacks, which, both Austinites who lived through the crimes, and those new to the city, will find eye-opening. Available now where all podcasts are streaming.
And for more in true crime, you can also check out The Drag's "Devilish Deeds," which tells the story of an axe-wielding murderer in Austin whose crimes shocked the world years before Jack the Ripper. It's already hit the top 200 in the True Crime category on Apple Podcasts, and new episodes are being released weekly. And stay tuned for season 3 of "Darkness," coming soon.