From the 40 Acres to the Oscar Stage
Academy Award-winning production sound mixer Mac Ruth reflects on his time at UT
Mac Ruth remembers the first time he saw a film set: in the Hyde Park neighborhood in Austin when he was a Radio-Television-Film major at The University of Texas at Austin. It was a dark night, and he was drawn in by the bright lights and big equipment. A production sound mixer was sitting in the yard with their equipment. At the time, Ruth had been working with sound equipment at KTXB, the radio station where he volunteered. It wasn't long after that night he took up the work professionally, and three decades later, last month, won his first Oscar.
When asked how it felt to take home the most prestigious award in cinema: "I waver between loud pride and imposter syndrome," he said. "It's a great privilege."
It was Ruth's fourth nomination by the Academy. The film that scored him the signature gold trophy: the epic "Dune," which was the big winner Oscar night, taking home six awards. Ruth accepted in a traditional tuxedo with a black bow tie, but quickly after he left the stage, made a costume change, to a burnt orange bow tie, a nod to his alma mater.
"I've always really held dearly the inspiration that I got at UT, the great people I met there, the inspiring teachers and mentors, the lifelong friends," Ruth said. "And the humble kick out the door when it was time to go."
After graduation, Ruth had wanted to keep his job at famed music show Austin City Limits where he was an intern. But his coworkers encouraged him to shoot for bigger things. He moved to Los Angeles in the 90s to work on movies, and the work eventually took him to Budapest where he settled and has lived for the past 25 years.
"One of the interesting things moving to a culture where at first you don't speak the language is you go into a great dead quiet," he said of the city in Hungary that straddles the Danube River. "It's a great meditation to go into another culture you don't know. It's not noisy. You aren't hearing everything. It gave me a chance to focus."
Ruth discovered a wonderful cinema culture in Budapest.
"I dug in and gave myself time to study and work at my craft," he said. "Now, I can't count the number of movies I've done."
Among his most noted projects: "Hellboy II", "The Martian", "13 Hours," "Blade Runner 2049," and "Terminator: Dark Fate."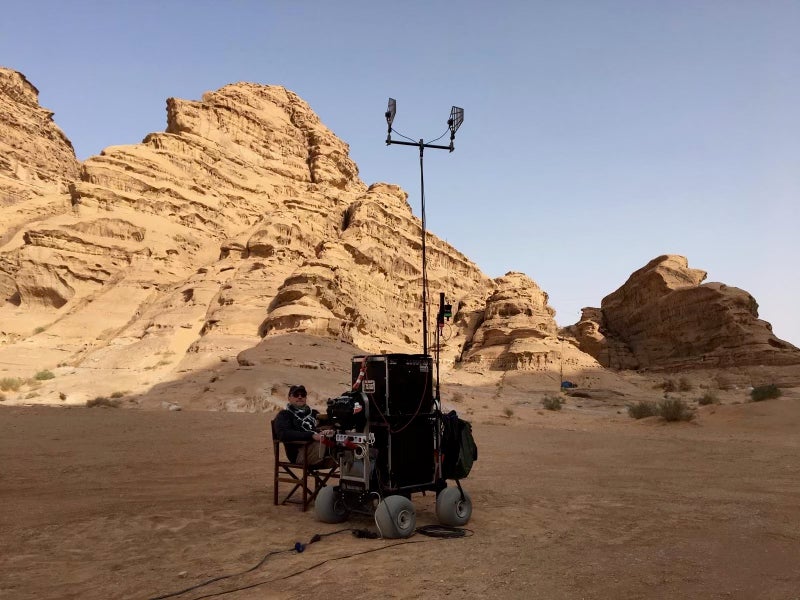 Ruth is what is known as a "production sound mixer," which is part of a whole operation of people responsible for the finished sound you hear on a movie in the theater.
For his part, Ruth captures the sound of the actors on set the day of shooting. For a production the size of "Dune," that means he leads a whole department of people — from including boom operators and additional assistants. They work together to capture the dialogue and also the ambient, or "wild," sounds on set. Then they mix the audio in real-time, balancing the volume and other sound quality to ensure it will work for the final product.
After Ruth and his team capture that sound, it goes into a long stage of post-production, where the sound editor edits all the recorded sound and assembles it with sound effects, drawing on libraries of pre-recorded sounds and sometimes creating their own. 
Finally, it makes it to the re-recording mixer, who take all the elements, including the sound Ruth has recorded, ambient noise, effects and music, and incorporates it together into the final sound you hear on screen.
It takes a village to make a movie and every person matters, Ruth said of the team. "It doesn't get done if the water doesn't get there."
Ruth's advice to students: "Learn your craft and find your way." That includes creating opportunities by building personal connections and meeting people.
"It's a very dynamic community there in Austin," he said. "I give great credit to UT in the training it provides to create something that's a little more special."