International Recognition
Karin Wilkins inducted as a fellow in the International Communication Association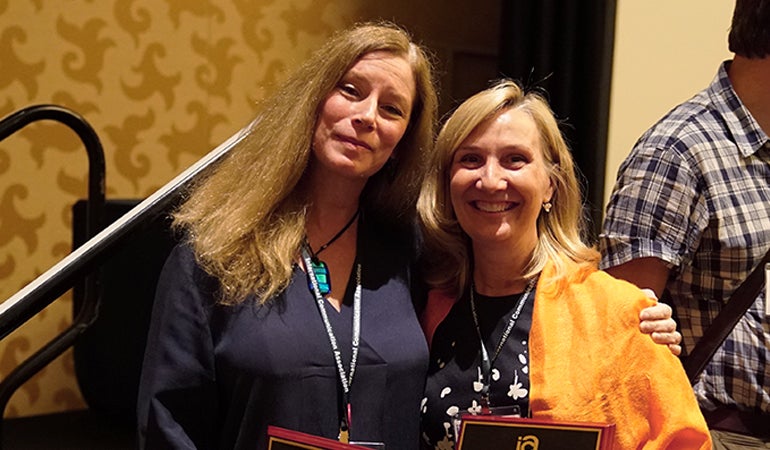 Karen Wilkins and Amy Jordan accept their awards at the ICA conference.
Chosen by the strength of her distinguished scholarly contributions to the field of communication, Professor Karin Wilkins was recently inducted into the International Communication Association (ICA) as an official fellow of the organization at the ICA's 2017 annual conference in San Diego.
"Being voted on to this select group is a real honor," said Wilkins, professor of media studies and associate dean for faculty advancement and strategic initiatives in the Moody College of Communication. "This means a great deal to me, particularly given that my nomination was initiated and coordinated by my home division in Global Communication and Social Change."
A leading scholar on global media, Wilkins' expertise is in development communication, gender, Middle East studies, political engagement, and communication for social justice and change. She's taught at UT Austin since 1995 and served in a variety of roles including as director of the Center for Middle Eastern Studies, director of the Global Studies Bridging Disciplines program, and director of the Communication and Leadership program.
She was a visiting scholar at the University of Pennsylvania's Annenberg School for Communication in 2016 with the Scholars Program in Culture and Communication and is editor-in-chief of Communication Theory. Wilkins has produced 12 authored and edited volumes, 33 peer-reviewed articles, 16 book chapters and various research reports and has won numerous awards for her research, service and teaching.
Wilkins joins the ranks of 138 ICA fellows given the distinction since its inception in 1950. The ICA currently has more than 4,500 members in 80 nations and is officially associated with the United Nations as a non-governmental association.   
Wilkins is the first female fellow from Moody College. Other Moody College faculty who have been honored as fellows in the ICA include Professors John Daly, Rod Hart, Mark Knapp, Max McCombs and Joe Straubhaar.