'A watershed moment'
Celebrating 10 Years of Moody College of Communication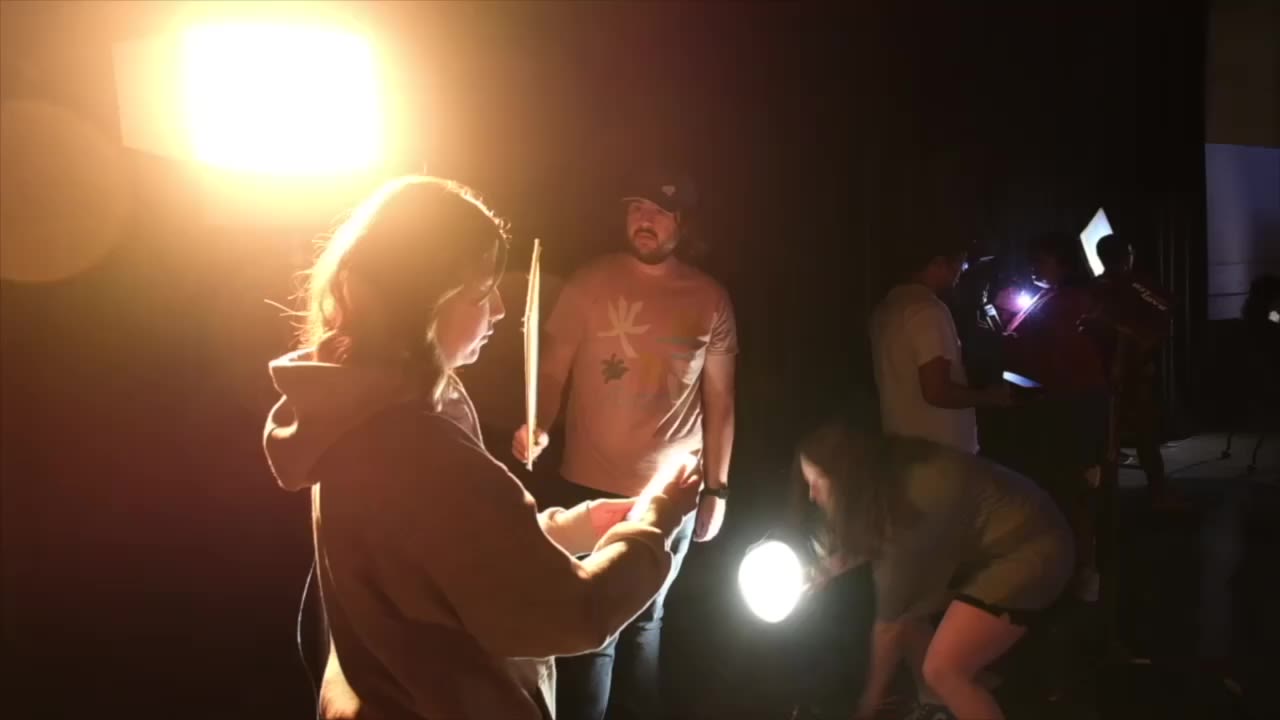 Former Dean Rod Hart was in a board meeting in what is now the G.B. Dealey Center for New Media when he got the call.
For a year, he had been working behind the scenes to secure a $50 million gift from Galveston's Moody Foundation to support what was then The University of Texas at Austin's College of Communication.
He knew the foundation's vote was happening that day.
When he heard the donation had been approved, he excused himself to call the president of the University.
Hart said he never cries. But that day, in the dean's conference room, when he got the news, he put his head in his hands and wept.
"It was a pretty wonderful moment," Hart recalled 10 years later. "Every college dean would hope to have an endowment like this. I was fortunate enough to be able to make that contact and convince them we would be a good place to invest in and, my gosh, it worked out."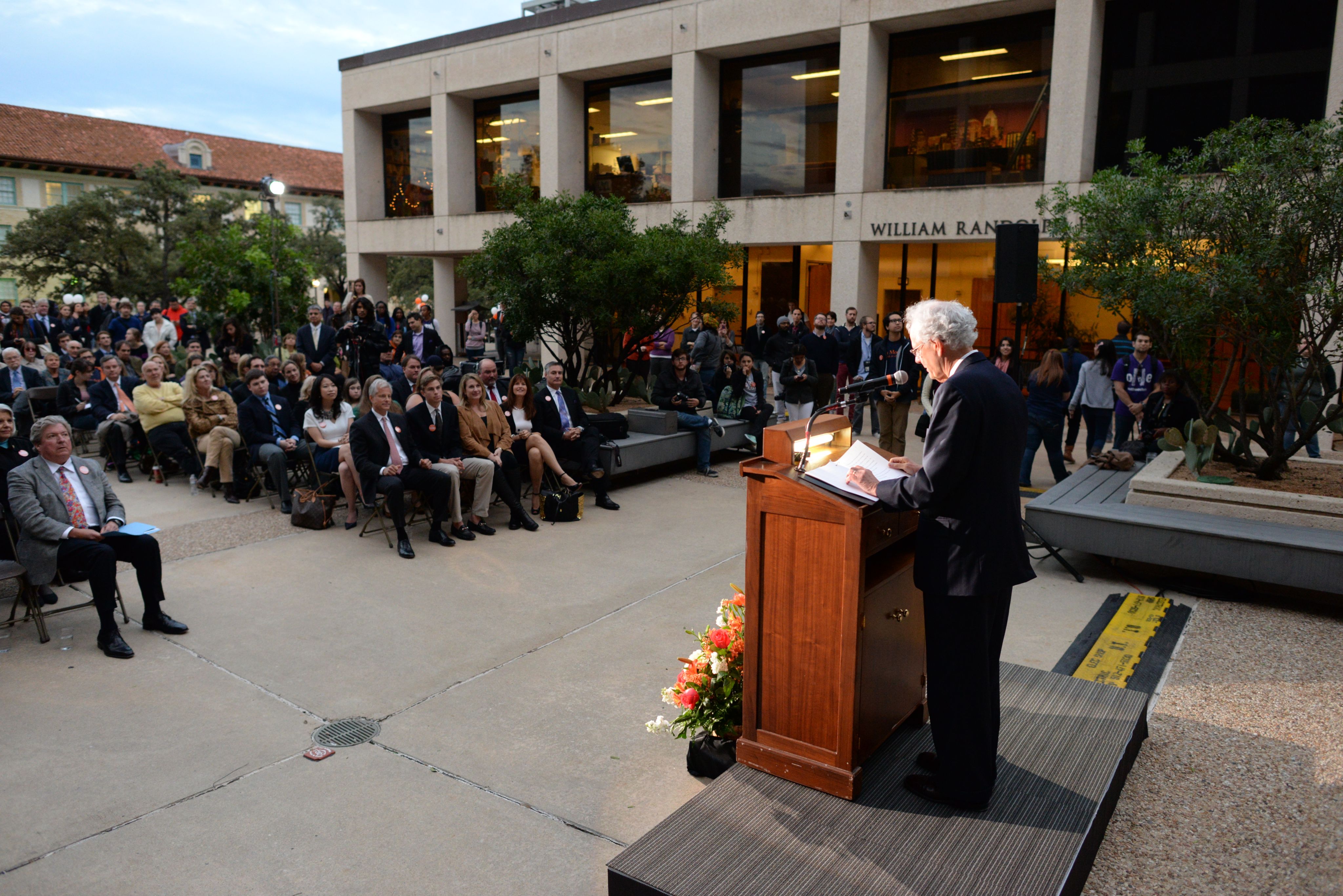 In 2013, the Moody Foundation's gift was the largest endowment for the study of communication of any public university in the nation. It will continue to support the college and its growth in perpetuity.
In the past decade, it has helped to transform the College of Communication into what it is today, supporting faculty and graduate student research, helping provide the most up-to-date technology and collaborative spaces for students, and growing Texas Student Media. It also has helped to establish and support 14 centers, institutes and programs that provide world-class teaching, scholarship and public service. Those centers, institutes and programs also offer minors that enhance students' degree plans in areas such as health communication, media engagement, sports communication, immersive technology and more.
"The Moody Foundation has helped position our students to succeed in a vast variety of communication studies," said UT President Jay Hartzell. "Moody's graduates and their work change the world through high-impact disciplines including investigative journalism, debate, ethical leadership, and critical research that helps people overcome speech and hearing disorders."
The Moody gift also has supported college staff by helping create a grants office and growing the college's development team, both of which have bought in even greater gifts and funding.
Perhaps most noticeably, though, the money brought with it an esteemed name: the Moody College of Communication.
"The college's brand, people's awareness of who we are and what we do, all have been elevated significantly just by putting the name on it," said Jay Bernhardt, who served as Moody College dean after Hart. "In a place like UT Austin where the other top colleges and schools are named, having the Moody brand on the college's name has put us in great company."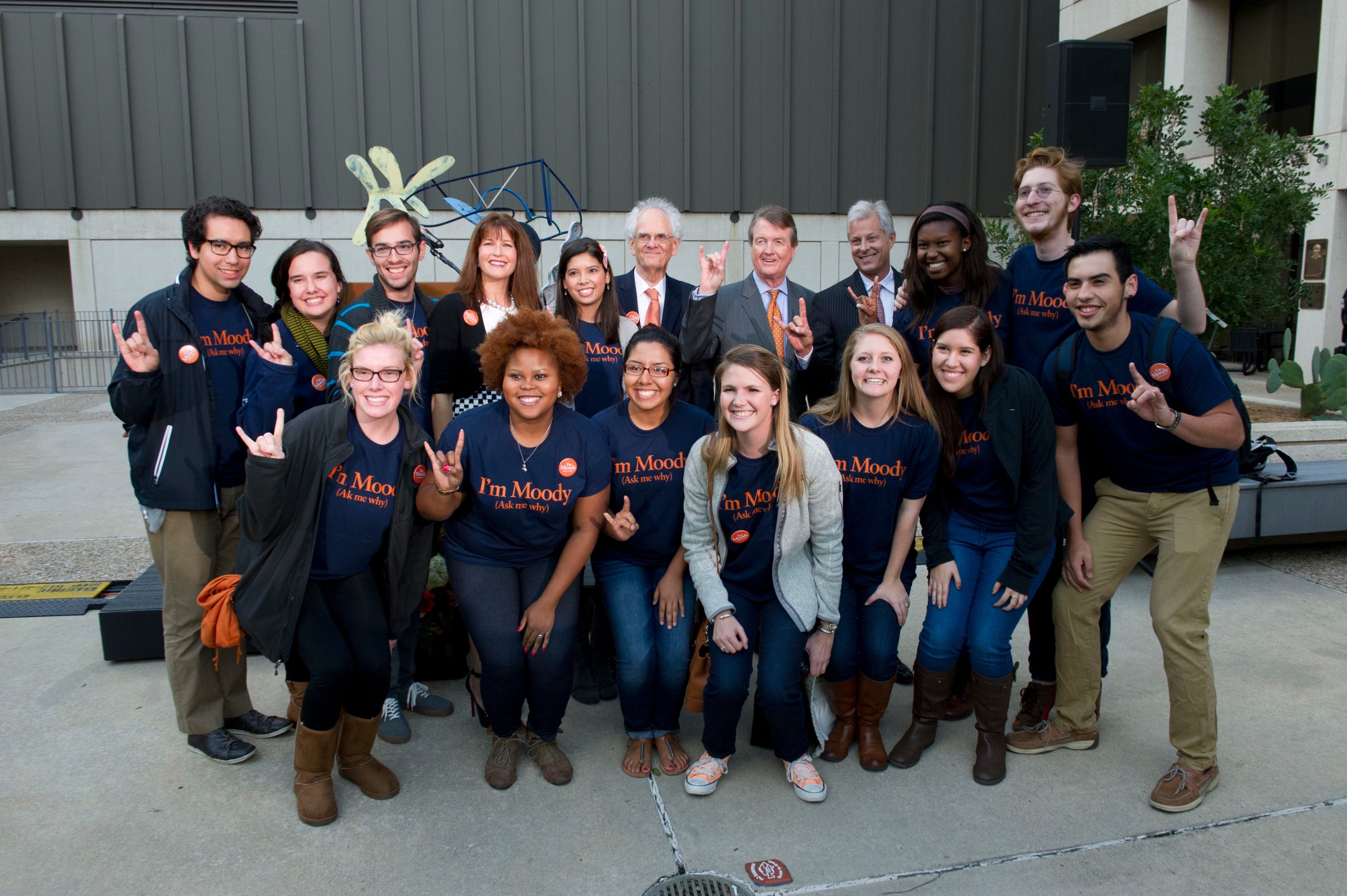 Becoming Moody
It didn't take long for students to identify as Moody. When they arrived back on campus in the fall of 2013, the college handed out T-shirts that said, "I'm Moody, ask me why?" with the new Moody College of Communication logo emblazoned on the back.
The college's then-chief development officer, Mike Wilson, had the idea for the shirts before the college ever got the gift.
Call it a hope, a wish or a prophecy.
"Rod told me, 'Stop talking about that shirt. You're going to be really upset if we don't get the money,'" Wilson said. "I thought that if the students would call themselves Moody five years after the name change, I would be tickled pink. It happened almost instantaneously. That I did not expect."
Ross Moody, chairman and CEO of National Western Life Group, who is on the three-member Moody Foundation board that voted to give the endowment, considers its investment in Moody College among the most important the family has ever made.
"Of all the gifts that the Moody Foundation has given, this particular gift, I think, has made the biggest impact on the greatest number of students," he said.
"We look at the gifts we have given over time to make sure they have worked," Ross Moody said. "In this instance, of all the gifts that the Moody Foundation has given, this particular gift, I think, has made the biggest impact on the greatest number of students."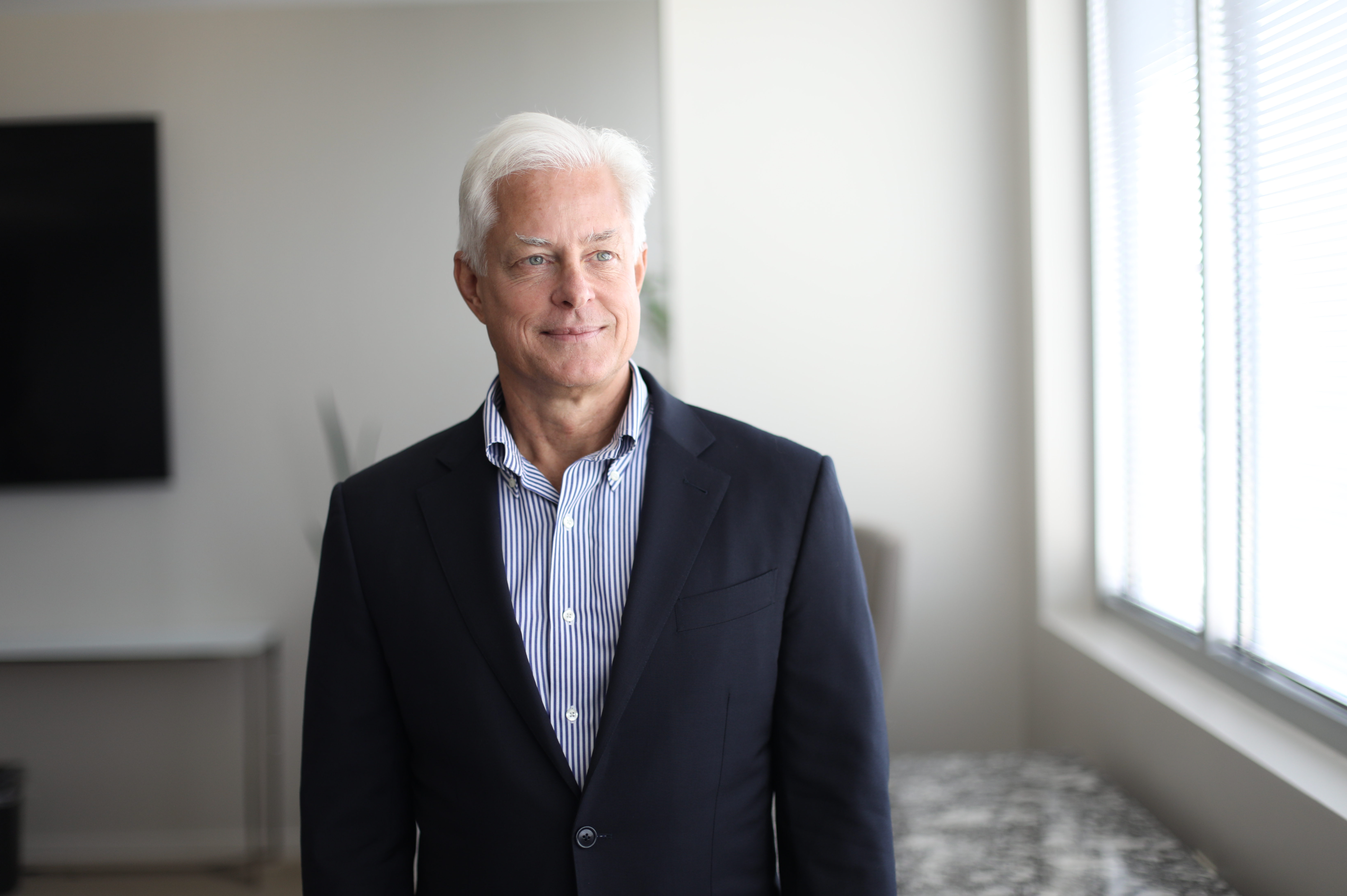 Expanding their reach
If you've taken a breath in Austin, you know the Moody name. It adorns so many of the places that are so special to Austinites. ACL Live at the Moody Theater. The Moody Rooftop at the Contemporary Austin. The Moody Pavilions at Laguna Gloria. The Moody Amphitheater at Waterloo Park. Most recently, the new basketball stadium and events venue, the Moody Center, and the Moody Patio on the grounds of the Blanton Museum of Art joined that list.
The Moody family's ventures span insurance, ranching, hotels and newspapers, and the foundation always has provided tremendous support to its home city of Galveston.
But in 2012, its reach hadn't extended much to other parts of Texas. Ross Moody had been wanting to expand its efforts for some time, Wilson said. He had encouraged the foundation to invest in UT Austin's Department of Radio-Television-Film to start a 3D video program. But, Wilson said, he wanted to do more and set his sights on a naming gift. The price tag was high, and Ross Moody knew it would be a heavy lift to get the board's approval.
To help encourage the investment, the college's development office, with the help of faculty and staff, produced a six-minute video to send to the Moodys that highlighted all the college's amazing successes. It featured then-UT president Bill Powers and CBS news anchor Dan Rather, who is on the college's advisory council. Rather talked about his fondness for Galveston and how impressed he was with the College of Communication.
"Robert Moody, Ross' dad, had a great affection for Dan Rather," Wilson said.
Rather was the only reporter who continued to come to Galveston Island after Hurricane Carla to report on the aftermath of the storm, long after everyone else moved onto the next big news story.
Perhaps that was the tipping point, Wilson said.
At the time, the Moody Foundation's gift to the College of Communication was the largest it had ever made off Galveston Island.
"It was a watershed moment for them and for us," Wilson said.
A transformation
Moody College of Communication, today, is no longer the sleepy college it once was, far on the north end of the UT campus and, in many ways, siloed from other schools and colleges.
"When I came here in 1978 when UT recruited me, I remember calling my wife on the phone to give her an update. I said, 'If communication here could become as strong as the University itself, it would be amazing," Hart said. "At that time it wasn't. It was a good program but not a great program. Now, we are, by any measure, just as strong if not stronger than any of the schools and colleges on the campus. That gives me a tremendous feeling of satisfaction."
Since the fall of 2013, Moody College has conferred more than 15,000 degrees, including bachelor's, master's, doctorates, minors and certificates. The college boasts a more than 80% graduation rate, the second highest of any UT college or school. In fall 2023, it welcomed its largest-ever freshman class.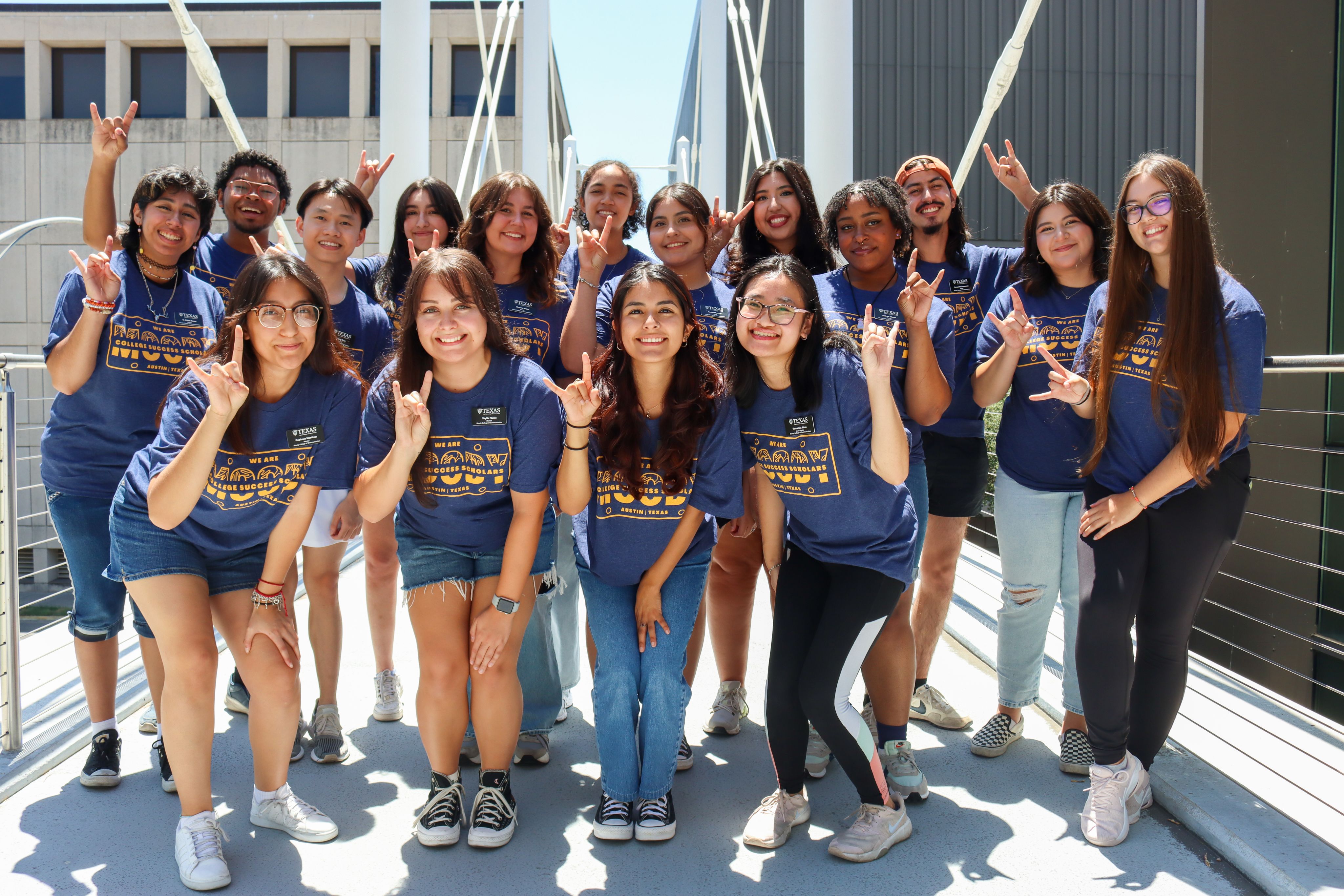 This growth and success is the result of many measures, including new faculty hires, additional fundraising and improved recruitment efforts. The Moody Foundation's contribution has been a huge part of that success.
"A very large gift like that is transformational in a lot of ways for the program and has increased the caliber of experience students will have," said Miguel Wasielewski, UT's vice provost of admissions. "When we talk about the type of education they are going to receive, that, in no doubt, was influenced by that donation. We have an incredible product to sell, not just at UT but at Moody. That makes our job really, really easy."
In the past 10 years, Moody College has continued to receive incredible philanthropic support that has furthered its mission of providing top-tier education and scholarship. These gifts have allowed the college to keep pace with the constant changes happening in communication today, including growth in artificial intelligence, augmented reality, virtual reality and the metaverse. Students benefit from the newest technologies and innovations that help them stay ahead. Today, a communication degree has become highly valued and highly respected, particularly one from Moody College.
"We're the group of people on campus that are going to keep our ears to the ground more than anybody else about how media and communication are evolving, if we can hold onto the moment, because it's so fast," Hart said. "We are kind of scouts here in Moody College, scouts for the future of where communication is going to go and where mass media and private media are going to take us."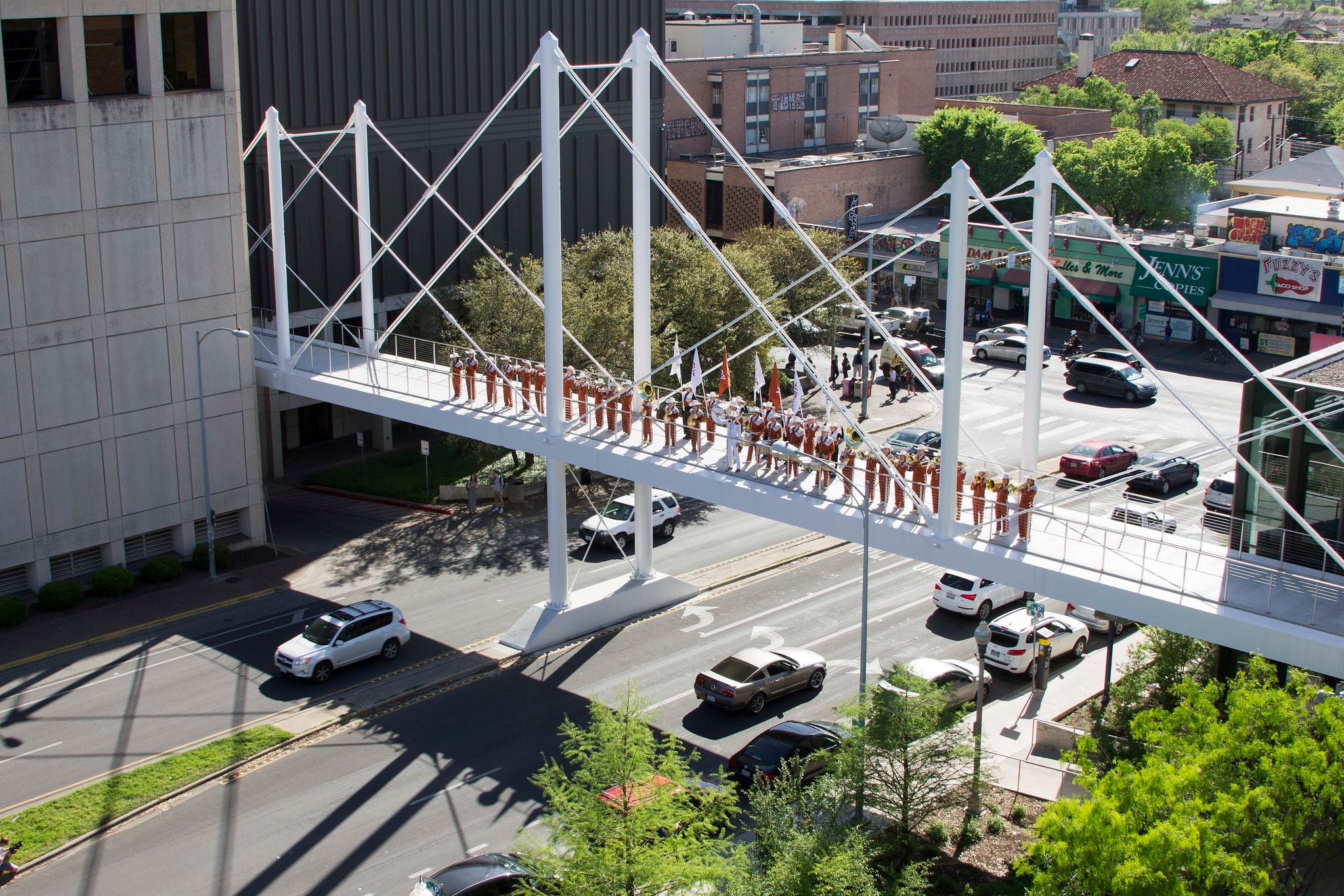 A bridge to the future
On a March day in 2016, Moody College of Communication held a ribbon-cutting ceremony for the new Moody Pedestrian Bridge, which connects the Dealey Center to Communication Buildings A and B. It is a quite literal representation of what the Moody Foundation gift helped to accomplish — to make the individual units at the college one. Students are no longer simply journalism, advertising, public relations, film, communication studies, or speech, language, and hearing sciences students. They are Moody students. They are connected.
"The bridge symbolically helped reiterate the point that we are all Moody," Bernhardt said. "It was an important reminder to everyone in the college that we are better together than we are apart."
In honor of 10 years of being Moody, we are looking back, reflecting on the changes that have happened over the past decade — in the classroom, in research labs, in our centers, institutes and programs, and in the lives of our students. Thank you for being a part of this journey.
Read on to learn more about how the $50 million gift has made an impact.
Proud to be Moody
Moody Foundation gift gives students a one-of-a-kind experience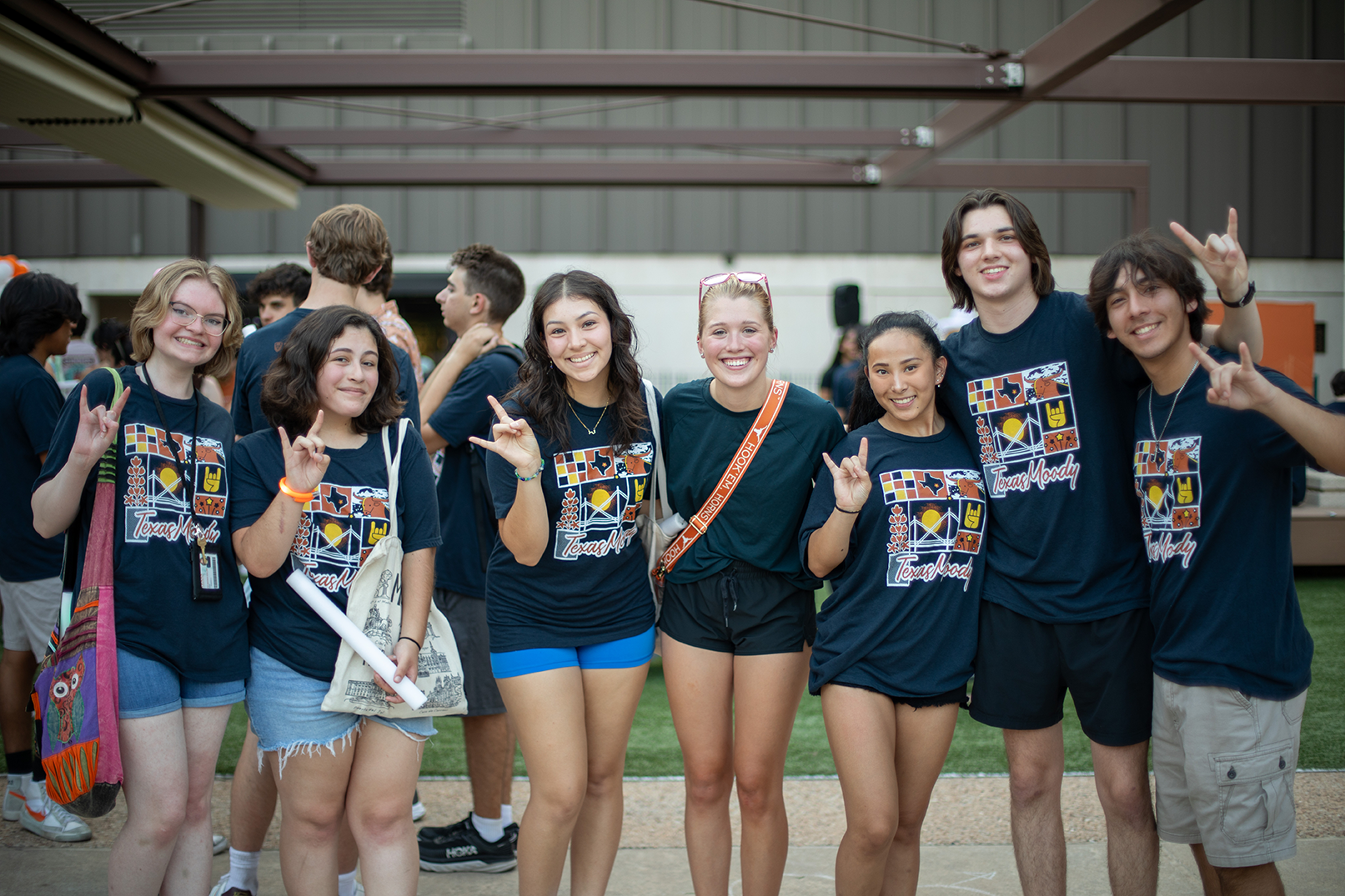 Ashley Bingham started her college career as a student at The University of Texas at Austin's College of Communication. That was before the Moody Foundation gave its $50 million donation that made it Moody College of Communication.
She was the Communication Council president her senior year and the only student in the room at the Dean's Advisory Council meeting in 2013 when Dean Rod Hart got the news about the endowment.
"It was a weird day because Dean Hart kept leaving the room," Bingham said 10 years later. "When he came back in, I don't think I have ever seen that man so happy. I remember thinking we are now on par with the business school and engineering and all the other colleges on campus that had names. We had a lot of pride."
Bingham graduated in 2014, after the name change, with her degree in public relations. When asked how she identifies as a UT grad, she said she's definitely Moody.
"I am really proud of being from UT and from Moody," she said. "It is amazing to see how strong the advertising and PR major is and how well that program has been succeeding. And seeing how the Communication Council has extended its reach. That organization is still going so strong in such cool ways that 10 years ago we wouldn't have dreamed of."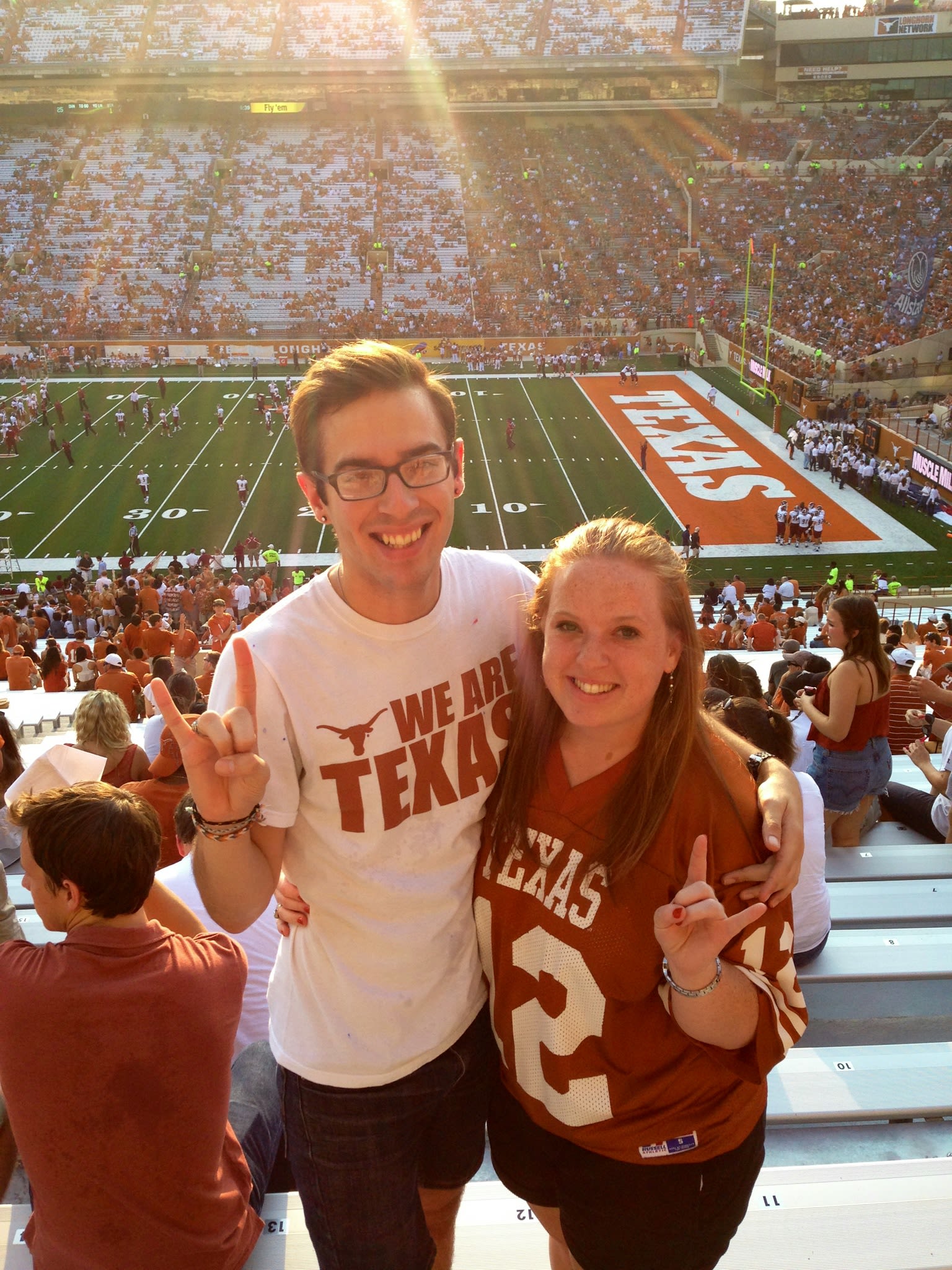 The media landscape has changed immensely over the past decade, as have the skills students need to succeed. Moody has met that challenge, and it's evident in the programs and experiences it offers today, many of them supported by the Moody Foundation's endowment. These include access to the most cutting-edge technology, more experiential learning opportunities, and new centers, institutes and programs that, in addition to offering research opportunities, allow students to add minors to their degree plans.
These advancements are the reason so many students choose to come to Moody today.
"From somebody who is standing at 30,000 feet looking at the College of Communication from 10 years ago to five years ago to where we are now, I am pleased as punch with what our gift has done," said Ross Moody, chairman and CEO of National Western Life Group, who is on the three-member Moody Foundation board. "Both the physical changes and the energy that is coming out of the Moody College has been phenomenal."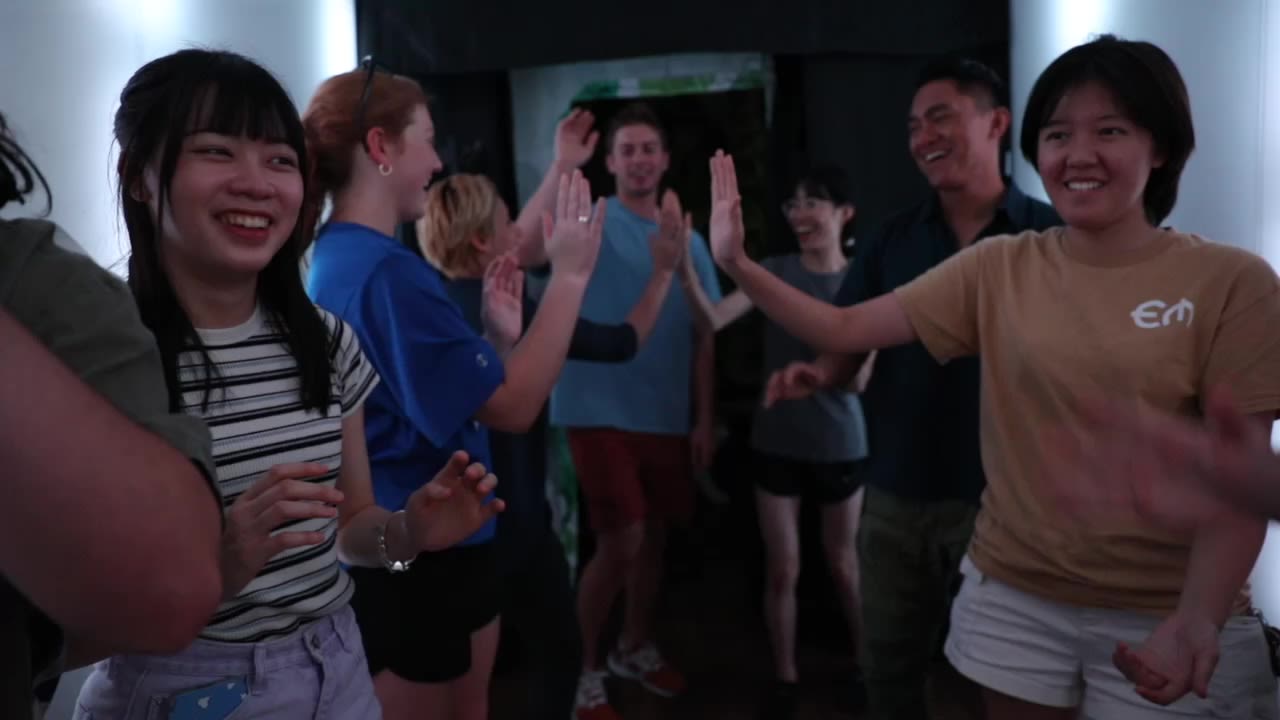 Boosting the student experience
In 2019, School of Journalism and Media associate professor of practice Robert Quigley used the Moody gift to found The Drag Audio, the only in-house podcast production house of its kind on a college campus, which gives students the opportunity to create high quality podcasts.
The Drag opens doors for students by giving them experience in a medium that's growing rapidly. To date, students have created 12 long-form podcasts exploring topics from true crime to climate change, many of which have won awards and received high rankings on Apple podcasts.
The Drag is now expanding into other formats, including conversational podcasts and series with stand-alone episodes. They are also collaborating with other units on campus by helping them ideate, create and market their own podcasts. Additionally, Moody College now offers several classes in audio journalism, including audio storytelling, podcast production, true crime podcasts and a capstone course in podcasting.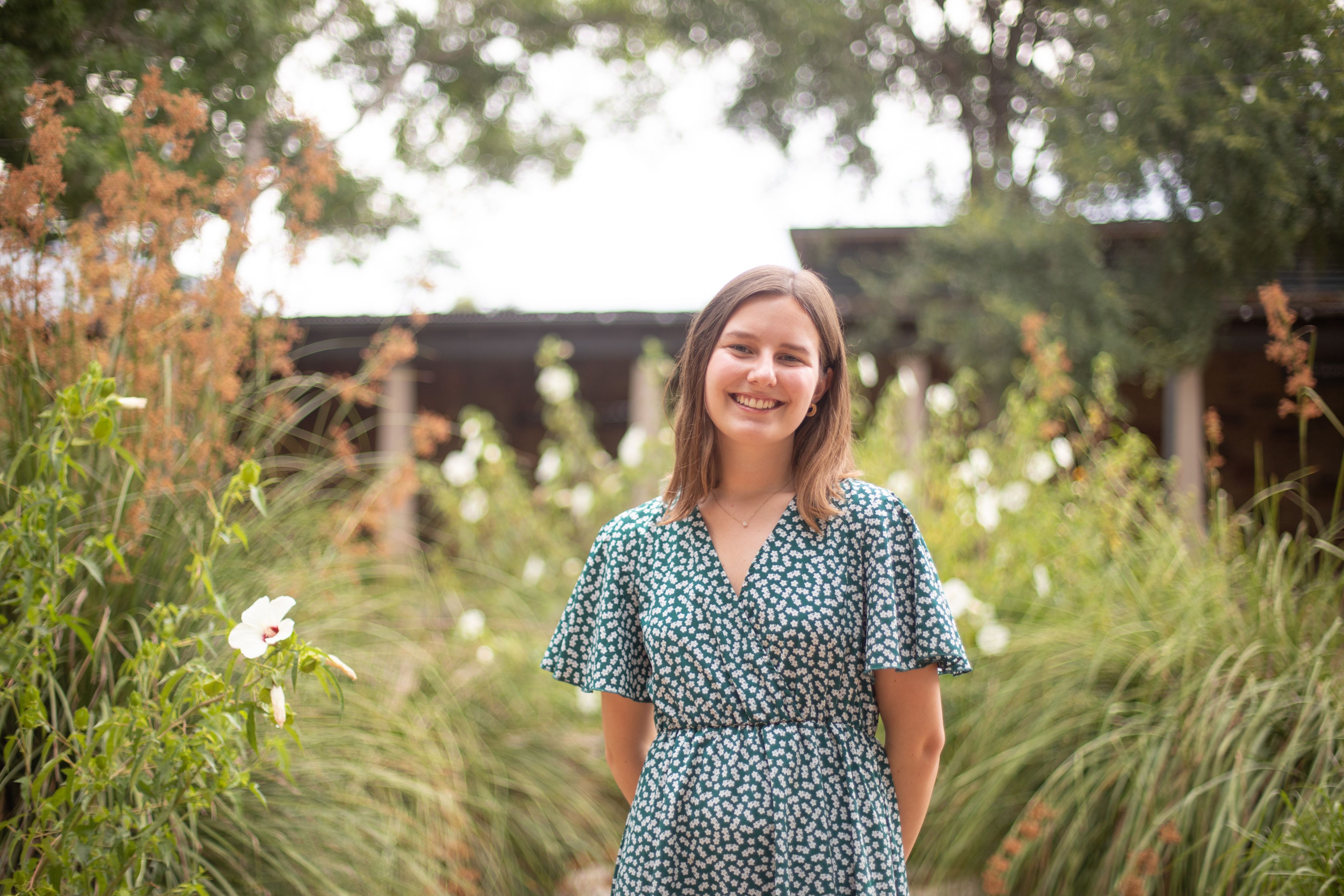 "It is such a unique opportunity that I honestly don't think is anywhere else," said Carly Rose, who graduated with a journalism degree in May 2023 and worked as a producer for The Drag.
Moody College students today are also expanding their skills by adding minors to their degree plans, including in health communication, sports media, global sustainability, media and entertainment industries and more.
Many of these minors are offered through the college's centers, institutes and programs that were founded with and are supported by the Moody gift, including the Center for Health Communication, the Center for Entertainment and Media Industries, the Center for Media Engagement, the Center for Sports Communication & Media, Latino Media Arts and Studies and the Texas Immersive Institute.
"The sports media minor is something I was really interested in," said Seth Berger, a junior journalism student. "I have a passion for sports and a passion for media. To be able to have that foundation in journalism and pair that with my love of sports, I couldn't pass that up."
Stan Richards School of Advertising & Public Relations professor of practice Erin Reilly used some of the foundation's startup funds to establish the Texas Immersive Institute, which allows students to create intimate, interactive and experiential storytelling experiences. The gift helped them build the Immersive Lab, which gives students access to technology such Apple Vision, Magic Leap and HoloLens to create augmented and extended reality experiences for all kinds of industries.
"We were the first to set up an immersive institute of this kind," Reilly said. "Giving us the initial funds to set up those tools helped us break down those socioeconomic barriers to this kind of technology."
Since the institute's founding in 2020, students have worked with numerous high-profile clients on immersive advertising campaigns. Moody now also offers students an immersive capstone course, as well as classes in audience engagement, experimental storytelling and immersive experience.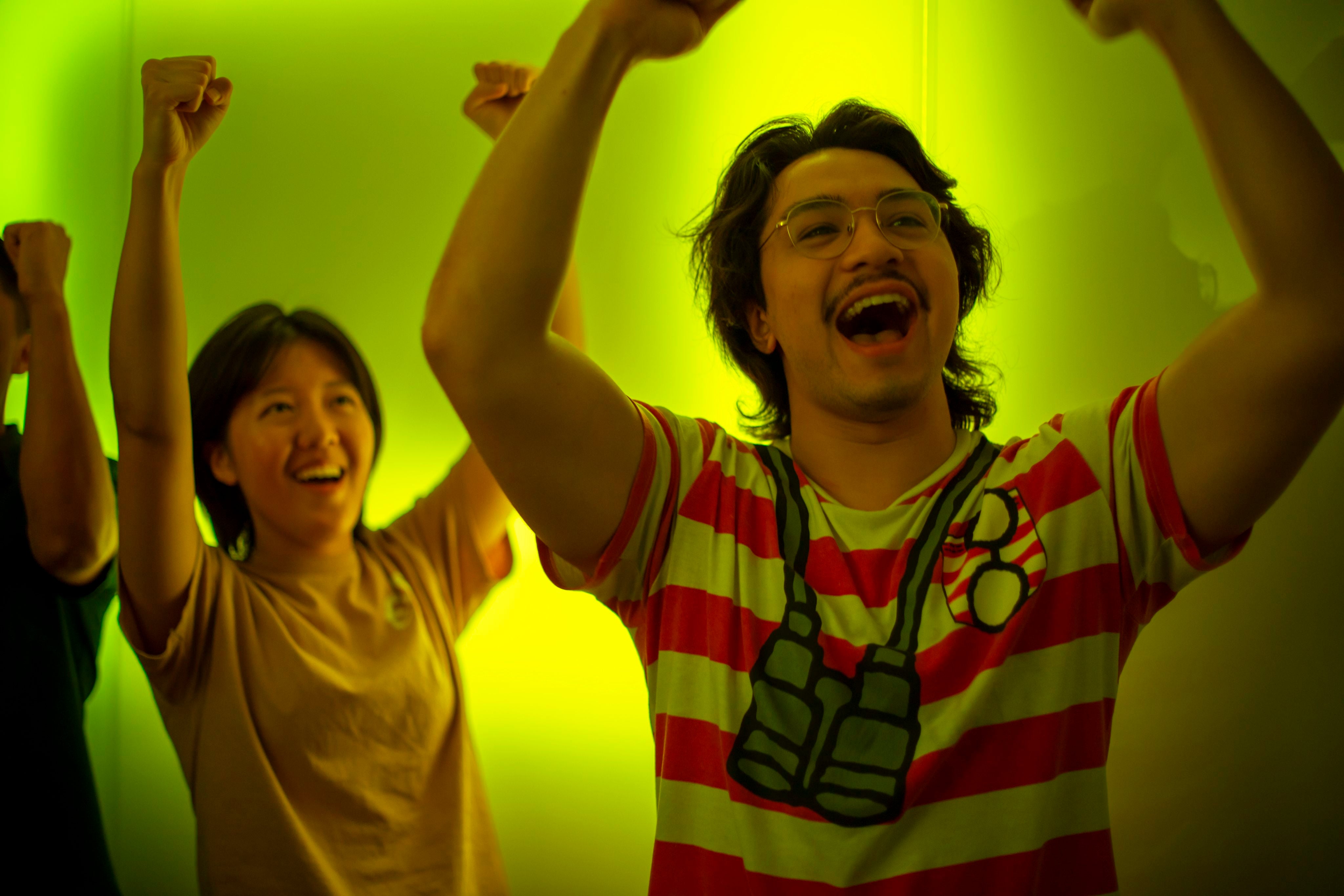 "We blend physical and digital and think about the audience first and what role they can take to actively participate in the stories," Reilly said. "Having that sandbox space to play with these tools really matters to Moody."
Moody College's buildings and classrooms are outfitted with the best technology, including studios where students can broadcast, record and create films. Recently, the college unveiled updates to its journalism and media and radio-television-film studios, with new sets, lighting, curtains, PCs and production equipment, including equipment donated from Alamo Drafthouse, KXAN and KVUE. Its study spaces also invite greater collaboration and more power for student laptops.
Today, Moody College distinguishes itself as one of the top communication colleges in the country. And with the changes happening in media every day, a degree from Moody is more valuable and respectable than ever, opening doors for jobs in numerous industries, including advertising, marketing, business, film, TV, newspapers and more.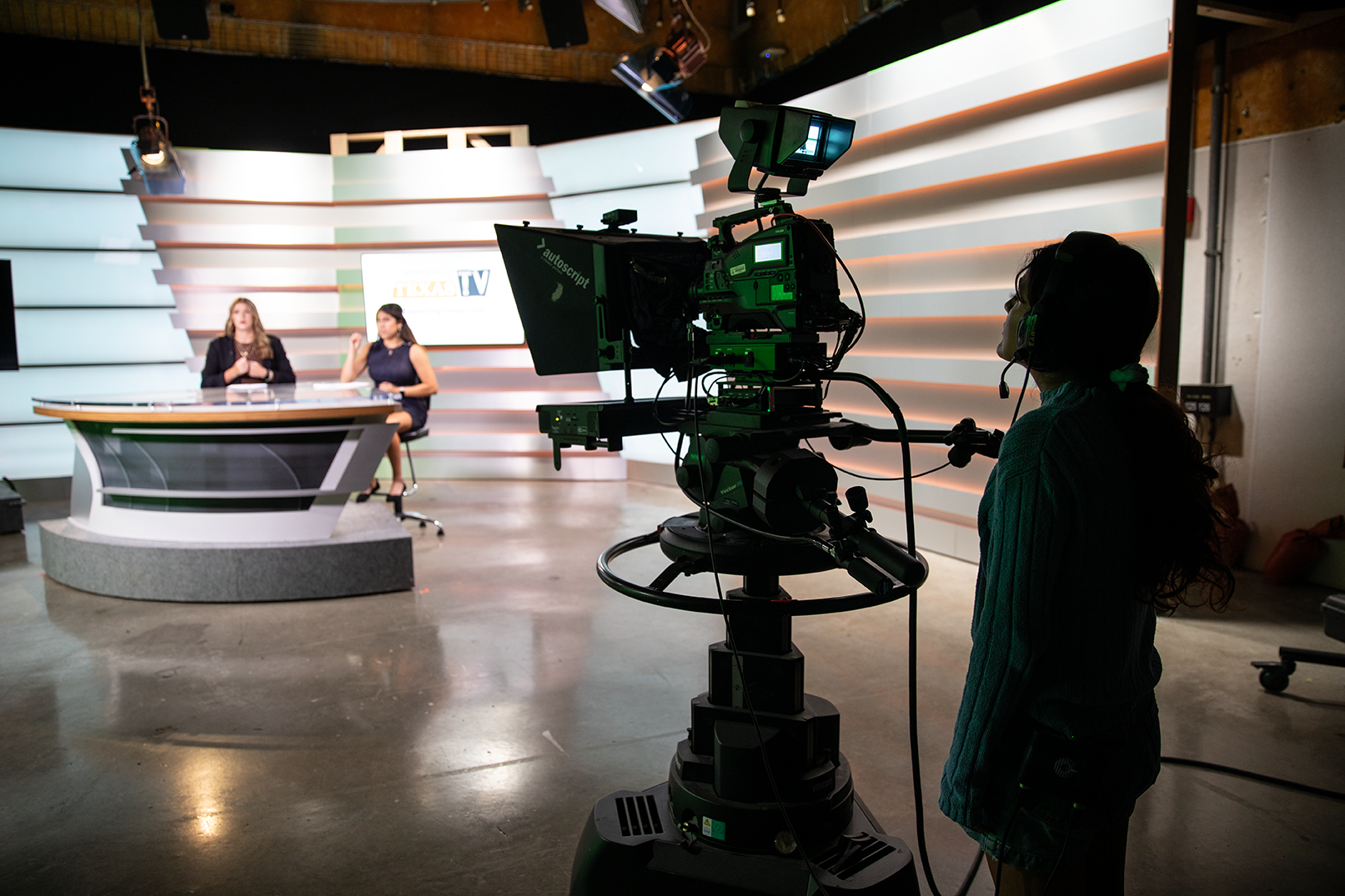 "I'm really proud to be a Moody College student," Madison Morris said. "The name definitely holds a lot of weight. I consider it to be the best college in the nation, and so I'm really proud to be a student here, and knowing that I get to graduate from this college is really incredible to me."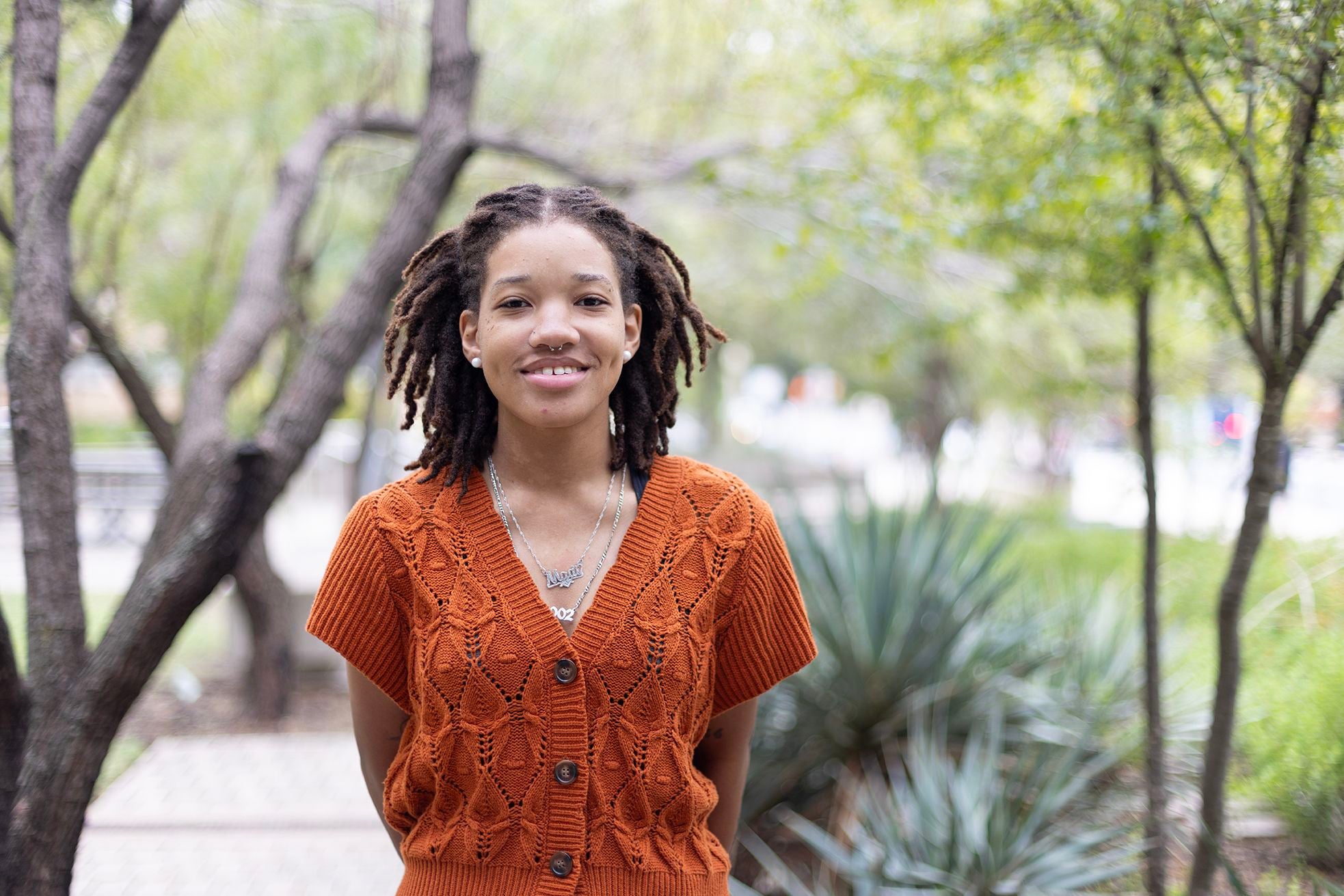 Grateful for a Moody degree
Ten years after the Moody Foundation invested in the college, the impact is clear in how Moody students talk about their degrees.
Madison Morris, who is this year's Communication Council president, said she was very aware of the caliber of the college when she chose to apply. It's the top public relations college in the country, she said. She, too, was interested in the sports media program and in all the resources Moody had to offer.
"I thought I wouldn't apply. I'll never get in," she said. "One of my teachers pushed me to apply, and so I did."
She said she feels honored for her seat. Since her freshman year, she's worked at The Daily Texan, Texas Athletics, the Center for Sports Communication & Media, and now, the Moody College Marketing and Communications office.
"I chose Moody because of the many resources available here, and as a student, I knew if I came here, I was going to take advantage of all the opportunities," Morris said. "I love the sense of community within the college. I think people are always willing to share resources."
Morris graduates in May with degrees in both public relations and journalism.
"I'm really proud to be a Moody College student," she said. "The name definitely holds a lot of weight. I consider it to be the best college in the nation. I'm really proud to be a student here. Knowing that I get to graduate from this college is really incredible to me."
Research to practice
Moody Foundation gift supports faculty conducting life-changing research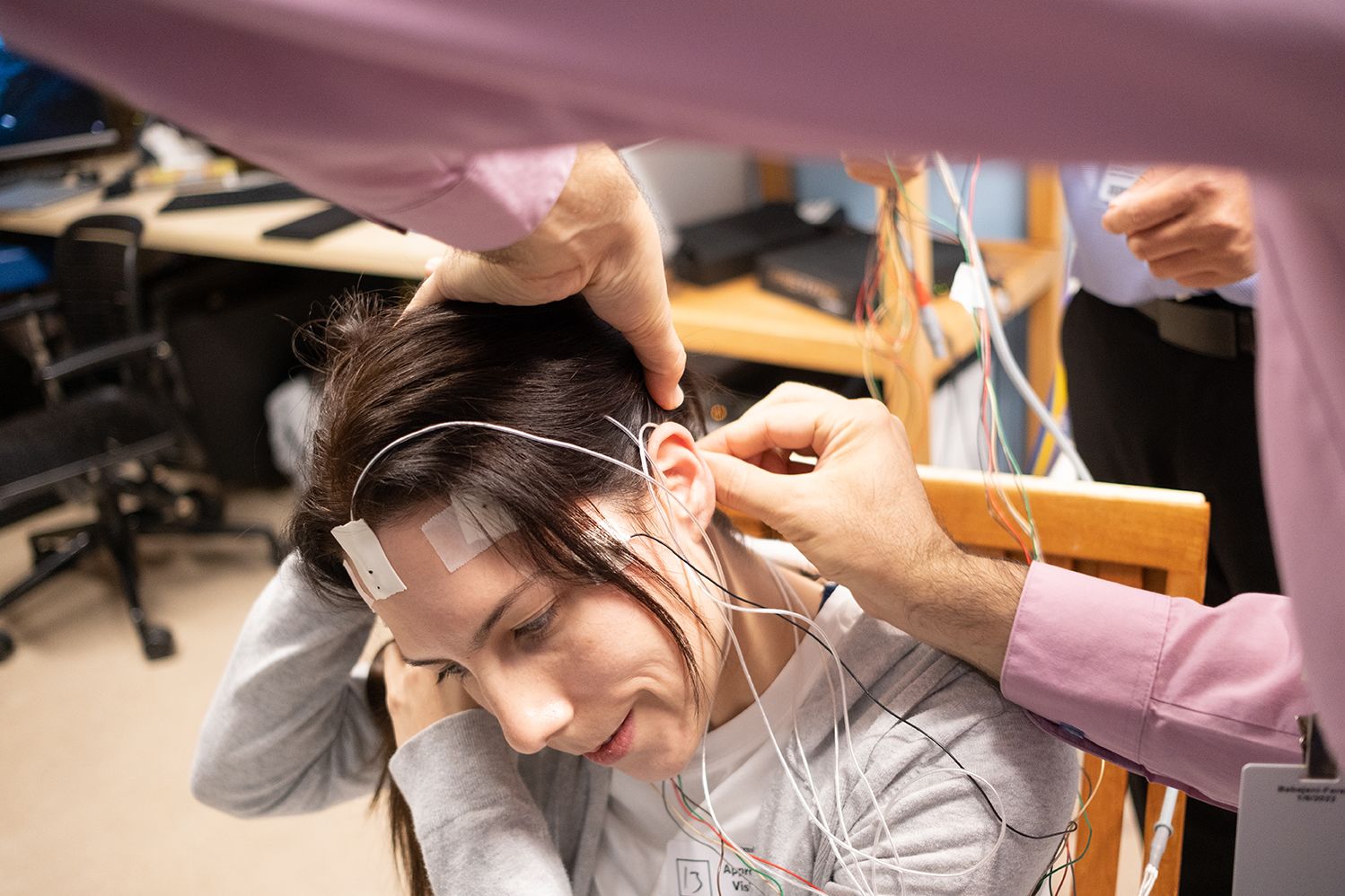 When Speech, Language, and Hearing Sciences associate professor Jun Wang came to Moody College of Communication in 2019, his goal was to conduct research to help people who have lost their ability to speak or can't communicate because of neurological disorders.
On his first day, he arrived to an empty room in Communication Building B, which he has since turned into the Speech Disorders and Technology Lab. Wang used money from the $50 million Moody Foundation gift to help buy the equipment he needed, something he said he wouldn't have been able to do otherwise.
"National Institutes of Health grants don't allow you to buy major equipment to set up a lab. They assume you already have that," Wang said. "They won't give you the funds because they think you aren't ready to do the work. Without this money, I wouldn't have my lab or be able to do this research."
The startup funds from Moody College have since helped bring in additional funding from the NIH. Today, Wang is creating a device called "silent speech interface" that can read tongue movements and translate them into speech so that people who can't produce sounds, such as those who have had their larynx removed to treat laryngeal cancer, can better communicate.
Current speech rehabilitation approaches for these patients are either invasive or difficult to use, and all of them result in a hoarse or mechanical sounding voice, which can be difficult to understand. Silent speech interface has the potential to help them produce speech with high voice quality or even keep the sound of their own voice.
"There are a lot of patients that don't want to go out. They feel like they sound like robots," Wang said. "I talk to those patients, and they say, 'If I can have this new technology, I can go anywhere I want.' The Moody startup funds make that possible."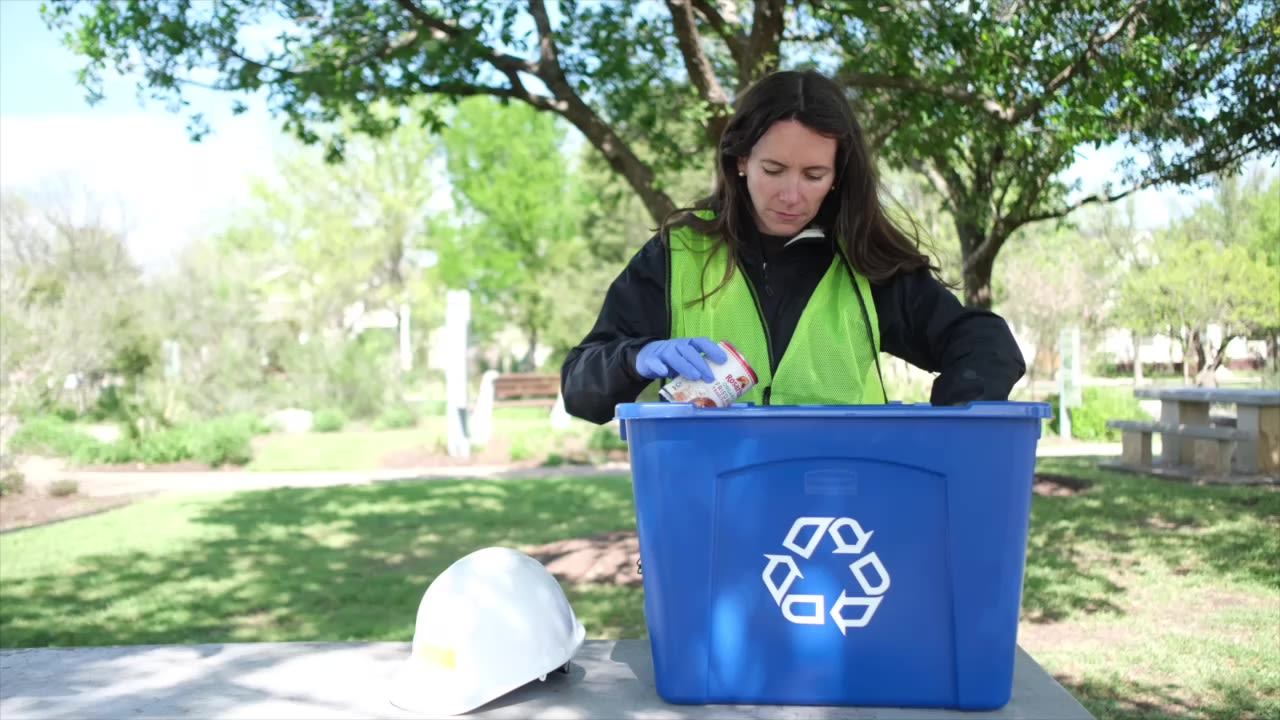 Investing in the research mission
Perhaps the most visible part of any university is its undergraduate students, who arrive to campus wide-eyed and curious and graduate accomplished, ready to take on the world.
But equally important is the work done by faculty and graduate students, carrying out research to uncover new knowledge that can help solve major community challenges.
UT's College of Communication in 2012 understood that investing in the research part of its mission was vitally important, so when its leaders asked the Moody Foundation for its donation, they had earmarked part of the money for that purpose — to provide startup funds to researchers, hire graduate research assistants, and establish centers, institutes and programs that help advance scholarship in a number of fields.
"Universities run year-to-year and budget-to-budget from the Legislature, and that's wonderful, but politicians are very careful with the public money," said former Moody College Dean Rod Hart, who helped usher in the Moody endowment. "There are just never enough public funds to do all the incredible things we do, so endowments that are privately raised and privately contributed are the things that allow us to do all the great things that we couldn't possibly do other than just doing teaching and research with grants. It's always the stuff that people take for granted, but we just didn't have the capacity for that before the Moodys saw fit to invest in us."
Today, the foundation's money supports 14 Moody College centers, institutes and programs that carry out important research in health communication, brand and demand analytics, media engagement, sustainability, sports communication, immersive technology and more.
The money helped establish many of these centers and program, including the Center for Health Communication, the Center for Entertainment and Media Industries, the Center for Media Engagement, the Center for Sports Communication & Media, Latino Media Arts and Studies and the Texas Immersive Institute.
"The thing that makes our centers, institutes and programs stand out in the national and international landscapes is their focus on ensuring research translates to practice," said Rachel Davis Mersey, interim dean of Moody College and the college's former associate dean for research. "They are realizing real-world benefits in Texas and beyond."
"The thing that makes our centers, institutes and programs stand out in the national and international landscapes is their focus on ensuring research translates to practice," Rachel Davis Mersey said. "They are realizing real-world benefits in Texas and beyond."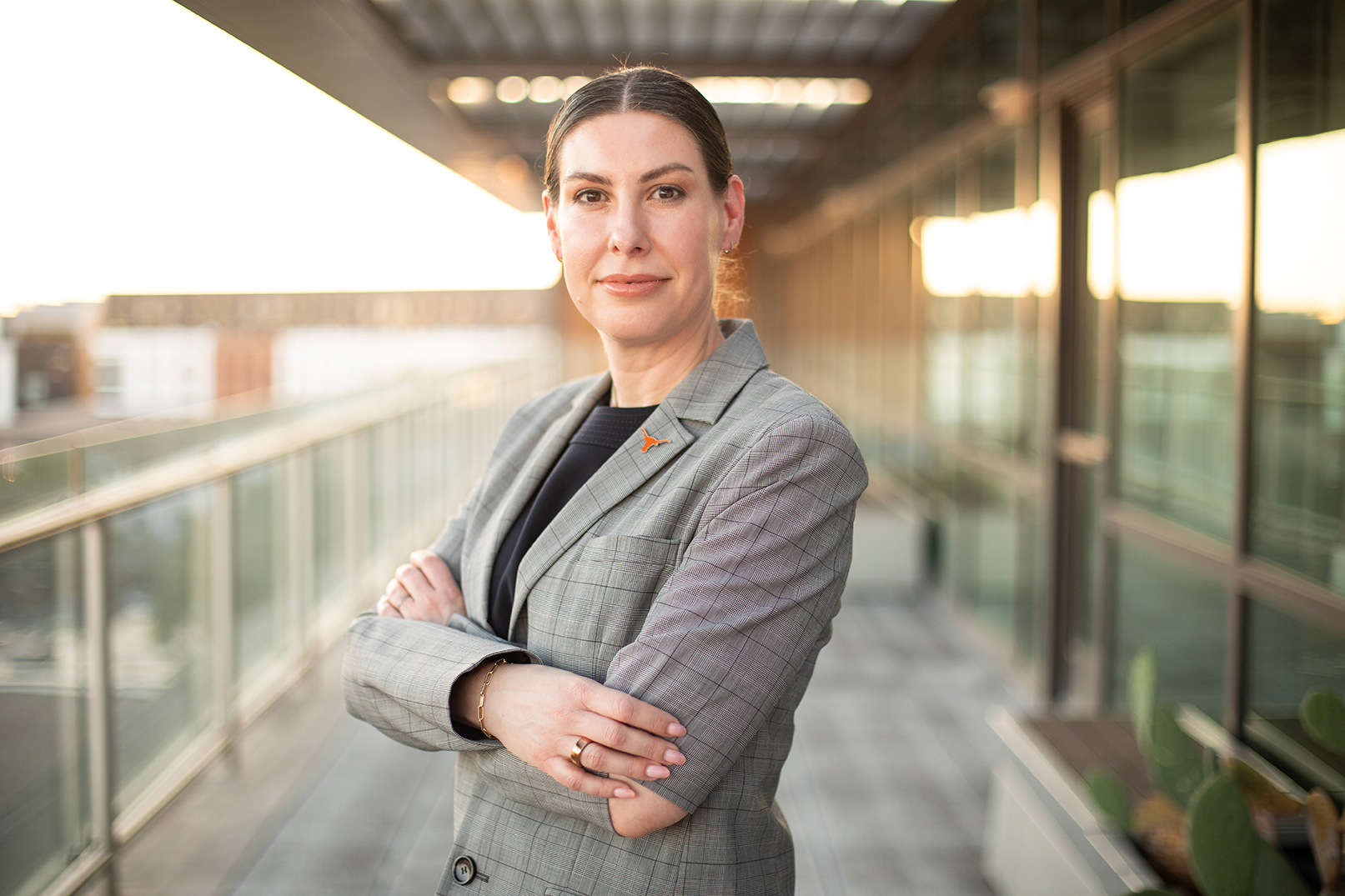 Moody College's Center for Media Engagement researchers look at a range of topics, from solidarity journalism and free speech to media ethics and more.
The center's Propaganda Research Lab explores one of today's greatest challenges: how social media and other digital tools are used to manipulate public opinion to spread misinformation and disinformation online. At a time when social networks are the go-to source for most news, these issues can have major influence on politics and elections.
"The Propaganda Research Lab is one of the leading expert research institutions for the study of propaganda disinformation in the world," said Sam Woolley, the lab's founding director. "We're an incredibly unique organization because we actually work alongside the people who are most impacted."
Currently, the lab is working with diaspora communities, including first-, second- and third-generation Americans with families and connections in other countries, who are disproportionately affected by mis- and disinformation. Researchers look at WhatsApp and other encrypted messaging apps such as Telegram and WeChat where international communities most often communicate and receive information. As private platforms with little moderation, encrypted messaging apps are ripe for the spread of harmful information.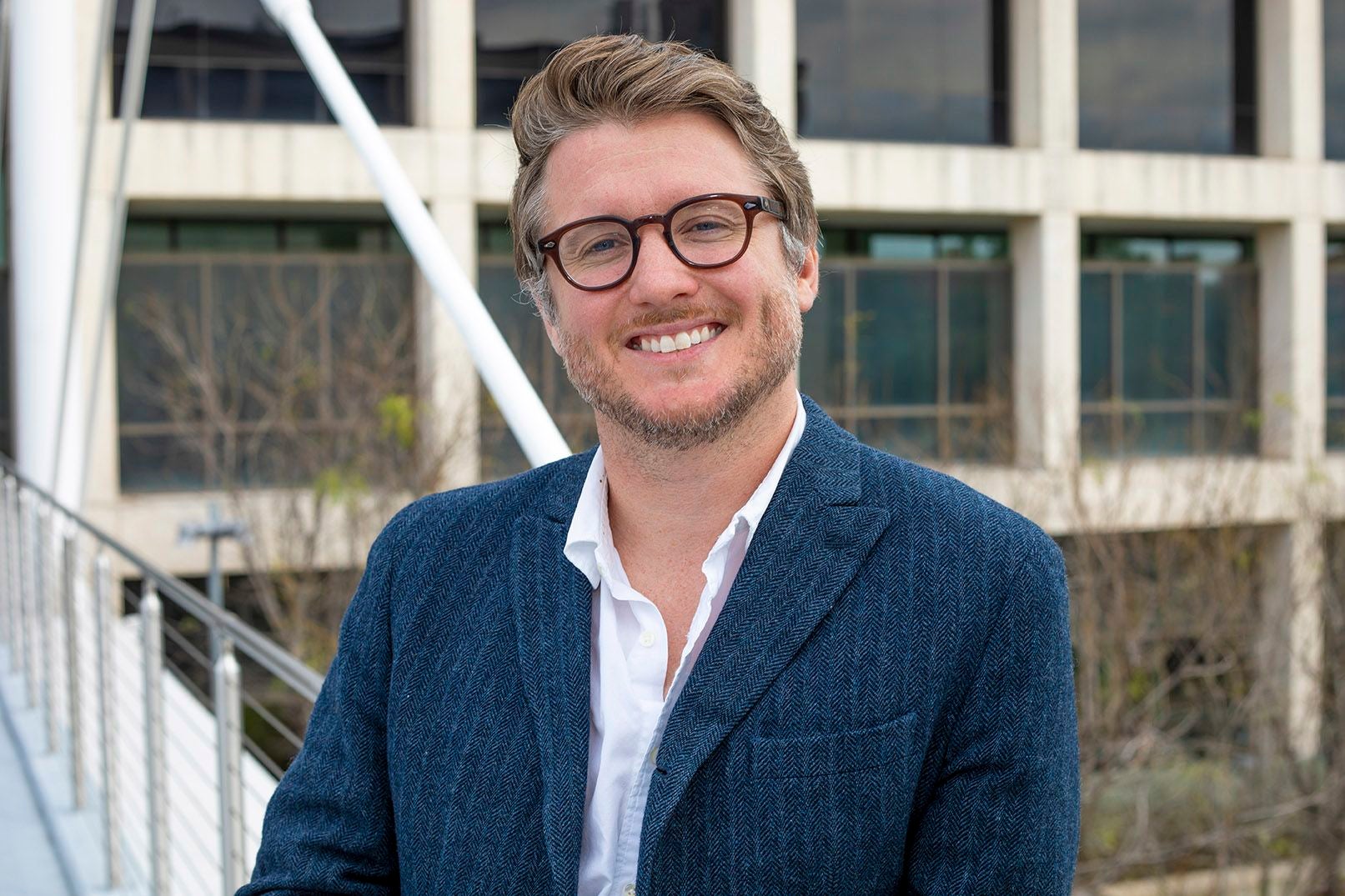 As an impact-focused research center, the Propaganda Research Lab helps these communities fight back by partnering with regional leaders, organizations and journalists to spread awareness of its findings and help build mechanisms and tools for them to respond effectively. The lab also calls for systemic change, pushing for more social media regulation and finding ways to protect people from disinformation and manipulation campaigns by both U.S. and foreign actors.
"Being informed about how the information systems work or don't is a crucial step everyone must take in order to be involved in the democratic process," Woolley said.
Similar positive outcomes are also evident in the work of the Center for Health Communication, which helps medical professionals better treat patients and carries out public health campaigns about issues such as vaccine awareness, smoking cessation, substance use and more.
While Moody College isn't necessarily the first place people think of when they think of health research, its contributions in this area have been monumental.
The Center for Health Communication started in 2014 with funds from the Moody Foundation's donation. Three years later, it joined forces with Dell Medical School to connect researchers across disciplines.
"Before the center, I had to hang out in the School of Nursing to find people to work with," said Mike Mackert, the center's director. "I was wandering around campus looking for health folks to work with. Now they come to us."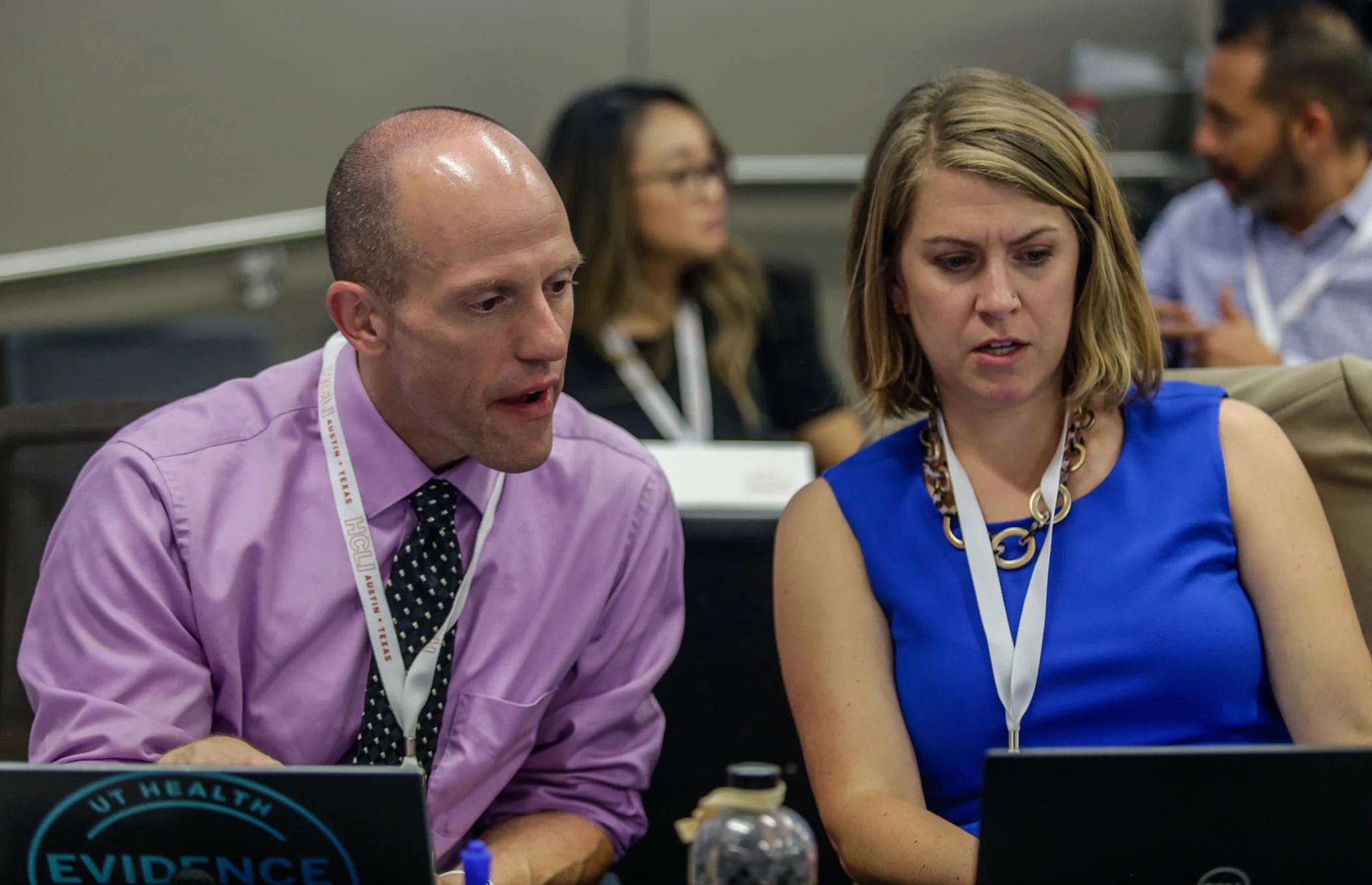 The CHC has expanded its work beyond singular grant projects between Moody College and Dell Medical researchers. Today, one of its primary clients is the Texas Health and Human Services Commission, a government agency that administers health programs and services to Texans. It has provided the CHC $14 million over the past decade to help carry out public health campaigns, turning research into practice. These campaigns have focused in large part on the opioid crisis, helping curb misuse and prevent overdoses.
"One thing that really sets us apart and makes us unique and why funders like HHSC come to partner with us is that we have this strong tie to the academic mission of the university," said Jessica Wagner, deputy director of the CHC. "We have world-class scholars who can help create a research foundation to our work, ensuring the campaigns we create are evidence-based."
In the past 10 years, the Center for Health Communication has grown from two full-time staff members to 23, including program managers and graphic designers. It serves as a model for other health communication centers across the country.
"No other center for health communication in the country does it the way we do it," Mackert said. "The Moody gift planted the seed to help us become who we are now."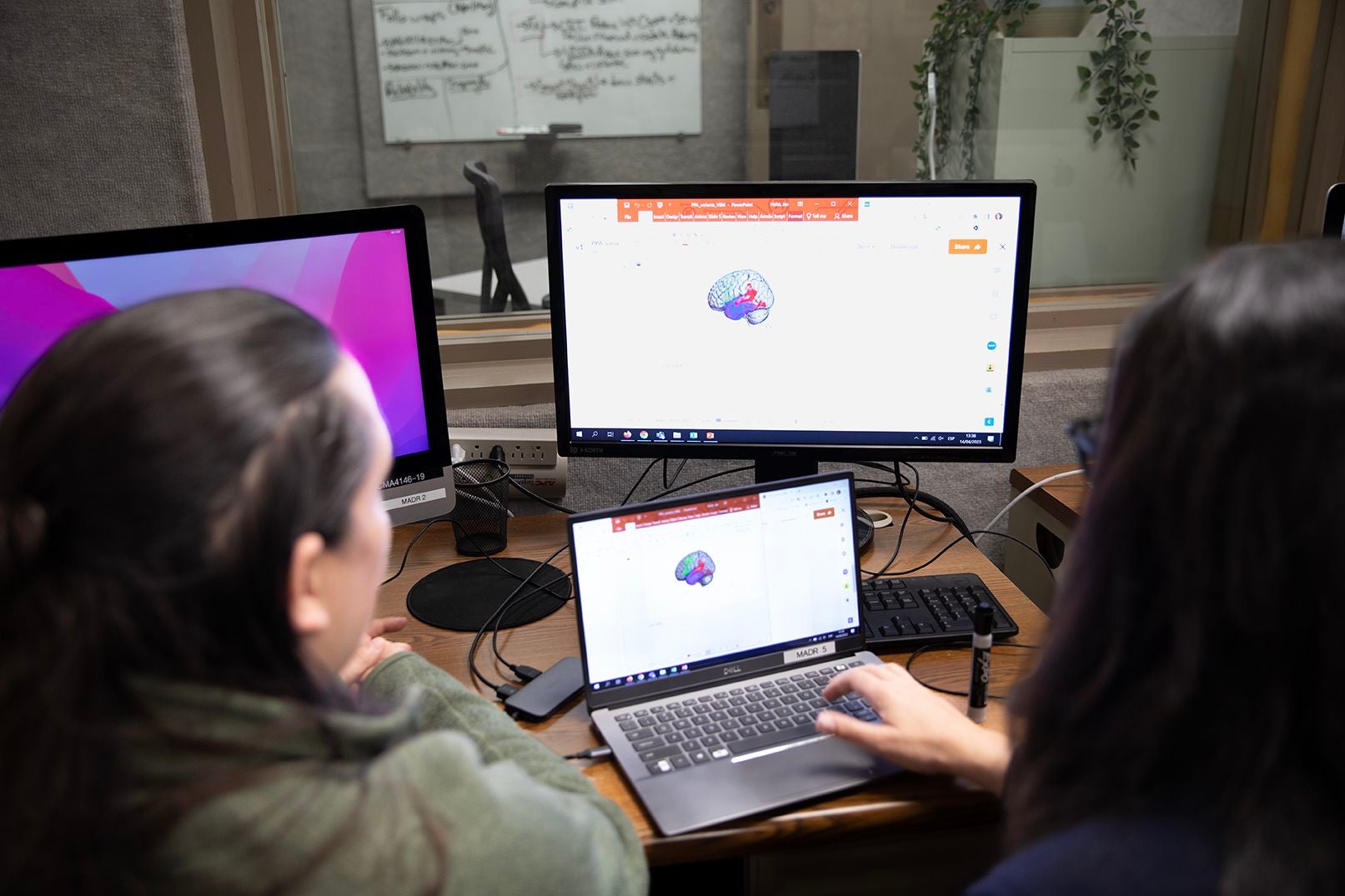 Impact down to a single patient
While these far-reaching changes are important, equally important is how research helps even a single person.
UT is one of the only places in the country that specializes in the treatment of primary progressive aphasia, a condition that affects people's speech. Patients can't recall words, misname items or know what they want to say but can't physically move their mouth to say it. Often these patients don't have many treatment options. They've been told by doctors that they'll get worse no matter what they do. It causes a sense of nihilism, said Speech, Language, and Hearing Sciences associate professor Maya Henry, who runs the Aphasia Research and Treatment Lab at Moody College.
"You can only imagine what it's like to be on the receiving end of that," she said.
Henry's research team works one-on-one with these patients in clinical trials, helping them acquire tools to better communicate. And they've seen positive results. Patients are doing better and staying better a year post-treatment.
Much of the work in the lab is carried out by graduate research assistants, many of whom have been funded using money from the Moody Foundation's $50 million gift. Their work helps treat a handful of patients a year who wouldn't be able to be seen otherwise.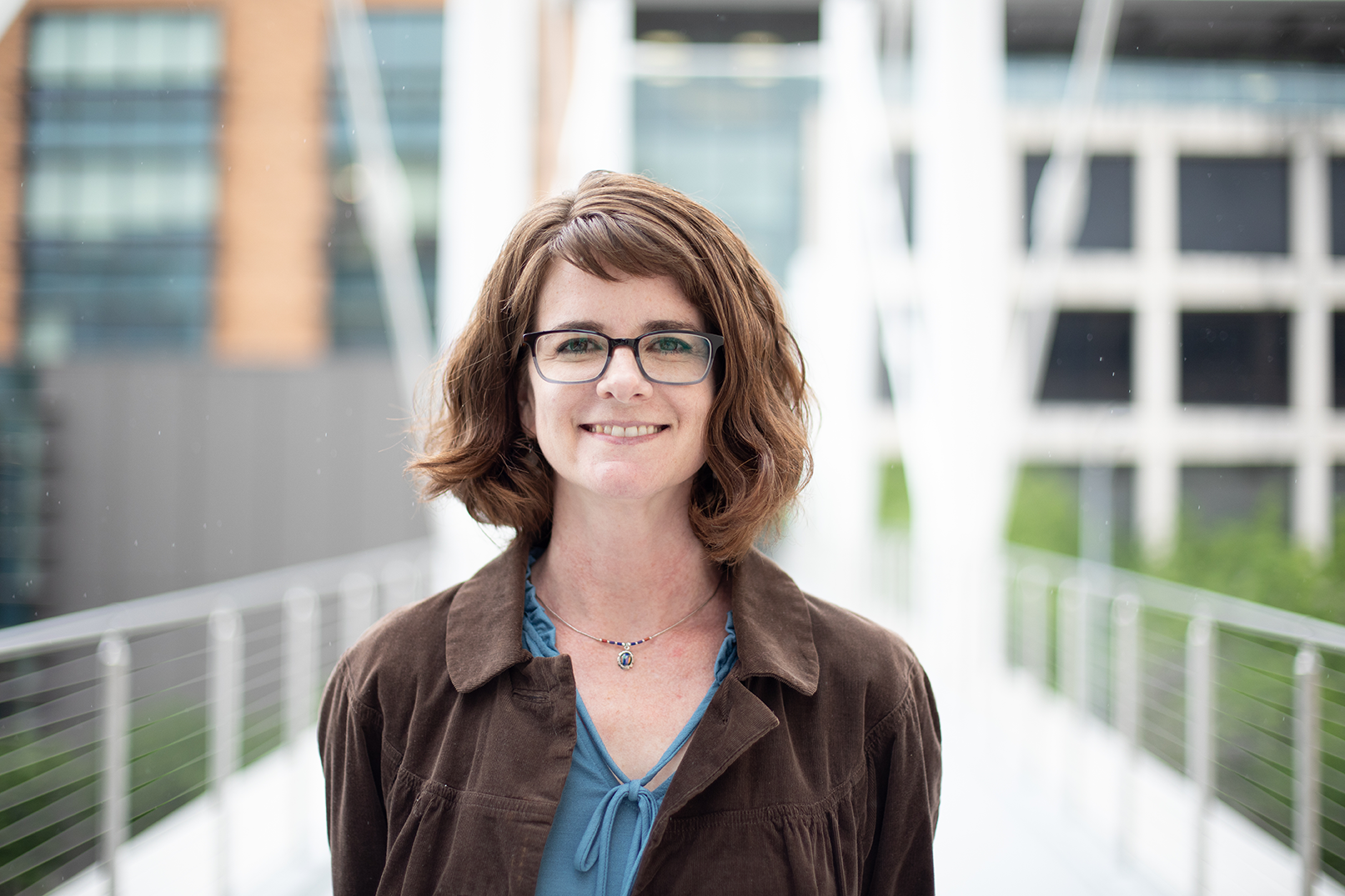 "That translates into something valuable to patients and families who are desperate," Henry said.
Graduate student work also helps contribute new knowledge about the condition, including which treatments work and which don't so that doctors can better help patients in the future. It's a gift that keeps on giving.
"This funding for graduate research assistants helps keep the whole enterprise afloat," Henry said. "I am always applying for grants because that is what it takes to keep things going, but to have this additional support from the college has made all the difference."