Facts & Rankings
Moody College of Communication traces its roots back to 1899 when the Department of Public Speaking was founded at The University of Texas at Austin. It officially became a college in 1979 and was established as the Moody College of Communication in 2013 when the Moody Foundation of Galveston gifted $50 million to the college - the largest endowment for the study of communication of any public university in the nation.
4,743
Undergraduate and Graduate Students
32.9M
Research Expenditures in 2022
52K+
Alumni Worldwide
Moody College of Communication and its departments and schools consistently earn top rankings for research, teaching excellence and creative work. The 2022 QS World University Rankings listed Moody College of Communication #2 IN COMMUNICATION AND MEDIA STUDIES in the United States and #4 in Worldwide Rankings.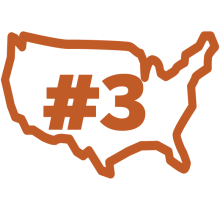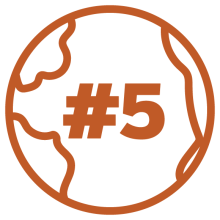 Key Rankings
#1 IN B.S. IN ADVERTISING- 2023 - Best Accredited Colleges
#2 IN PUBLIC RELATIONS AND ADVERTISING- 2023 - Best Accredited Colleges
 #2  BEST PUBLIC FILM SCHOOL IN THE U.S. - 2023 - The Wrap
#3 BEST JOURNALISM SCHOOL FOR UNDERGRADUATES - 2017 - Testive
#3 AUDIOLOGY AND SPEECH-LANGUAGE PATHOLOGY in Worldwide Rankings 2017 - CWUR World University Rankings
#4 IN COMMUNICATION & JOURNALISM For Hispanic Students in Hispanic Outlook on Education Magazine 2019 - Department of Education
#10 IN SPEECH-LANGUAGE PATHOLOGY - 2020 - U.S. News and World Report's Best Graduate Schools
#14 IN DOCTORATE OF AUDIOLOGY - 2020 - U.S. News and World Report's Best Graduate Schools
More fun facts about Moody College
The

Communication Complex

is comprised of four buildings totaling 388,902 square feet located at the northwest corner of UT Austin's campus.

Moody College houses one of the largest green screens in the U.S. It is 70 wide x 20 feet high.

The student newspaper -

The Daily Texan 

- is the largest and most award-winning college publication in the nation and is part of

Texas Student Media

.

Moody College has two immersive experiential learning programs – one in New York City (

UTNY

) and one Los Angeles (

UTLA

).

The Moody bridge is a Fink Truss design and was installed in 2016 to connect the original three buildings with the newest building.

Actor Matthew McConaughey became a Professor of Practice at Moody College in 2019 after serving as a visiting professor since 2015. McConaughey teaches "

Script to Screen

" with faculty member and director Scott Rice. He developed the course's curriculum, which provides a unique, behind-the-scenes view of each stage of a film's production.
Student number includes all degree-seeking, formula-funded undergraduate and graduate students enrolled in Fall 2022. Includes students who majored in two Moody majors, but does not double count them.
Programs/Research funding data from the 2021-2022 Academic Year.