$3 million gift creates Stuttering Institute for research and treatment

Thanks to a $3 million gift, the Moody College of Communication is now home to the Michael and Tami Lang Stuttering Institute, the only specialized research center in the nation to provide treatment services free of charge to children and adults who stutter.
Made possible by Michael Lang (B.B.A. '67, J.D. '70) and Tami Lang, it also serves as the first nonprofit institute within a university setting devoted to stuttering intervention and research.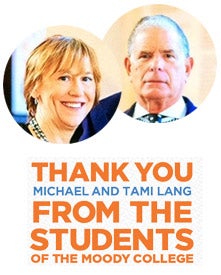 Currently, individuals who stutter face a number of barriers to receiving treatment. Most insurers do not cover the cost of treatments, leaving people who stutter and their families to pay out of pocket or forgo speech therapy entirely. Additionally, there is a nationwide shortage of clinicians qualified to treat stuttering, with speech-language pathologists continually reporting that they feel unprepared to competently serve this population.
"It is our hope that the establishment of the Lang Institute will further promote our understanding and the public's awareness of the complex, multifactorial nature of stuttering," said Courtney Byrd, Lang Institute executive director and associate professor in the Department of Communication Sciences and Disorders. "The Lang Institute will also serve to increase the number of speech-language pathologists who have the competencies needed to effectively assess and treat people who stutter."
The Lang Institute provides free access to the latest research-based treatments to people who stutter from across the country and advanced clinical training opportunities to undergraduate and graduate students.
The addition of the Lang Institute builds on the efforts of Byrd and the existing Jennifer and Emanuel Bodner Developmental Stuttering Laboratory, which has provided treatment to over 450 clients and advanced clinical training to over 350 undergraduate and graduate students since its founding in 2006. These numbers will increase substantially with the founding of the new institute.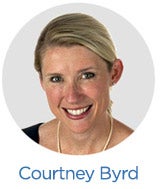 There are approximately 15 million children and 3 million adults in the U.S. who stutter. However, there are as few as 1,250 clinicians — less than 1 percent of the total number of speech-language pathologists in the U.S. — willing and able to treat stuttering.
A recent review of 115 accredited undergraduate programs in speech-language pathology has shown that 97 percent of them allow students to graduate with no academic or clinical exposure to stuttering.
With the founding of the Lang Institute, nearly all undergraduates in the Department of Communication Sciences and Disorders will be educated and clinically trained in stuttering.
"To me, it's a crime that there are children and adults who stutter but cannot find or pay for effective treatment," said Michael Lang. "In supporting the work of the institute, Tami and I dream that within 20 years there won't be anyone in the U.S. who cannot get free, competent help for stuttering."
Research at the Lang Institute will focus on the cognitive and linguistic development of children who stutter and on the formation of innovative assessment and intervention techniques as well as interactive clinical training programs. For example, Byrd has already begun developing video games as treatment tools for children who stutter, Web tools for clients of all ages and virtual reality training modules to help students enhance their clinical skills in working with clients who stutter.
"This gift means that children won't feel alone, and they'll be given tools to build their confidence and skills to respond when kids and adults tease or respond inappropriately to their stuttering," said Courtney Alcott, a parent whose daughter received treatment through the Bodner Lab. "It means that adults who weren't given the opportunity as a child to address their stuttering will be able to redeem the lost years and progress from where they are to improve communication and confidence."
Individuals can learn more about research opportunities and treatment services and schedule an initial evaluation by visiting the Lang Institute website.
A celebration event took place Sept. 29, 2014 with speakers including Michael and Tami Lang, Byrd, University of Texas at Austin President Bill Powers and Moody College of Communication Dean Roderick P. Hart. The event in its entirety can be viewed on YouTube and pictures of the event can be accessed via Flickr.
"The Lang Institute will serve the Moody College's intellectual and social missions by enhancing the body of knowledge on stuttering through rigorous research and serving the community by providing the best treatments to individuals," Hart said. "We are tremendously grateful for the generosity of Michael and Tami Lang and the tireless work of Dr. Byrd to establish this first-of-its-kind resource."