Communication Studies professor reveals secrets to enduring relationships

John Daly is a renowned professor in the Moody College of Communication at The University of Texas at Austin and every semester he teaches one of the most popular courses on the Forty Acres through the Department of Communication Studies titled, "Interpersonal Relationships," which helps to guide students in both their professional and personal lives.
In honor of Valentine's Day, Daly recently taught a lecture on "Enduring Relationships," revealing the characteristics of successful long-term partnerships. 
For Daly's full 50-minute lecture on the secrets to an enduring relationship, visit the Moody College of Communication YouTube channel.
"There's just so much anyone can relate to in the curriculum and I always looked forward to going to his class," said Leslie Adami, who took the course as a freshman and is currently a junior in the School of Journalism. "Professor Daly is so funny and he delves into the real meaning behind how we communicate. Even though the class was huge, the atmosphere was always comfortable."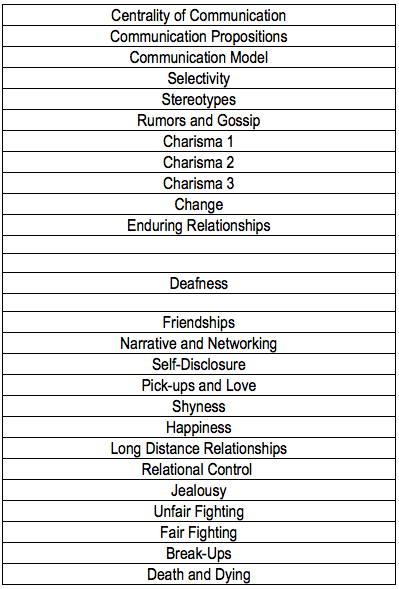 "Interpersonal Communication" Syllabus Topics
The subject matter covers the nuances of a variety of interpersonal relationships a person has or will have through the course of their life with topics ranging from career networking and rocky breakups to the power of charisma and what really makes a person happy.
"All my findings are driven by research studies," said Daly, who has taught in the Moody College for 37 years. "I hope my students acquire an appreciation of the study of communication and gain something that makes them more effective with other people, whether it's landing a job or building happier relationships."
Daly has published more than 100 scholarly articles, produced a dozen books and made numerous conference presentations. He has served as editor of two academic journals and as the president of the National Communication Association among other organizations.
Through the course of his career, he's worked with more than 300 companies and public agencies worldwide on topics related to communication, influence, advocacy and leadership. In recent years, Daly has consulted with corporate entities such as American Airlines, EDS, IBM, Apple, Marriott, Roche, Merck, Texas Instruments, Goldman Sachs and various governmental organizations including the White House.