Texas Program in Sports and Media Announces Creation of The Dan Jenkins Medal for Excellence in Sportswriting Award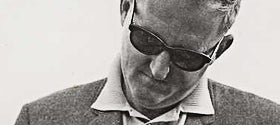 AUSTIN, Texas – March 21, 2017 – The Moody College of Communication Texas Program in Sports and Media (TPSM) has created the Dan Jenkins Medal for Excellence in Sportswriting to be presented annually to two honorees and named in honor of the legendary Dan Jenkins, award-winning sportswriter and best-selling author. The Jenkins Medal will be awarded for the first time this fall in two categories: one for lifetime achievement in sportswriting, and one for the most outstanding work of sportswriting published in the previous calendar year. Both annual awards will accompany a cash prize.
The Texas Program in Sports and Media co-hosted a reception to honor Jenkins and announce the Jenkins Medal on March 21 at The Stark Center for Physical Culture and Sports in Darrell K. Royal—Texas Memorial Stadium along with co-hosts and professional golfers Ben Crenshaw and Tom Kite, golf manager Scott Sayers, broadcast personality Ed Clements and author Michael MacCambridge.
"Dan Jenkins is a born-and-bred Texan whose name needs to be celebrated and whose work deserves to be studied," said TPSM Executive Director Michael J. Cramer. "Dan is a quintessentially original writer with a creative and resonant voice that has entertained readers—
and inspired writers—for decades. As a seminal chronicler of sport's rise in American culture, he introduced or innovated many conventions in what we have come to accept as common sports writing practice today."
About Dan Jenkins
A native of Fort Worth and graduate of Texas Christian University, Jenkins covered sports for the Fort Worth Press and Dallas Times Herald before moving to New York City in the early 1960s to write more than 500 articles for Sports Illustrated, cementing himself as the nation's authority on golf, college and professional football.
Since 1985, Jenkins has written a monthly column for Golf Digest and written 23 books, including the novels "Semi Tough," "Dead Solid Perfect" and "Baja Oklahoma," each of which was made into a feature film. In 2005, he served as official historian of the National Football Foundation and in 2012, Jenkins was one of only three writers to be inducted in the World Golf Hall of Fame. In addition to numerous awards and lifetime achievement honors, Jenkins' career spans more than six decades and includes induction in the National Sportswriters and Sportscasters Hall of Fame, Texas Sports Hall of Fame, Texas Golf Hall of Fame, and the TCU Lettermen's Hall of Fame.
About The Dan Jenkins Medal Awards
The Dan Jenkins Medal Awards will be determined by a 16-member jury of working writers and editors. Inaugural members include: co-chair Sally Jenkins, Dan's daughter and writer for the Washington Post; Kirk Bohls of the Austin American-Statesman; Chuck Culpepper of the Washington Post; Gerald Early, author and professor of humanities at Washington University in St. Louis; Houston-area sportswriter Melanie Hauser; Joe Posnanski of MLB.com; John Walsh, long time executive editor of ESPN; Gene Wojciechowski of ESPN; co-chair Michael MacCambridge, author of numerous books; Karen Crouse of The New York Times; Bryan Curtis of The Ringer.com; Vahe Gregorian of the Kansas City Star; Kathleen McElroy, associate director of the School of Journalism and former editor of The New York Times; Steve Rushin of Sports Illustrated; Seth Wickersham of ESPN The Magazine; and Alexander Wolff, author and contributing writer at Sports Illustrated.
The list of finalists for the Jenkins Medal for Excellence in Sportswriting for calendar year 2016 will be announced on Monday, April 10. Links to all the finalists' stories will be available on the award website at www.JenkinsMedal.com. The first pair of winners will be announced and honored at the inaugural Dan Jenkins Medal Awards dinner in Dallas on Friday, Oct. 13, 2017.
About The Texas Program in Sports and Media
The Texas Program in Sports and Media (TPSM) supports curriculum, research and programming on issues of sports, media and society for the academic disciplines in the Moody College of Communication. TPSM has hosted the Frank Deford Lecture in Sports Journalism at UT Austin since 2010 and Deford and Jenkins were colleagues at Sports Illustrated throughout much of their storied careers. The 2017 Deford Lecture will feature an address by former ESPN editor-in-chief and Jenkins Medal committee member John Walsh on April 27 at 11 a.m. in the Belo Center for New Media first floor lecture hall, BMC 1.202. The event is free and open to the public. For more information on TPSM, visit www.sportsandmedia.org.
About The University of Texas at Austin Moody College of Communication
One of the nation's foremost institutions for the study of advertising and public relations, communication sciences and disorders, communication studies, journalism and radio-television-film, The University of Texas at Austin Moody College of Communication is preparing students to thrive in an era of media convergence. Serving more than 4,700 undergraduate and graduate students, Moody College is nationally recognized for its faculty members, research and student media. For more information about the Moody College of Communication, visit https://moody.utexas.edu.
###
Contacts: Nick Hundley (512) 471-7209; Christopher Hart (512) 471-2431