Is This Black Media Renaissance Real?
Dialogue to ensure Black thought, influence break through communications sectors
The inaugural Diversity in Media Symposium was hosted virtually on Thursday, March 25.
Four panel conversations interrogated issues throughout the media landscape and focused to answer the crucial question: "Is This Black Media Renaissance Real?"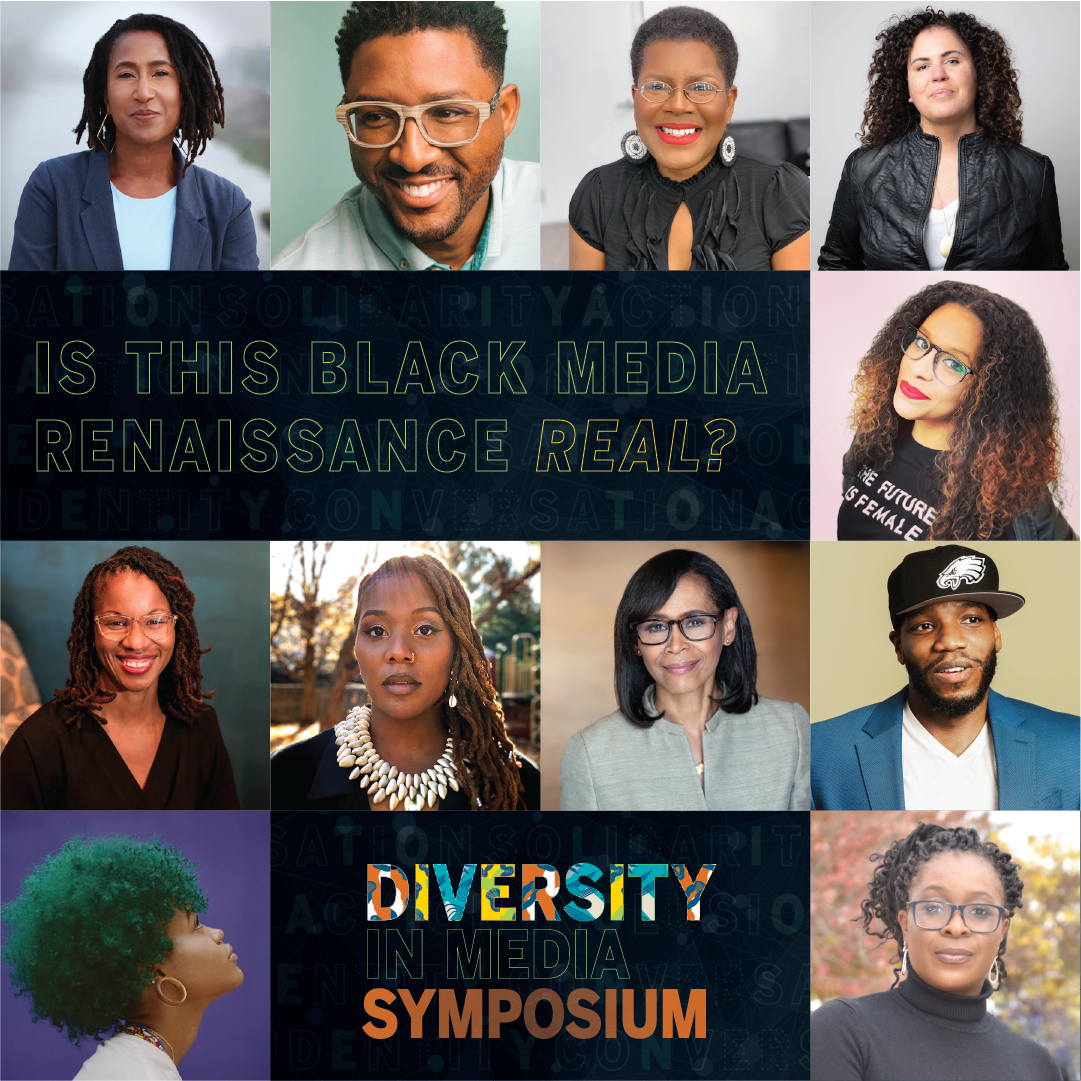 The dialogue was wrought with honesty and vulnerability. Indeed, the symposium's energy and emotion cannot be effectively recapped, so this publishing wishes to only serve as a point of record, a reminder of what was experienced and a motivator to persist in seeking necessary, cemented change.
Organized and cultivated by Ya'Ke Smith, Moody College's Associate Dean of Diversity, Equity, and Inclusion, and team members Chuka Agbaraji and Daelena Tinnin, the symposium brough forth conversations that revealed more intensely what is needed from the university community, and global community at large, to eradicate white supremacy and ensure that Black thought and influence break through every sector of communications.
"We want to make sure this season of visibility is more than a moment or movement, but a permanent mainstay," Smith said.
Blackness, Inc.: Corporate Activism and Co-Opting the Black Lives Matter Movement
Moderator: Ya'Ke Smith
Panelists: Pamela Newkirk, Gene Demby, Aba Ghanba Blankson
Key takeaway: We have a long way to go in dismantling structural racism.
Instead of applauding the bare minimum of representation, we must encourage accountability. We must call out habituated language as posturing, and we must demand that moral imperatives are lived as part of culture.
"Part of our responsibility is to say it," Blankson said.
The voices of the oppressed are needed to urge confrontation and reflection; otherwise toxicity continues.
"You can be a good person and still support a system … you don't have to wear a white hood and support systemic racism," Newkirk said.
New Futures: How Emergent Communication Technologies, like AI, Converge at the Intersection of Racial and Gender Bias and How We Should Respond
Moderator: S. Craig Watkins
Panelists: Alton Glass, Safiya Umoja Noble
Key takeaway: Transparency among information systems is necessary in building equitable digital, global ecosystems.
"Whenever you are doing something on the internet, someone can see it," Noble said.
Algorithms, therefore, need ethics. Or, more basically, ethical builders. Introducing more people of color into this process will combat racist barriers and monitoring methods that are unequal and unjust.
"We have to create discomfort, but that is what creates discourse," Glass said.
Minding Architectures of Fear
Moderator: Ja'nell N. Ajani
Panelists: Tananarive Due, Kamil Oshundara, Nikyatu Jusu
Key takeaway: The topic of horror films felt like it was just the backdrop to an open and viable conversation on how to navigate professionalism as a Black woman.
In order to survive, do not be disillusioned -- funding and gatekeeping throughout industry are often controlled by people who are not Black.
"We get priced out, frozen out," Due said.
If colonization continues to persist, forcing people of color to code-switch and soften their voices, how will authentic creative expression among Black artists find an outlet?
"I don't want to have a Black so and so. I'm interested in not seeing Black renditions of things, but Black things that originated as Black things," Jusu said. "There is folklore only Black people can articulate to their existence."
How Many More Seats at the Table: Diverse Storytelling and the New Media Renaissance
Moderator: Adrien Sebro, Munji Nfor
Panelists: Krissah Thompson, Carissa Kelley Conteh, Karen Toliver
Key takeaway: Meaningful relationships are critical to advancing through career stages, and often this will require people of color working with white mentors.
Patience and the ability to play the long game are necessary, especially when persisting to find work and projects that are truly reflective of beliefs, values and experiences.
Toliver produced "Hair Love," the animated short film about a father being part of his daughter's hair journey. Toliver said the project was life changing, because for the first time she was able to immerse her "whole self" into the work.
"And now I can't go back," she said.