Local news is the heart of democracy
Moody graduate operates The Big Bend Sentinel as source for community
In the dusty desert town of Marfa, Texas, where the blue sky stretches for miles, The Sentinel, a local coffee shop and community space sits on the corner of El Paso and Abbot Streets, is also home to the local paper, The Big Bend Sentinel.
Founded in 1926, The Big Bend Sentinel is a weekly newspaper covering the west Texas tri-county area including Presidio, Brewster and Jeff Davis Counties. It is now owned by Moody College graduate Maisie Crow and her husband Max Kabat.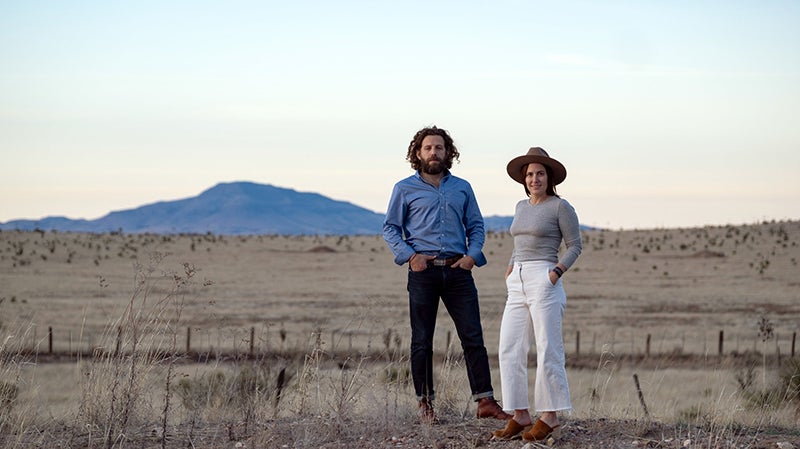 Photo credit Jessica Lutz
Crow was born and raised in Corpus Christi and said without question she knew that she was going to attend The University of Texas at Austin. She started off as a sociology student but quickly changed her major to journalism after taking an introduction to photojournalism course taught by Magnum photographer and journalism professor Eli Reed.
Crow said Reed's class inspired her to not only pursue a photojournalism degree but also tell longform visual stories. After graduating in 2004, Crow moved all over to intern and work at small newspapers and later moved to New York City to pursue a freelance career. She transitioned into feature films and released her first feature documentary, Jackson, in 2016 and most recently completed her latest feature documentary, At the Ready, which premiered at the Sundance Film Festival last month.
In 2016, Crow and Kabat relocated to Marfa to pursue work along the Mexico-Texas border. They had no intention of purchasing a newspaper, but after becoming friends with then-owners, Robert and Rosario Halpern, they had a change of heart when the Halperns decided to retire and asked if they were interested in ownership. After much consideration and discussions, Crow decided to purchase it.
"Since I left college, my role in every community that I've been a part of has been as a journalist. I felt more at home in Marfa after I purchased the paper because I know how to play my part as a journalist," Crow said.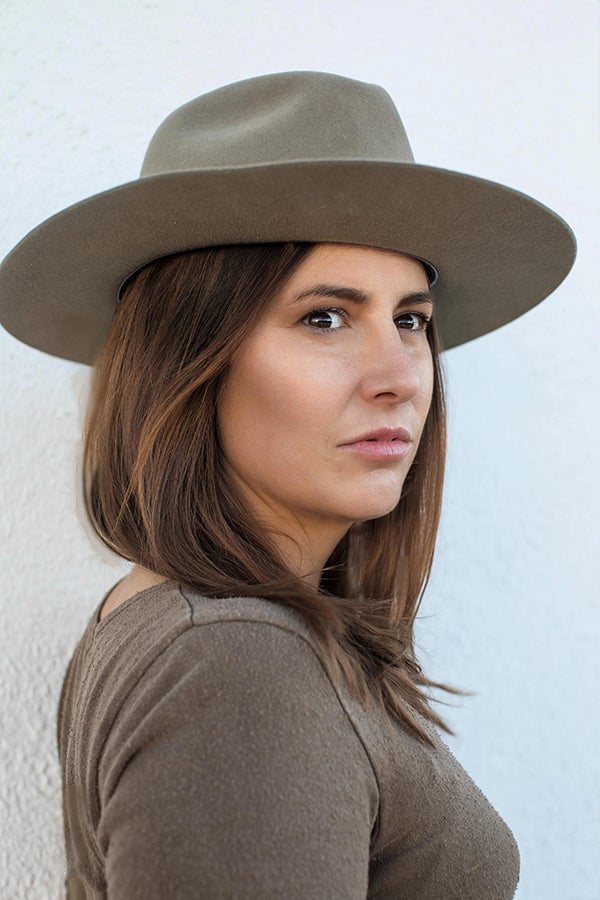 Photo credit Deborah Jaffe
Crow strongly believes that local news is crucial to a healthy democracy. "It's our job to hold elected officials and businesses to account. We are responsible to our community, and I love that part of the job," she said.
According to research by the University of North Carolina's School of Media and Journalism, one in five papers has closed in the United States over the past 15 years, which has directly contributed to a decline in local news coverage. Crow took a huge risk in purchasing The Big Bend Sentinel in June of 2019 as newspapers were shuttering across the country.
"It is a challenging time for local news, because we know that the communities that don't have local news, there are ill effects of that. It's what we call a news desert," said Gina Masullo, Associate Director of the Center for Media Engagement and Associate Professor in the School of Journalism and Media. "People in a news desert are less informed, they aren't as prepared to vote, and they don't know the issues impacting the community. Local news really serves an important role in democracy."
Masullo also emphasized the importance of building trust with readers. With many newspapers outsourcing their reporting, they run a risk of not knowing the community.
"When a reporter lives in the community, you see them at the grocery store, at church or at football games. I think it's concerning with what is happening today, when journalists helicopter in from another community. They don't have the ties, the relationships, the trust -- and they don't understand the community," Masullo said.
Crow echoed Masullo's expertise. Crow said that holding politicians accountable is one of the paper's biggest roles, and she believes that in order for local journalism to thrive, the reporter needs to live in the community and be immersed.
"My reporters do such an incredible job of covering everything and not only does the community appreciate it, but our local elected officials appreciate it too," Crow said.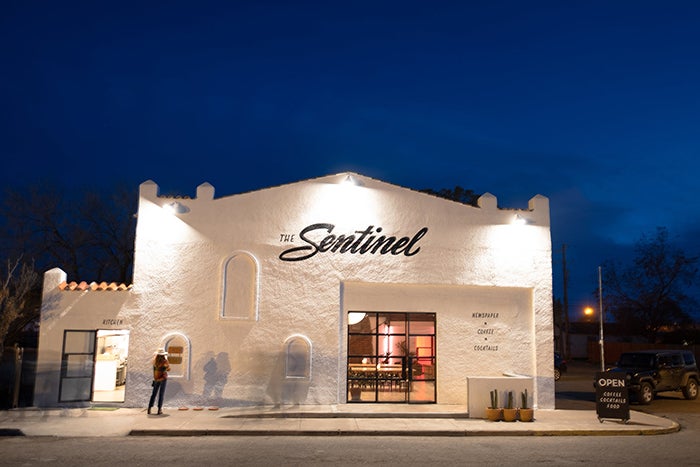 The biggest challenge for Crow has been learning the business side of owning a newspaper.
"If I wanted to devote two pages to a photo spread, I have to think about how many ads I need in the paper to have that balance," she said.
Kabat, Crow's husband, has a background in marketing and advertising, and he handles most of the business side and is focused on growing the digital audience. The coffee shop and community space have helped expand their readership. Many subscribers are from all around Texas and the nation, because as they travel through and stop in The Sentinel, they become interested in keeping up with what's happening in Marfa. But the paper survives from community support, as most of the subscribers are located in the tri-county area, including Fort Davis to Alpine, Texas.
The pandemic has altered the paper drastically, shifting from 12 to eight pages, and they've lost several advertisers. The Sentinel was originally designed as a space for gatherings in the small desert community, but they are currently only open for curbside and limited outdoor patio dining. With the expansion of the retail shop and the coffee shop, that helped bolster the newspaper and reporting.
"Those businesses go hand in hand, where one makes money to give the other financial means to still exist. We really had to rely more on the coffee shop to keep the newspaper going during the pandemic," Crow said.
The increase in tourism has allowed the retail and coffee shop to stay open.
Crow hopes for a resurgence in local news and for more small newspapers to be operated by local individuals and staffed with reporters that live in the community. At Moody College, journalism faculty encourage students to pursue local journalism and work at small papers because of the breadth of experience received while covering different beats.
Kathleen McElroy, director of the School of Journalism and Media, said that journalism produced in small towns and rural communities often represents a greater commitment than a larger media outlet can make to its news consumers.
"These small-town publishers and editors are taking photos and reporting on their neighbors, their children's teachers, their congregations," McElroy said. "They are part of the glue that holds communities together."
Emree Weaver, a recent Moody College journalism graduate, went back to her hometown of Goliad, Texas to work for The Victoria Advocate as the chief photographer. After living abroad in Italy and Africa, Weaver was able to bring a global perspective back to her hometown in a way that helped her connect with residents.
"I think it can be important and fulfilling to tell stories in small local communities. If I can tell a slice-of-life story in our community, whether it's a kid struggling with autism and does rodeo events to help cope with that, it's helping our neighbors understand one another a little bit better through powerful visual storytelling," Weaver said. "There's a lot of power in everyday storytelling."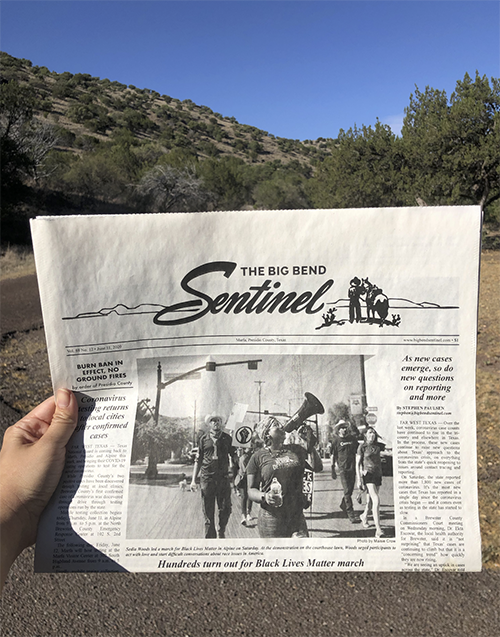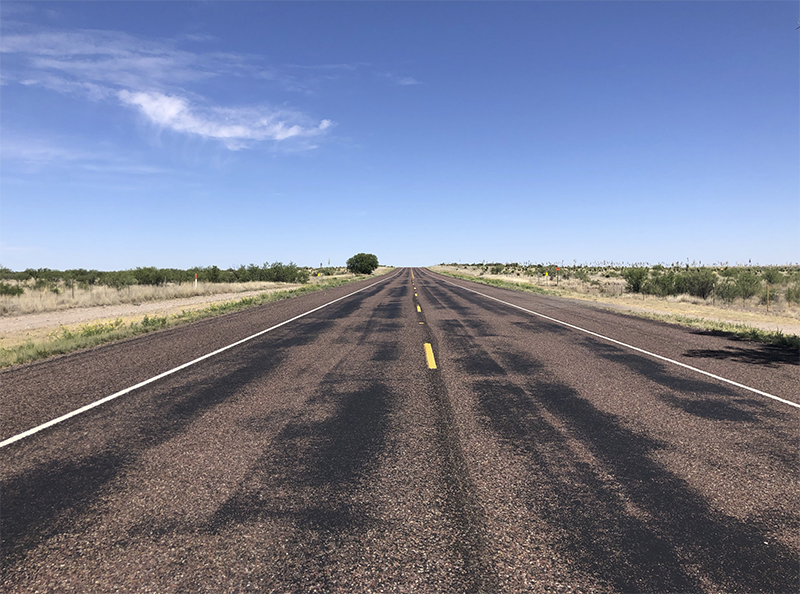 Back in Marfa, Texas, Maisie Crow and her team published their weekly paper despite losing power from the historic winter storms that swept across Texas during the week of Feb. 15, 2021.
Stories of busted pipes, families living in the dark and freezing temperatures were covered by the small reporting team at The Big Bend Sentinel.
And for national stories, Crow will find a way to localize it, such as covering the candlelight vigil and marches organized for the death of George Floyd by college students in Alpine, Texas.
"I want people to be able to go back through the archives and say that was the summer of the pandemic and that is how it was impacting these communities in west Texas," Crow said. "One of the roles of local journalism is to serve as a record of history. Whenever something big is happening, we always find a way to localize it so we can put it in the paper. Local journalism is also about the relationships that you have with the community and with your sources. Without that, you can't tell a story that goes beyond the surface of what is happening in your community."