Designing passion into product
Journalism instructor shares beauty, possibility of storytelling with creators
Peek into the toolbox of creator Kate Winkler Dawson and you won't find saws and screws, but words and work ethic.
A journalism associate professor of practice at The University of Texas at Austin, Dawson teaches the value of humanizing stories to the next generation of creatives. At age 15, Dawson became love-struck with storytelling after accidentally earning a journalism internship during a mock interview with an Austin radio station manager. Dawson has since filled her toolbox with communication and editing skills from her experiences as a television news producer, reporter and documentary writer with top media organizations.
"At the root of everything I do is journalism," Dawson said. "I am past the point, in my interest level, (of) doing stories that I'm not interested in. ... I can no longer write about a paper bag. I really want to be immersed in the world."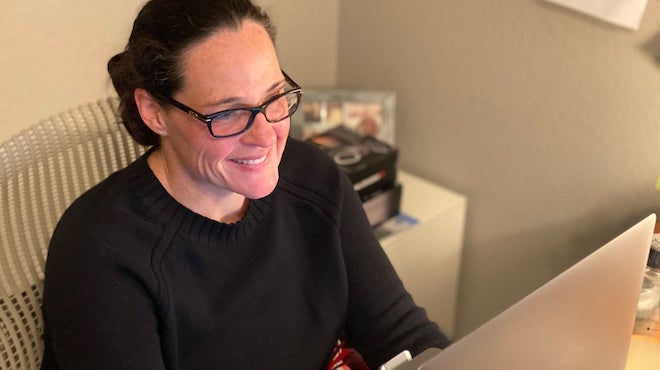 Kate Winkler Dawson on Zoom during a true crime book club with a library in Boulder, Colo.
Dawson, who laughed off her paper bag metaphor, is actually quite serious about transforming her enthusiasm for stories into a lifestyle. So serious in fact that she built an audio booth inside her master bathroom to level up her podcasting skills.
Dawson's fire to chase after knowledge has led her to author two historical true-crime books which have been optioned for television. Her expertise in "chilling campfire stories," engages about 150,000 subscribers as a host for Tenfold More Wicked, a historical true-crime podcast that has been downloaded three million times.
Dawson said, "You have to be willing to look stupid," to grow as a creator.
"Releasing a book (or other creative work) into the world is like having a baby and inviting everybody to judge the baby based on (their) looks," Dawson said. "You are making yourself vulnerable and inviting people to criticize it. You just have to get over it if that is the world you want to be in."
---
10 Tips for Creators from Kate Winkler Dawson
Note: This transcript has been edited for brevity and clarity.
1. Explore and be confident in your voice
It's important to write and report on things that you're really passionate about because you're more motivated to learn about them.
The job of a young journalist is to figure out, "What are those stories that you want to tell?" "What makes you get up at three o'clock in the morning with a really good idea, and nobody's paying you to do it?" Once you find that, then there's the confidence because you're willing to do all the research.
The sooner you can know who you are as a person, the better. Which is a really tall order when you're talking to people in their early 20s or late teens. But, do you work better at night or do you work better in the morning? You leverage whatever that is.
2. Market your passions
The more you can hone in on who you are, the better you are. I market myself as a historical true-crime storyteller. I really hone in on being able to locate the families and humanize their stories. I like to put myself in my stories.
It's taken a long time for me to figure out, "What do I want to do?" Figuring out who you are and how involved you want to be in these stories that you're doing is important.
It's all about branding. And I hate that word. Branding feels sort of surface and almost callous, but as a creative, and somebody who wants to expand my storytelling, the more I can diversify, the better. The ability to tell a story can transcend multiple mediums.
I care about the people who care about my subjects. That's important to me. I enjoy being able to humanize a story.
3. Expand your toolbox
Finding good mentors is incredibly helpful. That starts with our college. Being a self-starter and going for (student media like) The Daily Texan and Texas Student Television. Broaden your skills. The more you know, the better.
Expose yourself as much as possible. Learn and read about what is out there, the opportunities you have and how to build toward those skill sets.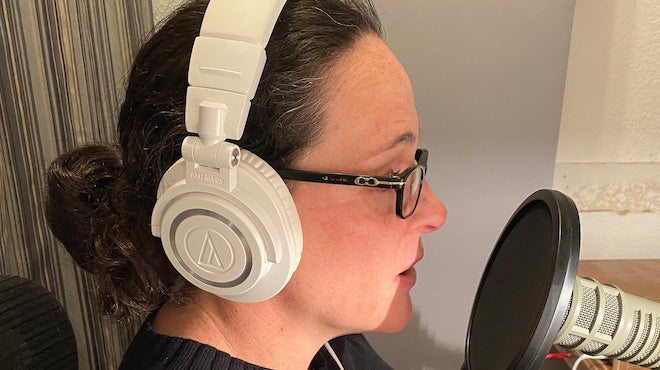 Dawson records a podcast segment from her home DIY audio booth.
You need to know how to use equipment. (With audio storytelling, for example), that could be getting an internship at a production company that specializes in podcasting or taking audio storytelling classes.
4. Use storytellers' senses
When I write books, there's this little checklist. "Have people heard of the story before?" "Is this a time period I really enjoy?" "Did the subject of the story make history?" "Why is the subject important today?"
Frequently, journalists will ask the questions, "Why now?" and "What is the conversation now?"
5. Mix communication skills with entrepreneurship
This intersection between entrepreneurship and communication is important because everybody is craving communication. We want information, especially in times like this, when we're in a pandemic. The opportunity to disseminate information, whether it's public relations, advertising or whatever it is, is a valuable skill to have. It's a great time to leverage that skill to figure out where you can use it.
Communication skills are incredibly important to tell a story clearly, and not just that -- to tell a riveting story. Be confident in who you are as a (storyteller), then you can do what I'm doing, which is expanding out.
I'm a college professor. It's a wonderful job you apply for, you're paid a salary and you get health insurance. That is a very different life than the one I've created on the other side of this, which is someone who created something out of nothing. These podcasts and books, nobody pushed me to do any of it.
6. Read to become a confident writer
Writing is incredibly important to any kind of storytelling. What's important about writing, just like with my books and with the scripts I write from my podcast, is clarity.
The only way I became a good writer is I read. Constantly. I read multiple news sources. But when I write about 19th-century characters, I have to read a lot of 19th-century documents, which have excellent writing. The more you read, the better writer you're going to be.
7. Collaborate! Collaborate! Collaborate!
Collaborating with the right people is smart. Finding the right people – people you work really well with, people you trust and people who trust you.
It's very difficult to hear criticism, but if you trust those people, then their criticism is always going to make your product better. It can be challenging to work with other people, but it has almost always resulted in a better product.
8. Support marginalized voices
Dawson is the faculty advisor for Texas NLGJA, The Association for LGBTQ Journalists, which relaunched in the fall of 2020 at UT Austin.
It's really important to have an organization like that on campus. So, I've been very proud to help get this chapter started.
Good storytelling, just like good news, and any information needs to come from multiple sources. Underrepresented voices are incredibly important.
A lot of the organizations on campus provide underrepresented people confidence when they're writing and doing their journalism. For a very, very, very long time, we've heard one to two voices and now we are hearing many voices, and I think it's wonderful.
9. Balance self-care with work
Learn how to take care of yourself and not just taking care of (people you love).
My life, it's a wheel with tons of different little cogs on it. And I have to figure out how to grease everything at the same time and not let anything slip. Because if one thing slips, the whole wheel stops. If I stop working out, then at some point, it's going to affect my mental health. If I don't take care of myself with medicine and eating the right foods, or if I don't spend enough time with my kids, on my podcast or with my students, it is like a trickle-down effect where eventually the whole wheel rusts.
You have to just keep everything moving as much as you can. A lot of that is for me, lowering my own expectations for myself. And frequently I will exceed those expectations. It's all about a balance and recognizing what you need and what other people around you need. And being able to stay creative.
10. Keep learning and creating
It is not a who, it's a what (that motivates me). It's the terror that I am the major breadwinner in my family. There is a practical side to being a parent who's in charge of bringing income into your family and paying a mortgage and all the things you do as an adult. That is probably the main driver – really needing to keep up with these projects.
But I also just love challenges. I love to see if I can do something. It took me a long time, but I finally got over the fear of failing. There's just nothing worse in life to me than the fear of failing. It stops people from doing a lot of stuff.
Bonus question: If I learn one thing from this conversation about pursuing a creative career, what should it be?
A: Being able to pivot is invaluable. Pivot if one opportunity doesn't work, recognizing another opportunity. I never had something happen in my career that I wasn't able to somehow turn into a positive, somewhere down the line. Being able to do that will lead you to less heartache as you get older.
Being flexible is difficult. I tell my kids all the time, "It's time to be flexible," and they don't want to do it and I don't want to do it either. But it is one of the keys to allowing yourself to achieve your personal and professional goals.