The Women of Moody: Rachel Mersey and Maya Henry
Moody deans reflect on their careers and give advice to students
In celebration of Women's History Month, we talked to some of the Moody College of Communication's finest deans, faculty and staff about what it takes to be successful as a woman working in communications and what advice they would share with students. This is the second in a three-part series.
Hear what Associate Dean for Research Rachel Mersey and Assistant Dean for Research Maya Henry had to say.
RACHEL MERSEY
Rachel Mersey is the associate dean of research and holds an appointment in the School of Journalism and Media.
In her administrative role, Mersey is responsible for the research office, which processes all the grant activity of Moody faculty. She also supports faculty's creative and professional activities, such as The Drag audio production house and Texas Immersive Institute.
Mersey said the best part about her job is the opportunity to really meet with faculty and hear about the research that they are doing and finding solutions to problems that may seem difficult at surface level.
"It is just a way to deliver results for somebody to let them stand on their shoulders and just do work that has that much more impact," she said. "Oddly enough, it's the hardest part of the job, but it's the part that I love the most."
Mersey said that the way she approached being a woman in her field, whether it was journalism or academia, shifted as she got older.
"As I've become more senior, there are fewer and fewer women with a seat at the table," she said. "So my advocacy for women has increased and I now also think 'How do I bring voices of women and female identifying faculty to the table?'"
Mersey said she advocates for women by being a better listener to understand the diversity of experiences women at Moody face. She also said she uses her role to speak up on behalf of women when applicable in day-to-day discussions. 
"I always try to come to the table with an idea to move the needle towards equity or inclusion," she said. "That's something I strive for."
Mersey advises women at Moody to not only seek diverse mentorship, built to also be a good mentee by actively engaging and listening to mentors.
"The performative act of just showing up for a mentor is not the point," she said. "The point is to seek diverse input on who you are."
---
MAYA HENRY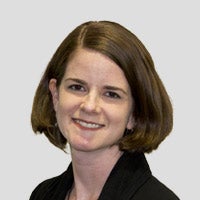 Maya Henry is the assistant dean for research and a faculty member in the Department of Speech, Language, and Hearing Sciences. She also holds a joint appointment in the Department of Neurology at Dell Medical School.
As assistant dean for research, Henry works with the associate dean to advance research in Moody College. She also helps to coordinate certain types of research assignments, such as Faculty Research Assignments and oversees competitive research awards, such as the Wartella Distinguished Research Award.
Henry said the new role has helped her gain insight into how an administrative role operates in the college.
Henry studied linguistics and anthropology at UT Austin before finding an interest in speech pathology in graduate school.
"I was drawn to speech language pathology, because of the real human side of it, and the potential for clinical work that would impact people's lives," Henry said.
Henry said she appreciates being in a field that has a solid representation of women and has rarely felt limited by being a woman in the field.
Her favorite part about being a faculty member is working with students and colleagues.
"I have the smartest students, and they make me think and they make me laugh," she said. "I have incredible colleagues in my department who do really different things…just getting to interact with those people on a regular basis is really stimulating and exciting."
As an administrator, Henry said she enjoys advocating for faculty and supporting their research endeavors firsthand.
"I get to be a player in that to think about what kind of resources we can bring to bear in supporting research and, and creative works in the college," she said.
A piece of advice she would like to give young women students is to gain the confidence to assert their voice in a professional setting.
"We're sort of trained to be accommodating and to minimize our own voices and our own experiences," she said. "We don't want to be insulting to other people, right, but at the same time if you feel strongly about something, you should make it clear that you feel strongly about something."