The Women of Moody: Meet Natalie Tindall, Kathleen McElroy and Allison Dawson
Moody directors, chief development officer reflect on their careers and give advice to students
In celebration of Women's History Month, we talked to some of the Moody College of Communication's finest deans, faculty and staff about what it takes to be successful as a woman working in communications and what advice they would share with students. This is the third in a three-part series.
Hear what Advertising and Public Relations Director Natalie Tindall, Journalism and Media Director Kathleen McElroy and Chief Development Officer Allison Dawson had to say.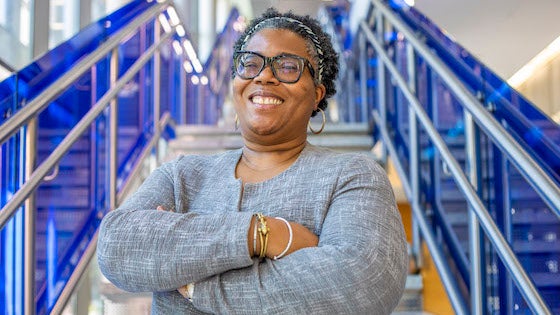 NATALIE TINDALL
Natalie Tindall is the director of the Stan Richards School of Advertising & Public Relations. She is responsible for the much of the success of the school's faculty, student, staff and curriculum.
As part of her role, she attends a number of meetings about school administration and teaching and student engagement. She collaborates with faculty, students and staff on new ideas and projects and how to address issues within the school. She also works to develop policies and programs that will help alleviate problems with curriculum.
Tindall said she always wanted to be an academic administrator. One of her favorite aspects of her role is finding solutions to problems and creating space for scholars, students and staff to generate new ideas and feel appreciated. She particularly enjoys helping people achieve their best.
"I worked to build my skills and abilities to take on a role where I could serve in that capacity," she said.
Tindall said there are many barriers that women in academic settings face, and she has profited from great mentors and sponsors who championed her in settings where she could not do the same for herself. She said she has had the benefit of working at institutions that have made it a priority to address systemic problems that marginalized groups often experience in academic settings.
"Being in places that make room for you and want for you to succeed has helped my career," she said.
Tindall said she advises young women at Moody to gather a team of mentors that can assist with professional goals.
---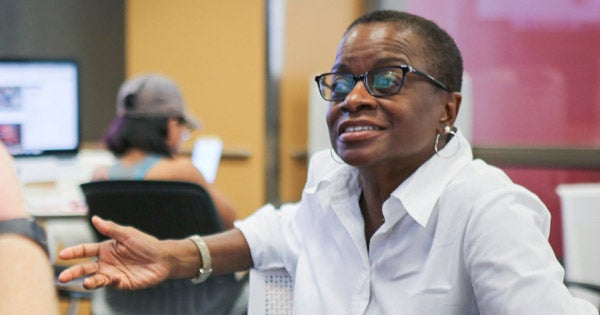 KATHLEEN MCELROY
Kathleen McElroy is a professor and director of the School of Journalism and Media. As part of her role, she is in charge of the instructors, students, staff and curriculum at the institution. She received her doctorate in journalism from Moody's School of Journalism in 2014, after working as a professional journalist for roughly 30 years.  
McElroy said she decided to go into journalism at a young age after watching her father work in the field when she was growing up. She worked in various newsrooms throughout her career. At her last job at the New York Times, McElroy said she became fascinated with research and enjoyed working with young people.
"Teaching and getting a doctorate just seemed like the next step, and it seemed like the perfect career after having worked for a publication for a long time," she said.
McElroy said that she is proud of being a woman in the field and it has changed how she prioritizes aspects of her career. She said being a woman of color specifically has affected people's behavior towards her in her career.
"There are things that some people may think I got because I was a woman of color, but there are things I might have been denied because I was a woman of color," she said.
McElroy said a notable aspect of being a successful leader is knowing when to create an immediate and big influence versus nurturing the environment and managing smaller aspects of the job. She said it is important to understand that there are no naturally born leaders — that anyone can be a leader. There are skills all leaders should work to acquire, such as listening and making sure people feel like what they say is valued.
McElroy advises women at Moody to be their authentic self.
"The times when you're not being authentic, or the times in which you're not being true are not fair to yourself or to the world because you have something to offer as you," she said.
---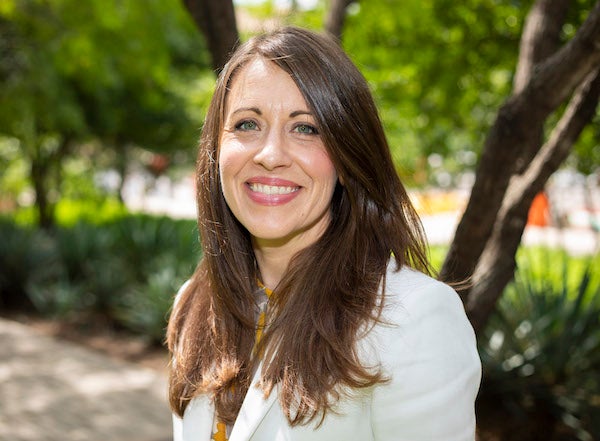 ALLISON DAWSON
Allison Dawson is the chief development officer for Moody College. She works with her team to oversee fundraising strategy for Moody engagements and alumni, external and community events.
Dawson said she started in event planning and corporate engagement after graduating with an undergraduate degree in business and has worked with several Texas-based institutions since then, such as Southern Methodist University.
Being a 7th generation Texan, she said she is particularly proud to work for UT Austin, the system's flagship university. She said she feels fortunate to work with her fellow colleagues in the leadership team.
"The programs that we're fundraising for and trying to upstart are creative and really the bedrock of all industry and economic growth and democracy in the country," she said.
Dawson said she enjoys being able to garner philanthropic action to fund aspects of the college, such as student scholarships and faculty support. However, she acknowledges that it can be difficult to maintain balance between her professional and personal life.
Dawson said that, while it is not the case at Moody, there are settings outside of Moody, such as donor meetings, where she recognizes a lack of female representation. She said she tries to uplift other women on her team and keep diversity and equity in mind when hiring new staff.
Dawson said she advises women at Moody to learn how to say "no" and learn to manage time.
"The recognition and self-awareness of what your limits are, is really, really important," she said.