A sports podcast shortens the distance between mother and son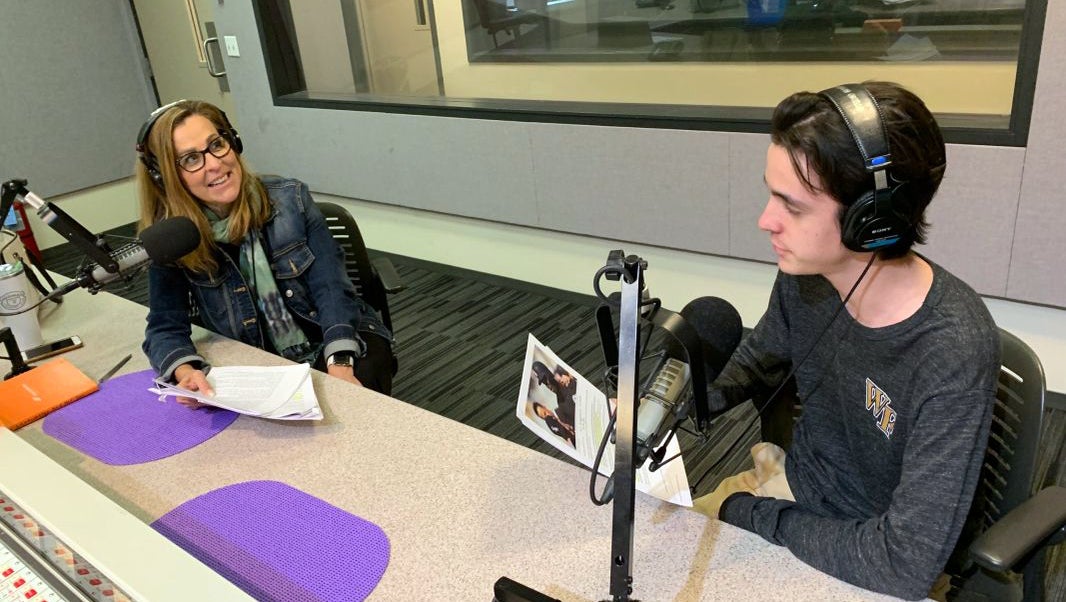 Since he was little, Jason Kinander has loved to talk sports.
When he was a kid, his mom, a 12-time Emmy Award winning sportscaster at NBC, would come home from work after covering playoff games, the World Series, the Stanley Cup — and Jason wanted to know everything.
"At first, I think my mom didn't really like it much," the now-journalism sophomore said. "She would be reporting on sports all day — sports, sports, sports — and she would come home and have her son ask her all these questions about sports."
But Jason was fascinated, and those talks in the kitchen when he was a kid have turned into a burning passion, which brought him to the Moody College of Communication two years ago to study sports broadcasting.
Today, Jason and his mom, Peggy Kinander, who has since retired from television, talk sports professionally.
In 2019, when Jason was just 16, they started the podcast "The Sportscaster and Her Son," now in its fourth year, where they discuss everything from draft picks and player dynamics with seasoned sportscasters and well-known athletes, bridging their generation gap through a mutual love of sports, as they say.
"Now that I'm here at UT, and my mom is in Chicago, it gives us a common ground and a way to stay connected," Jason said. "We are able to spend quality time together while helping me prepare for the future. My mom feels she is passing the torch to me."
Launching a Podcast
Peggy, who was the first woman to host a sports talk show in Chicago, traveled a lot for work when Jason and his twin brother were kids. On the phone, she admitted she'd missed a lot of important events — their first words, their first steps.
"I still remember when Jason was probably a year old and for Christmas, his babysitter gave me a picture of him and his twin brother in their walker chairs watching me on the news on TV," she said. "It choked me up because I thought I wasn't home for them, and here they are watching their mom away from home on the TV screen. So, when I decided to retire early, I needed to find a way to make up for all that lost time."
When they started the podcast, Jason was still in high school. They'd drive to Navy Pier in Chicago, where an audio producer his mom knew from her radio days had a studio. They'd record the show, and the producer would do the editing and mixing. His mom handled all the advertising.
Then COVID hit in 2020. They couldn't go downtown anymore so Peggy ordered a bunch of recording equipment, and they recorded the show in a bar in their basement. That spring, Jason left for school, and they shifted to doing the show on a three-way phone call, something he said was especially difficult.
Today, they record on StreamYard, a web-based live streaming studio that Jason uses at UT's Texas Student TV, where he works as an associate producer for a Monday night sports show called "College Pressbox." It's one of the many ways he tried to stay involved, after losing time for college internships and in person classes because of the pandemic.
From Chicago to UT
Jason came to Moody College with dreams of being a sportscaster for Sports Center. He said he wanted to go to a big school and had always loved Texas. Also, something about UT's school spirit drew him in.
"I hadn't even visited when I signed off to come here," he said. "I just knew it was the right choice."
Jason is majoring in journalism and minoring is sports media through the Center for Sports Communication & Media. Next year, he'll be eligible for upper division sports media classes and will focus specifically sports broadcasting.
The podcast has given him beneficial, real-world experience in media. But he admits it can be challenging to work with his mom. They have their issues.
"We are cut from the same cloth," Jason said. "We are both control freaks."
Family dynamics aside, Jason says he has tremendous respect for his mom, and he's learned a lot from her about hard work and ethical journalism.
"It is a side of my mom that I didn't get to see at home as a kid," he said. "She did a good job keeping her work at work and then being home and being a mom and wife to my dad."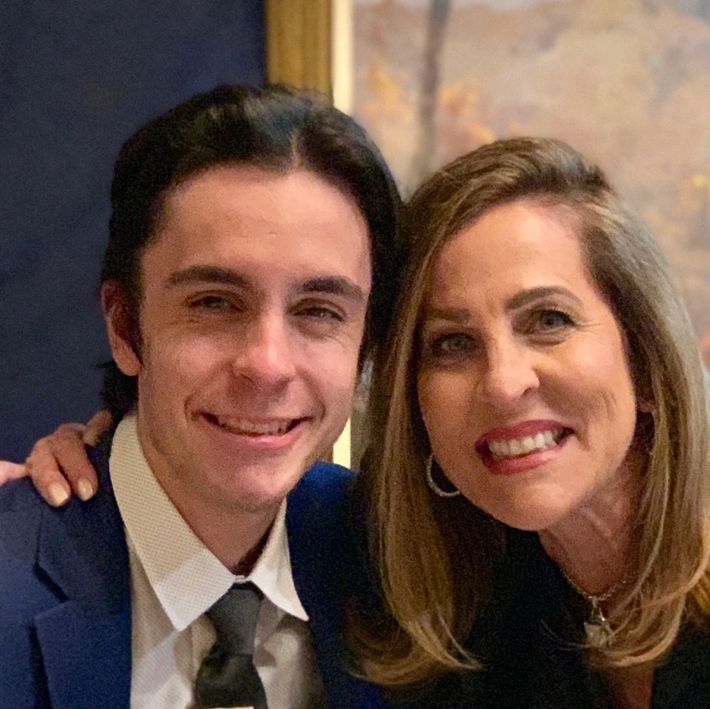 Jason says the biggest challenge for him is trying to keep a professional demeanor on the show.
"It's hard to be on the same level as my mom, asking the same magnitude of questions," he said. "We had Brian Urlacher on, one of the greatest players in Bears history, and he and my mom were talking about all these memories in training camps. And I'm just there, interviewing someone I grew up watching in grade school and trying not to be starstruck."
Jason and his mom have now recorded more than 70 episodes, gained thousands of followers and are streaming on YouTube and every major podcasting platform.
"In high school, I was embarrassed I had a podcast with my mom," Jason said. "But it's been a really cool opportunity and amazing to see the reception from my friends and family and the people I look up to."
In three years of recording, Jason has interviewed some of his biggest sports heroes. He's learned interview etiquette, how to maintain a conversational vibe and how to advertise the show in a way that maximizes listens.
"The most rewarding thing is to have an outlet to talk about sports that other people don't have, and also to have the opportunity to talk to some of the most accomplished people in sports media, people that have jobs that I aspire to do someday," Jason said. "Some of the former players and coaches we've talked to, the hall of famers, guys that I grew up watching and idolizing, now I am able to ask them questions and have them give me honest answers. I can gain experience in what I want to do all while being with my mom the same time."