Jennifer Howell delivers fall 2015 commencement address

The Moody College of Communication commencement ceremony takes place Saturday, Dec. 5 at noon, and features a commencement address by Jennifer Howell, Moody College alumna and head of comedy at Paramount Television.
Howell has a wide range of experience as a senior television and feature film executive, developing television shows and films, creating partnerships and leading teams of other executives, writers and producers.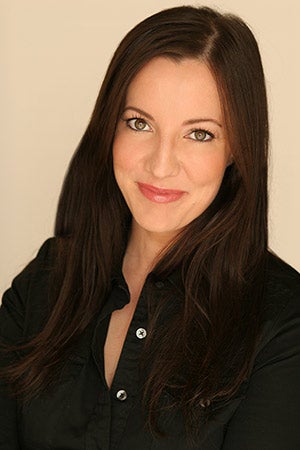 At Paramount Television, she develops and sells half-hour and hour-long series to broadcast, cable and streaming networks. In her year-and-a-half at Paramount, she has set up several comedies including: "Soapdish," "Grease: Live," "First Wives Club," "Kid Boss," "Bajillion Dollar Brokers" and "School of Rock," the last two of which were sold straight to series. She has also set up dramas including "Shooter," "The Truman Show" and "Three Days of the Condor." Howell is known for her ability to craft strong pitches and spot emerging talent while working with the best writers, directors and actors in the business.
"My hope when speaking to the class of 2015 is to pass along some wisdom and make everyone laugh a little!" said Howell. "I've learned so much since graduating from UT, it's hard to encapsulate it in just a few sentences – I want students to take away that hard work pays off and finding something you love as a career is so vital in work-life balance."
In 2008, Howell joined 20th Century Fox Television to create and head their animation department. While there, she oversaw the development, programming and production of all animated shows. She launched several series for Fox including: "Bob's Burgers," "The Cleveland Show," "Napoleon Dynamite," "Allen Gregory," "Murder Police" and "Sit Down Shut Up." She also developed and sold animated series to cable networks TBS and IFC such as "Neighbors From Hell" and "Out There," and resurrected "Futurama" for Comedy Central after the show was cancelled by Fox following five seasons.
In addition, Howell created and launched Fox Inkubation—a 20th Century Fox Television and Fox Broadcasting joint initiative—to find and cultivate talent and produce shorts with the goal of adding to Fox's successful animated line-up, leading to the production of more than 60 sets of shorts. Prior to Fox, Howell ran Matt Stone and Trey Parker's feature film company, "Important Films," under their first look deal with Paramount Pictures. This followed a 10-year producer position working with Stone and Parker on "South Park," "Team America," "That's My Bush" and "South Park: Bigger, Longer and Uncut."
While at Important Films, Howell set up several movies with Stone and Parker and contributed to the pre-production of the duo's acclaimed stage musical, "The Book of Mormon." As supervising producer of "South Park," Howell was charged with all aspects of producing the show and had a daily presence in the writer's room. For her efforts, she won an Emmy and Peabody in 2005.
"It's such an incredible honor to be asked to speak at commencement," said Howell.  "It truly is a dream come true of mine, and I only hope that I can impact the graduating students of Moody College and shed light on what is to come for them and their future."
Howell began her career in entertainment as a major in the Department of Radio-Television-Film at The University of Texas at Austin. She worked as a production assistant on such films as "Waiting For Guffman," "Michael," and "Courage Under Fire." After graduating, Howell moved to Los Angeles and began working with Stone and Parker when she was hired as Parker's assistant on "Orgazmo." As an invaluable part of the team, she was asked to join "South Park" as a producer when the pilot was picked up to series. Howell has served on the Moody College's advisory board the past four years and as a mentor for the Junior Hollywood Radio & Television Society (JHRTS) program. She lives in Los Angeles with her husband and two children.
The commencement ceremony takes place at noon in the Frank Erwin Center, 1701 Red River St. The ceremonies will also be webcast live.