Outstanding Fall 2015 Graduates
Moody College celebrates the Class of '15

Moody College fall commencement takes place at noon on Saturday, Dec. 5 at the Frank Erwin Center, 1701 Red River St. The ceremonies will also be webcast live. Here are a few of the outstanding students who majored in the Moody College and who will be graduating in the Class of 2015.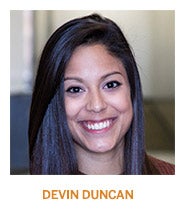 Devin Duncan, B.S., Public Relations
A third-generation Longhorn and two-time survivor of Leukemia, Houston native Devin Duncan has served as a national and local spokesperson for childhood cancer since 2010. She's spoken on behalf of numerous cancer organizations at events such as the Lombardi Awards, organized fundraising events and appeared on local news channels in central Texas. Duncan was an account manager in student-run public relations firm Texas Tower PR, member of the Public Relations Student Society of America (PRSSA) and on the student issues and advisory committee within the UT Communication Council.
Duncan said Senior Lecturer Terry Hemeyer and Senior Fellows Program Director Dave Junker influenced her to be a better writer, student and strategic thinker. After graduation, Duncan plans to move to New York and launch a career in entertainment and public relations while continuing to raise awareness for childhood cancer by sharing her story, hosting events and organizing fundraisers.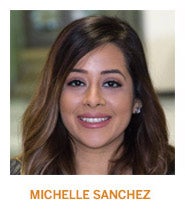 Michelle Sanchez, B.J., Journalism
The first of her family to graduate from a university, native Austinite Michelle Sanchez knew attending UT Austin would make her mom proud. Sanchez's parents are immigrants from Mexico and her mother has worked as a custodian on the Forty Acres for 16 years. While in Moody College, Sanchez participated in the sports department at Texas Student Television (TSTV) and in Longhorn Hip Hop, interned with the Daily Texan and The Horn and worked with NBC Sports, Snapchat and the Austin Aztex soccer team.
Sanchez said Senior Lecturers Robert Quigley, Kevin Robbins and Kate Dawson pushed her to be a better journalist and person by imparting their knowledge of storytelling while offering encouragement during times of stress. Quigley's social media class made her realize the potential careers available in nontraditional journalism. She plans to either stay in Austin and work for Univision as a sports reporter or move to California and pursue a career with Snapchat.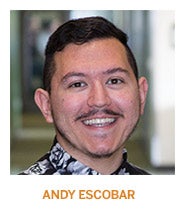 Andy Escobar, B.S., Radio-Television-Film
Hailing from Cypress, Texas, Andy Escobar chose to study in Moody College to learn how to tell stories through film. Very active on campus, Escobar participated in many organizations including the Multicultural Engagement Center (MEC), CHANGE Institute, We Support UT, Peers for Pride and Voices Against Violence. He helped found Delta Kappa Alpha Professional Cinema Fraternity and was a First Year Interest Group (FIG) mentor, student rights advocate, and participant of the Texas 4000 for Cancer bike ride across America. In Moody College, Escobar credits Mary Beltran, Charles Ramirez Berg, Jennifer Fuller, Andrew Garrison and Ikram Toumi for teaching him the tools and context necessary to convey effective stories.
Escobar graduates with three bachelor's degrees in Radio-Television-Film, Latin American Studies, and Women's and Gender Studies, and with certificates in Latino Media Studies, LGBTQ/Sexuality Studies, and Native American Indigenous Studies. He plans to work in entertainment and social justice activism to broaden people's perspectives.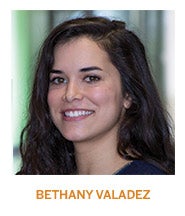 Bethany Valadez, B.S., Communication Sciences and Disorders
Born in the Rio Grande Valley town of Mission, Texas, Bethany Valadez said she chose to study in Moody College because it's ranked among the best in the nation. Through working as an assistant research student at the Human Abilities in Bilingual Language Acquisition (HABLA) Lab and in the Intellectual Entrepreneurship (IE) program, Valadez said the two learning experiences are something to cherish and carry with her as she continues her education into graduate school.
At the HABLA Lab, she helped conduct research on how bilingual individuals organize and access two language systems, and on breakdowns associated with language impairments. Valadez also credits Associate Professor and Director of the Michael and Tami Lang Stuttering Institute Courtney Byrd for motivating and inspiring her. She plans to attend graduate school to obtain a master's degree in speech language pathology.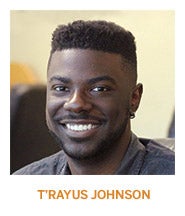 T'Rayus Johnson, B.S., Communication Studies
During his time on the Forty Acres, T'Rayus Johnson served as an orientation advisor on campus, catalogue assistant at the Perry-Castañeda Library, program assistant at the Gender and Sexuality Center and secretary of the National Association of Black Journalists. He also interned in the Department of Radio-Television-Film, volunteered at Texas Student Television (TSTV) and participated in the University of Texas Semester in Los Angeles (UTLA) program.
A native of Corsicana, Johnson said he chose Moody College because of its reputation and the passion and dedication the students showed when he took an initial tour. Johnson said his most influential instructor was Kathleen Feyh, who taught him courses on gender and on race and ethnicity, which Johnson said improved his presentation, fact-checking and debate skills.
Interested in being an agent in the entertainment industry, Johnson plans to move back to L.A. after graduation to work and learn more about how the entertainment industry operates.