Ethical education establishes Communication and Leadership graduate in career launch
For Elizabeth Minchey, each risk in her life became a leap worth taking. As a University of Texas student, Minchey was drawn to a new degree, and those possibilities pushed Minchey to abandon any preconceptions about her path.
Minchey arrived at UT in 2015 and originally majored in English but switched to Moody College of Communication's new communication and leadership degree. She also minored in business and English, and in 2018, Minchey was the first communication and leadership graduate from Moody College.
"I'm a communicator, and I love relationships with people, building trust and trying to do the right thing for a company," Minchey said. "I was having those thoughts and wasn't acting on them. So something about the degree really spoke to me."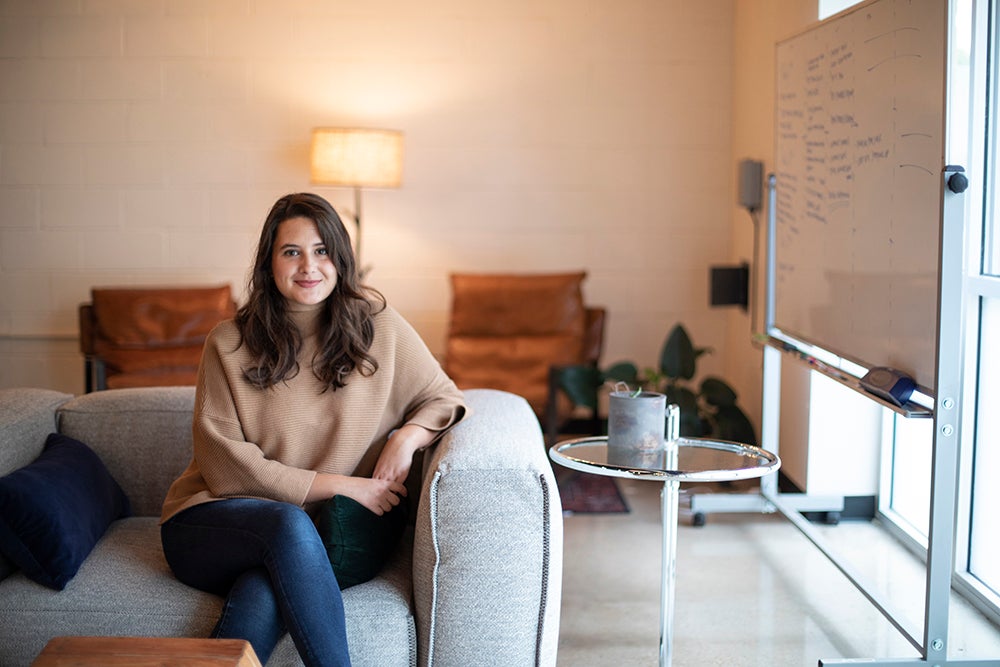 Real-life application
Minchey personalized her communication and leadership degree plan to fit her personality and passions. With two minors, she learned the "inner-workings of a business," and also exercised empathy because English opened her mind to "different perspectives."
"The communication and leadership degree teaches you how to actually be a good person in a leadership position," Minchey said. "Together, it gave me a really well-rounded education and covered all the bases to be a good professional."
Minchey credited her major coursework, consisting of case study analysis of successful and failed leadership models, as insightful lessons that are translatable to real life.
"Having the hands-on experience, putting yourself in the shoes of the people who lived those scenarios out and figuring out what you would do differently, was really important," Minchey said.
To develop as an ethical leader, Minchey works to reflect the lessons she learned from her father into her own life. While attending UT, she interned at the commercial mortgage firm where he is senior vice president and observed how he created an empowering space for his employees simply by being morally upstanding, caring for others and valuing individual time and effort.
"The older I get, the more I realize that is not very common," Minchey said. "I decided that's something I wanted to find myself."
During and after college, Minchey showcased her leadership skills working as a nanny. Her dedication, attentiveness and responsibility led to a recommendation , which helped land her a part-time marketing job after graduation under Misha Rangel, who then worked for Handsome – an Austin-based brand design agency.
"Nannying has nothing to do with marketing," Minchey said. "But (the family recommendation) was enough for her to trust me."
Along with her marketing role at Handsome, she balanced two other part-time jobs in social media and marketing, hoping to have a full-time job within six months post-graduation. Eventually, Handsome offered her a full-time job as a business development operations manager.
Business development was a completely different world to Minchey. Her primary experience was in brand marketing, and this new job including managing client relationships, maintaining the company's organizational structure and developing project agreements between the client and company.
"I love learning new things and being the person who doesn't know anything trying to figure it out," Minchey said. I felt like it was a good chance to learn a different industry and see if I wanted to grow in that. When something becomes second nature that was, at one time, really scary – that's a good feeling."
Minchey maintains a future goal to attend the University of Edinburgh in Scotland and pursue a master's in social anthropology. As an avid learner, she seeks experiences with an open mind, viewing work and life situations as opportunities to grow in character.
"Always do good at your job, even if you're a nanny, barista or gardener," Minchey said. "You have no idea what your 'teens and twenties' job could put into your professional life."