Advertising alumnus P. Terry's new chain takes a bite out of the Tex-Mex market in Austin
If you've ever tasted a P. Terry's burger in Austin, you'd know the mixture of high quality ingredients, simple menu and low prices make for a delicious meal. And now, Moody College of Communication alumnus and owner of P. Terry's Burger Stand chain of restaurants Patrick Terry (B.S. '80) has recently brought that same philosophy to the Tex-Mex market in Austin with Taco Ranch.
If you think there are already too many Tex-Mex restaurants in Austin, Terry proves there is room for one more. He sold out of about 2,500 tacos in the first nine hours of their soft opening Jan. 24.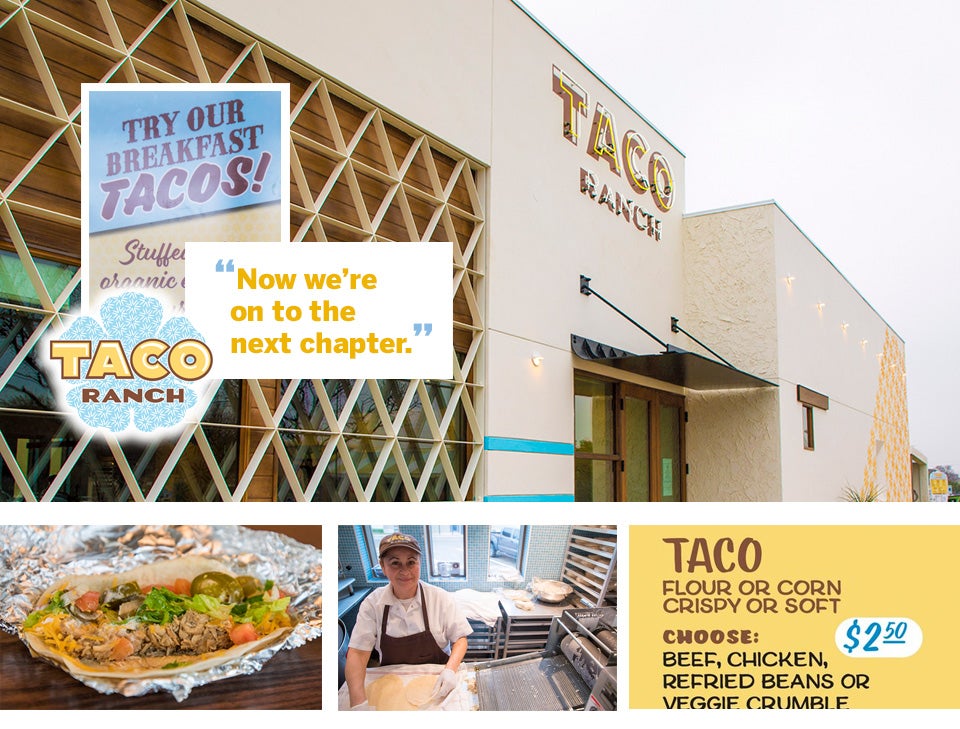 If you're ready to taste one of those tacos, the inaugural Taco Ranch is located at a former Burger King at MoPac Boulevard and U.S. 290.
In the Middle
According to Terry, there just wasn't a good Tex-Mex restaurant in the middle price range.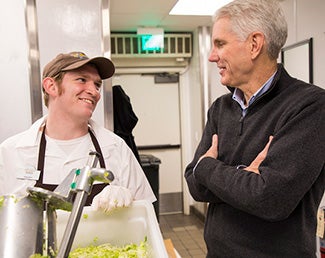 Patrick Terry
B.S. '80, Advertising
"Taco Cabana used to be really good—sit-down restaurant quality good—but they compromised ingredients for cutting costs to make a higher profit. And the other chains at the top are somewhat expensive," said Terry, an alumnus of the Stan Richards School of Advertising and Public Relations.
Terry has kept the menu simple serving tacos, chalupas, burritos, quesadillas and taco salads, and fills them with homemade salsas, handmade guacamole, all-natural chicken, beef, homemade chorizo and veggies, and serving them with homemade flour and corn tortillas. Taco Ranch also serves several breakfast tacos with organic eggs, cinnamon rolls and coffee cake in the morning. The restaurant offers drive-thru and sit down service and serves beer and sangria-based margaritas.
With a total 14 P. Terry's burger chains actively running and the new Taco Ranch, Terry isn't slowing down. He's planned expansion for four more P. Terry's and another Taco Ranch to open in the next two years. The next Taco Ranch is slated to open this summer at a former Taco Cabana location on Martin Luther King Avenue near campus.
"There's never been a plan and we still don't have one," said Terry, a native of Fort Worth with roots in Abilene. "We just look for opportunity."
Terry graduated from The University of Texas at Austin in 1980 and worked in advertising at Tracy-Locke/BBDO, as director of the Texas Sesquicentennial Commission, and as a consultant to Gov. Ann Richards. In 2005, Terry and his wife Kathy launched the first P. Terry's Burger Stand at South Lamar Blvd. and Barton Springs Road.
"There was something missing in the middle at the price point of affordable and quality. We aren't trying to be at the bottom or the top. We're aiming for the middle."
"I didn't realize it but friends have told me I'd talked about the idea of selling hamburgers for years," said Terry. "I really dig the simplicity of it."
Inspired by the book "Fast Food Nation," Terry said he learned not to compromise on ingredients when he opened his first eatery, which is why he only buys all-natural beef, cooks with canola oil and only purchases potatoes from Idaho. 
"I knew we had to select the right products and we slowly figured it out. It matters to do it right because you can taste it," said Terry. "We don't sell frozen French fries like all the other chains. We get our potatoes from Idaho and make them here." 
Utilizing a Degree in Advertising
For the name, P. Terry's was selected both because Terry has a friend named Patrick in his circle of friends and had affectionately adopted the nickname to avoid confusion in conversation and because the name could be trademarked. The Taco Ranch was named separately as not to mix concepts or confuse the chains with Terry's name. Initially not knowing how to run a fast-food restaurant, Terry said there was a lot of learning, trial and error and pushing through to understand the business. He cited his training and degree in advertising from Moody College as an essential component to his success in understanding both commerce and in building relationships within the community.
"South Austin can be very forgiving and we had people seeing how hard we were trying and they were kind of rooting for us," said Terry. "We are eternally grateful to the people of Austin that have stood by us."
Terry said he learned to hire people that would look him in the eye and provide a glimpse into their personality to show how they could add to his business. The starting pay averages at more than $11, every employee gets a cake on their birthday, a bonus system is in place, and noninterest loans for necessities such as car repair are available.
"I didn't know how to hire the right people but you start to get a feel for it," said Terry. "We've attracted a great staff and some of them stay with us for several years."
Sensitive to marketing and advertising practices through his lessons in higher education and experience at an ad agency, Terry said the insight of both helps him make stronger decisions.
"There were great teachings from the campaigns and marketing classes at UT I took that I still use to this day," said Terry. "If you look around at any of our restaurants, there is purpose to everything from the colors, design, look of the menu. We wanted everything to build together so that people feel comfortable when they're here. I also think I learned when we need to advertise and when we don't, and what to use when we do."
As one of Austin's most well-known restaurateurs, Terry advises current students to have the goal of finding a career they really want and not be afraid to chase their dreams. He also recommends students utilize all the resources available to them at UT Austin.
"At UT you have to kind of find your way and I think it toughens you up," said Terry. "By the time I was done, I wasn't intimidated to interview at advertising firms. I credit the atmosphere at UT for pushing me out into the next phase of my life."
"I didn't remember this but my friends tell me I used to talk about opening up a hamburger stand ad nauseam. I finally did. Now we're on to the next chapter."