The Subtle
Art of Sound
Moody College lecturer and sound editor scoops up awards and nominations for his work on "Stranger Things"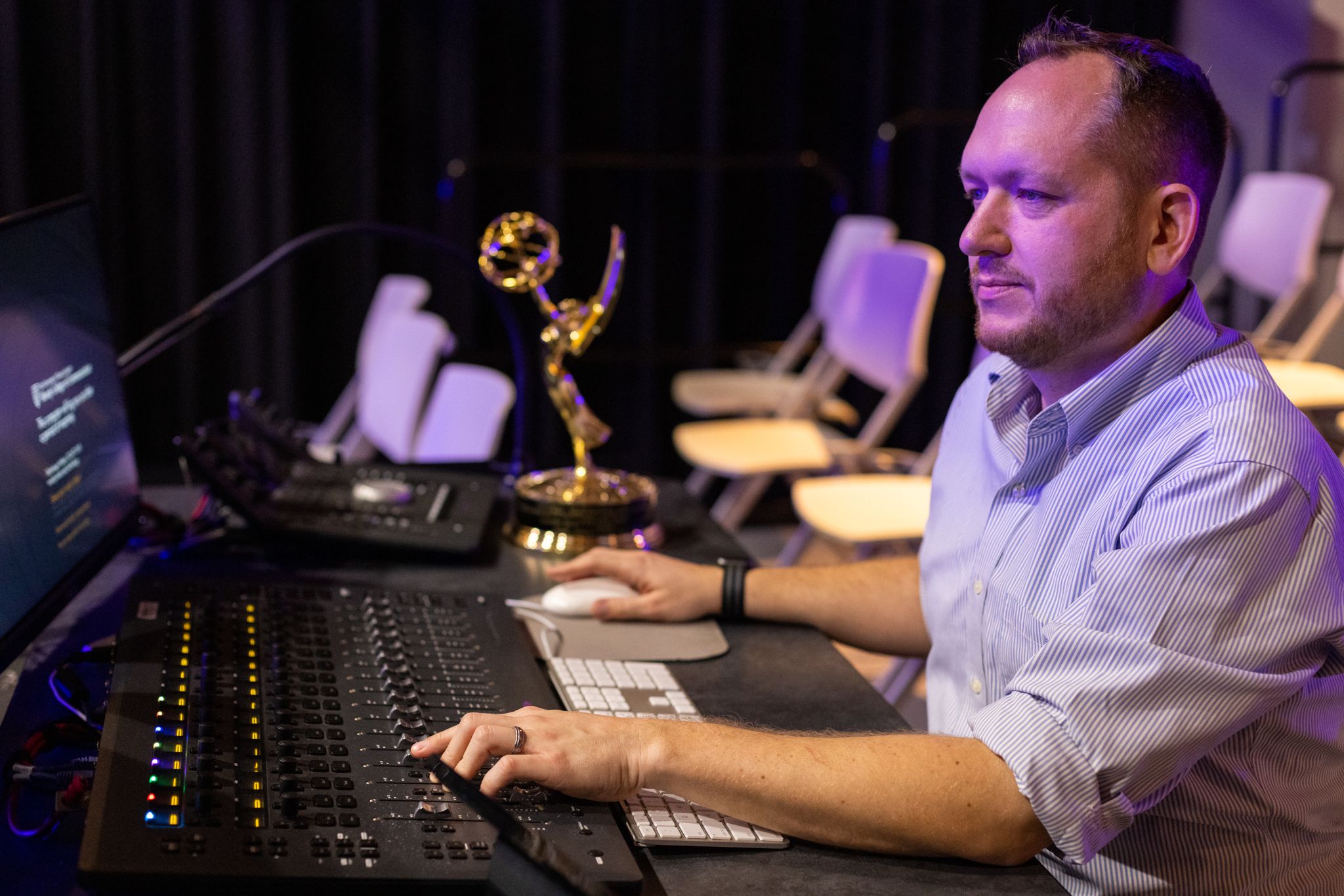 Radio-Television-Film lecturer Korey Pereira. Photo credit: Marc Speir
Radio-Television-Film lecturer Korey Pereira. Photo credit: Marc Speir
There's a moment in the fourth episode of season four of "Stranger Things," when Robin Buckley, played by Maya Hawke, finds a music box in main character Nancy Wheeler's room. She grabs it, and under her breath, whispers, "Look, it's a tiny little ballerina dancer."
It's a small moment, buried under the noise of the scene, but one that Moody College Radio-Television-Film lecturer Korey Pereira spent hours cleaning up to remove the background sounds so it was loud enough for viewers to hear.
"She didn't do it in another take I could use," said Pereira, who was a dialogue editor for the fourth season. "That was my only shot at getting it right. But it's really rewarding when you can play it back and hear the final product and know that's your work."
It might sound crazy for a big budget production like "Stranger Things" with so many loud, dramatic, high action scenes. But Pereira said it's the little, intimate moments in films and TV that can be the most challenging and time consuming to produce.
Last September, Pereira received a Primetime Emmy for sound editing for his work on the popular series. He's also up for another award for the show and also for his work on the new Predator movie, "Prey," at the upcoming Motion Picture Sound Editors' Golden Reel Awards later this month.
Pereira calls it an enormous honor. "Just getting nominated for a Primetime Emmy was really huge," he said. "Getting the win was even better."
"Just getting nominated for a Primetime Emmy was really huge. Getting the win was even better."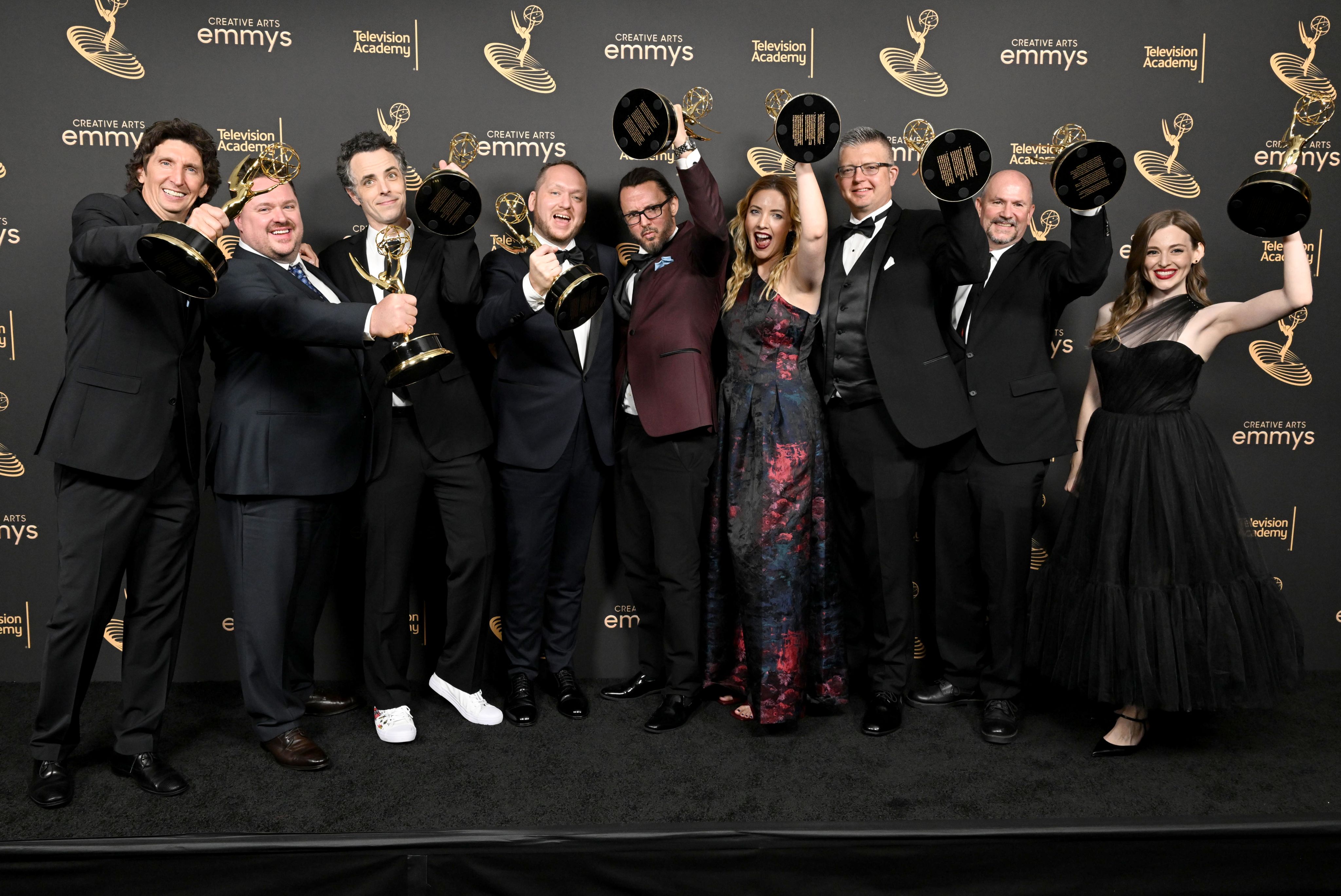 The Stranger Things sound team backstage at the Primetime Emmys. Photo courtesy of the Television Academy.
The Stranger Things sound team backstage at the Primetime Emmys. Photo courtesy of the Television Academy.
Pereira, who graduated with a degree in Radio-Television-Film in 2011, initially came to UT to study music. A seasoned viola player, he had wanted to get into the music business. But during his sophomore year, he had the opportunity to intern with what was then RTF's Burnt Orange Productions, where he edited dialogue for a feature film, "Cassidy Kids." He apprenticed with Tom Hammond, whose Soundcrafter team produces Austin icon Richard Linklater's films. He was so inspired by the experience that he switched majors to pursue a career in film.
Pereira called himself an enigma. The majority of people who come to RTF want to be directors, he said. But he was a sound guy through and through — and even better — it was an employable career. "There are so many jobs now in post sound, more now than ever before." And since it makes up 50% of films and television, its importance can't be overstated.
Today, Pereira primarily works as a dialogue editor, taking the recordings from the set, cleaning them up, smoothing them out and reducing background noise into the finished product you hear on the screen.
It's just one part of many elements of sound work in TV and film that starts when the sound team, and sometimes the sound designer, meets with the filmmakers to get a sense of how they imagine the sound in the film: what do they want the audience to think at particular moments? How do you want them to feel? Then, it's the job of the sound professionals to figure out how to achieve that, starting with the production sound mixer, whose job is to capture the actors' performances on set, along with any organic sounds in the environment that might be helpful to the post sound team.
It's then that the project goes into post production to dialogue editors like Pereira. Dialogue editors remove sounds they don't want audiences to hear in the finished product. They pull up alternative takes that were recorded to fill in mistakes in the actors' dialogue or even bring them back into the studio to do ADR, which means they watch their original performance and then recreate it in a controlled environment to get a clean recording.
Pereira said 60% of his job is cleaning up bad sound dialogue because of the noise of all the lights and camera gear.
In addition to the dialogue part of sound editing, there's also what Pereira calls "world building," adding ambiences or background tracks to fill out scenes so that if you close your eyes and listen to the film you can tell where you are just from the sound. This includes what are known as "hard effects" — door slams, gunshots, footsteps. Sometimes these are pulled out of a library of sounds, but other times they have to be created — something called "foley." A team will go in and create and record those sounds. They also bring in actors to perform background dialogue. Say the characters are in a jail cell with other prisoners or a crowded city, extras come in to record that dialogue to weave into the background, so it doesn't overpower the principal actors on set.
It is all of these elements that come together to produce the magnificent, dramatic, arousing, tender, emotional, poignant sounds you hear in a film.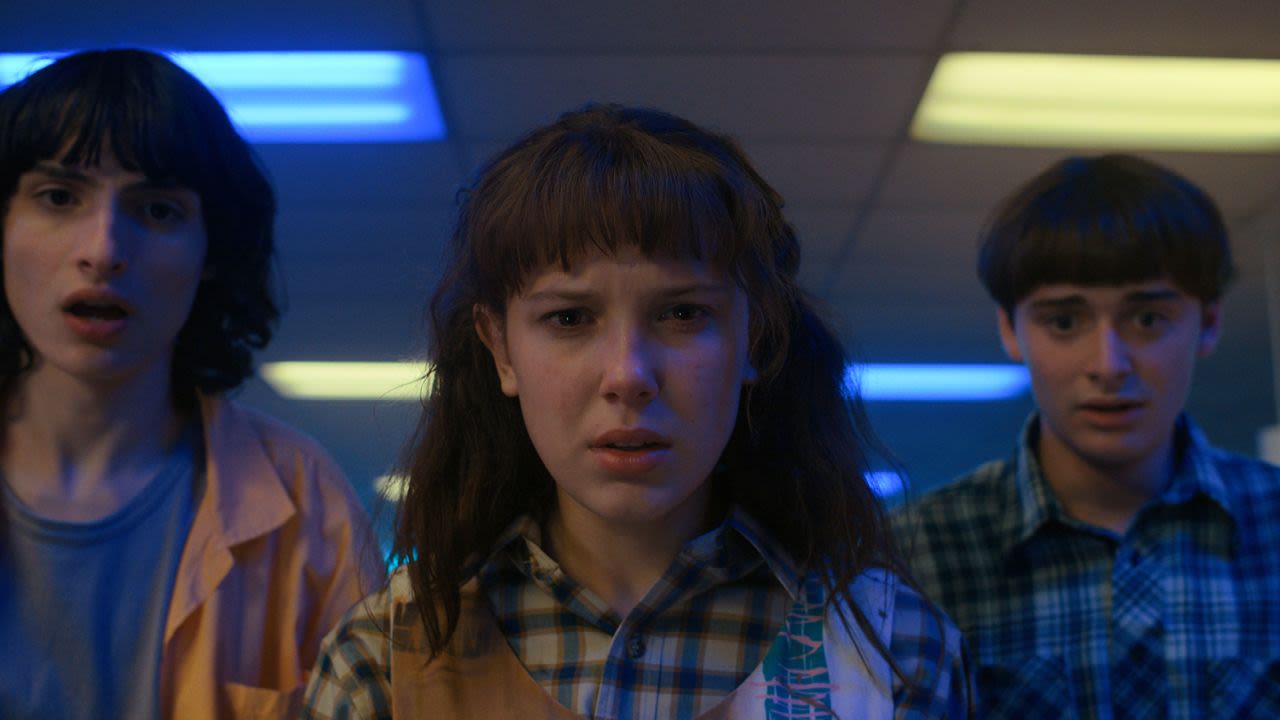 Scene from Stranger Things. Photo courtesy of Netflix.
Scene from Stranger Things. Photo courtesy of Netflix.
Today, Pereira's main focus is dialogue editing, which is an elegant art that requires care and attention to the smallest details.
"Deciding where a character breathes or doesn't breathe can actually change a moment," Pereira said. "If someone scoffs at someone else's statement that can change the meaning of what those characters are saying."
These kinds of subtleties matter even when no one is talking. Pereira recalls the film "A Quiet Place," a movie with very little dialogue. Yet even the sound of the breath allows the audience to feel what the characters are feeling. "You can watch that film and really feel that emotion," Pereira said.
While doing sound work for a film is a massive undertaking, Pereira said he felt almost more challenged working on "Stranger Things" because of the monumental scale of the show. Each episode is like a mini film. The finale itself for the fourth season clocked in at a whopping two hours and 40 minutes.
"It's a massive amount of content," Pereira said.
Pereira said the great thing about working in Austin is that he gets to wear a lot of hats when working on indie projects. "I might be the supervising sound editor and re-recording mixer on a film, record some foley or ADR on another, then be the sound designer on the next one."
"Deciding where a character breathes or doesn't breathe can actually change a moment."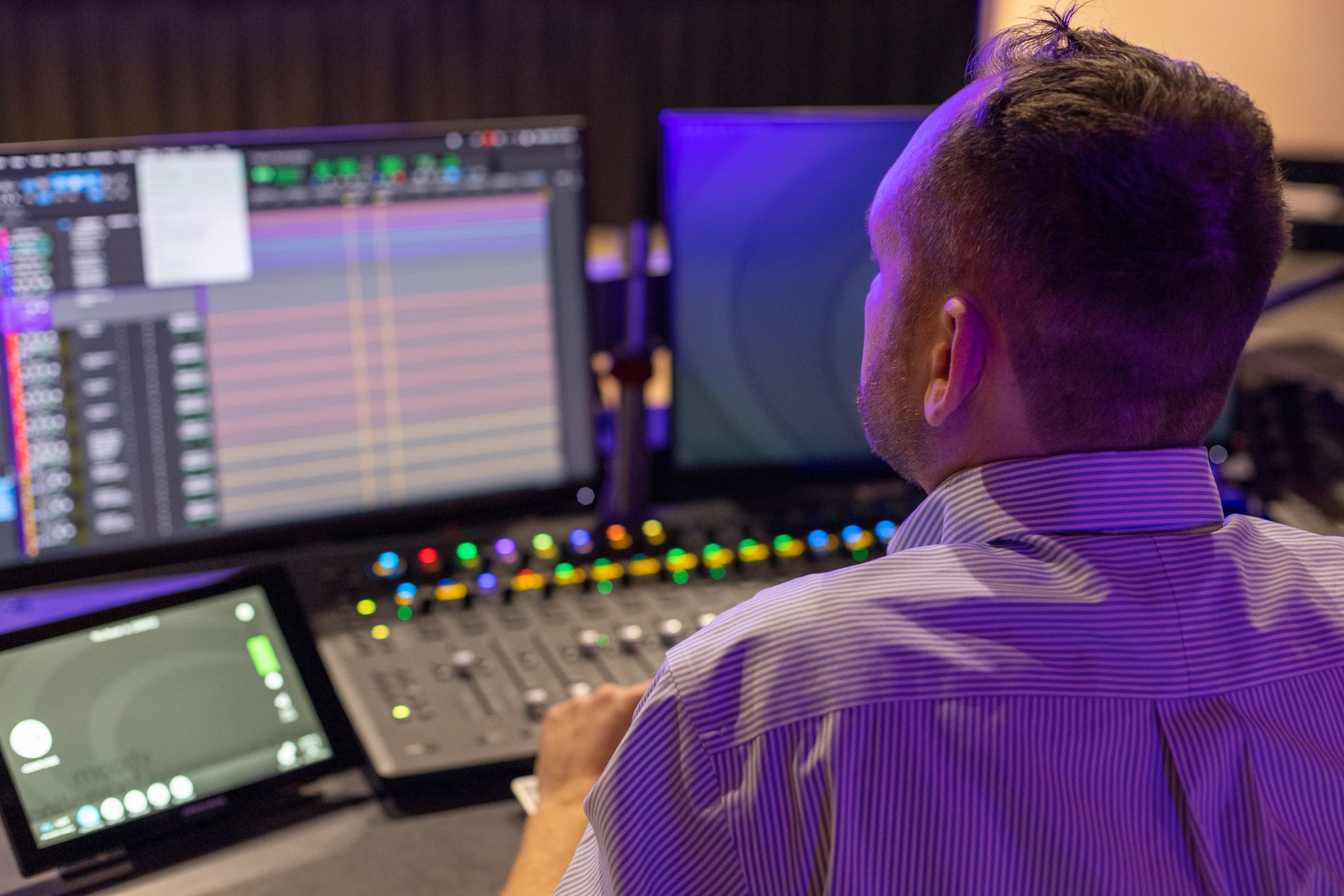 Sound editor Korey Pereira. Photo credit: Marc Speir
Sound editor Korey Pereira. Photo credit: Marc Speir
In addition to his professional work, Pereira also teaches the 341C post production sound class at UT, which is catered to undergrads. Students learn Pro Tools, dialogue editing, sound design and mixing. They also learn how to talk about sound with filmmakers. Sound work is about more than simply knowing how to use the tools, Pereira said. It's about being able to work with a team to do the important work of worldbuilding.
In his class, Pereira also brings in special guest speakers, people working in the film and TV business, so students can hear from people in the field and get their experience and insight. And maybe even more critically, he talks about the business side of film. Most people working in sound today are freelancers, rather than being employed full-time with a production company. So they have to be prepared to manage their professional lives.
But when they do, Pereira said the opportunities are endless. "With streaming services like Netflix, Amazon, Hulu and Apple all producing more content than ever before, there has never been a better time to get into sound editing."
"UT has a strong presence in the industry. We're out there getting it done."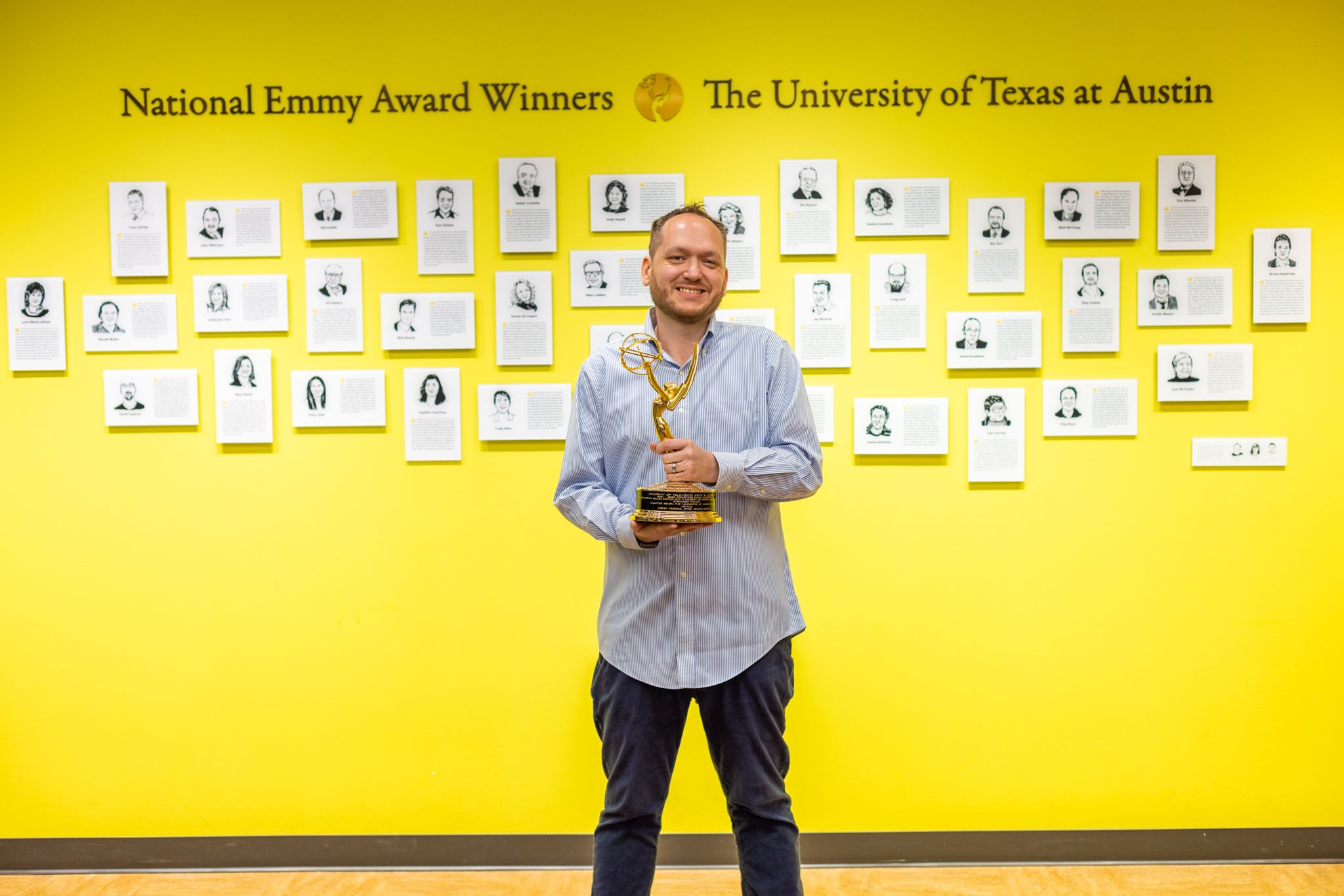 Like most of his work, Pereira was hired on to "Stranger Things" through connections he made at UT. Pereira attributes much of his success today to the relationships he built as a student.
"Every job I've had was because someone at UT introduced me to the right person."
He urges students to put time and energy into building strong relationships while in school. "When you transition from being a student into being a professional, that's where your first job is going to come."
Pereira will be continuing work on Stranger Things for its upcoming fifth season. In the meantime, he is halfway through dialogue editing of the latest season of "Law and Order," a dream gig after watching the show his entire childhood with his mom and grandparents. "It's definitely nostalgic," he said.
Pereira recommends UT RTF to any student looking to get into sound.
"I really think Moody College can be a destination for someone wanting to do sound for film and TV," he said. "I think I am living proof of that now working professionally as a sound editor. And I am not the only one."
One of Pereira's former students, Lexie Guthan, is also up for a Golden Reel at the Motion Picture Sound Editors' Awards later this month, for sound editing of game effects for the video game "Destiny 2: The Witch Queen."
"UT has a strong presence in the industry," Pereira said. "We're out there getting it done."